OK – I have tried to start this so many times in the recent weeks and each time I tell myself I will get it done tomorrow, knowing full well that I will wait until the last moment and then rush it through. But hey – once I get it done, ya?
Choosing my 12 favourite photos was so easy before. All I needed to do was head over to Flickr and see what photos I posted in each month of the year and from that choose a favourite shot. Not so anymore. This year I posted virtually nothing to Flickr until September, so for the first time ever this end-of-year-review is being done via Instagram. Here are my Instagram stats for the year: I posted 272 photos to my main account and 186 photos to my second account (the one I keep for shots without people in them). That is a lot of images, but then I travelled and shot a lot in 2017.
I could do the easy thing and allow an algorithm decide what my best 9 photos were, but you know, they weren't. You can see them if you wish here and here. I prefer to spend some time with the images, recall where I was, what I was doing and how it felt. That is why we create images, no? To make memories. So here are my 12 favourite shot on iPhone photographs posted to my main Instagram account in 2017.
So, January took me to Iceland for the first time. Stumbled across this artist's house on the seafront. The sun was setting and it was freezing.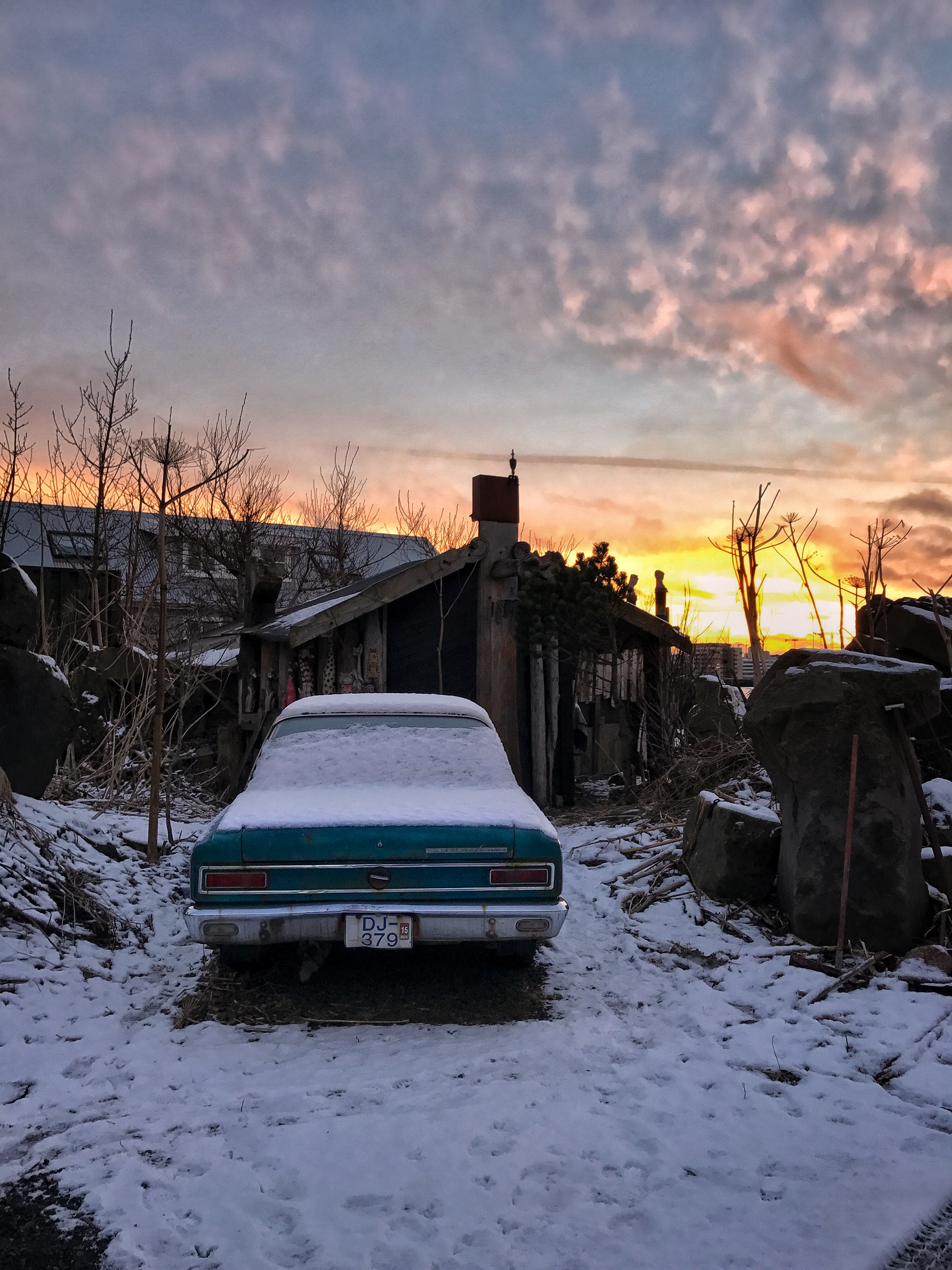 February and I was on my way to Cyprus to open the exhibition for the Mobile Photography Awards in Limassol. I guess it was here that I began to change my approach to street photography. Not sure why or how, but I began to engage more with people on the street as I shot their portraits. Much like candid photography, people's first reaction when you ask can you take their photo is one of curiosity. What is it that I can see about them that makes me want to photograph them? Self-consciousness smothers that initial curiosity and the task then is to engage with them to get them to relax. I tend to tell people about myself, revealing myself a little, as I shoot. I ask them questions. I am polite and respectful. I shoot a lot in these moments.
This guy here had no English. I smiled a lot. He stared at me. He smiled when I showed him the photo.
March was a month at home and not a lot of shooting, bar the Holi Festival in my university, so I was posting shots from previous trips. This one of a bus driver in Seoul I love. I remember knowing that I would stop to shoot it when I was waiting for the green man to appear. I just love shooting into glass and the layered distortion the reflections create.
April was a full on month for me. I was in Korea and Japan with work and then home for a few days before heading back out to Thailand for the most amazing experience of Monogram Asia's first 8 x 8 Street Photography Conference. Another highlight of April was the being out on the streets of Cork for the 24-Hour Project with great people. Choosing an image I shot in the month of April is damn hard, but it is not so hard to choose one I posted in that month. Photography is all about memories and connections. My favourite for April is this one shot on the 24-hour Project in late night Cork. May not be my best photo in April, but it is the one which makes me think of the absolute craic I had with Tim, Dee, Judie and Jonathon. 
And on to May and really there can only be one shot for May. I have written quite a bit about how I began to shoot more asked-for-portraits and how much I began to enjoy it. This one was shot in Bangkok on a very hot morning on a photo walk with Sheldon Serkin and Renzo Grande. Here's the thing. Once I got the shot I knew it was a good one, but I did not know whether it was better in the original colour or to convert it to black and white. Shel and Renzo thought it was a no-brainer – black and white all the way. I still have a thing for it in colour. What do you think?
June: In April in Seoul I stayed in Myeondong. It is probably the busiest shopping district in Seoul and with that comes much activity; perfect for street shooting. My maxim about photography is: Trying to see what can be seen and how to see it. This shot is an example of this. The bright neon lights, the taxis, the taxi drivers. Bringing them all into one frame was not easy. Shooting it on an iPhone at night even more difficult, but I love the result.
July brought me to back on my travels, back to Hong Kong and then on to Korea again. I shot a lot in this time, but did not post in July. I did share this photo on Instagram though – a photo from Yoyogi Park in Tokyo. A photo which is part of my Rehearsing for a date series of images of people alone in locations where you might commonly find dating couples.
August and I am on the beach in Busan stopping people asking if I can take their photo (and they not getting upset that I did not ask if I could make their portrait). Honestly, this is something I felt I would never have been comfortable doing, but now I cannot imagine not doing it. There is something so wonderful about it. I made some really great connections this year shooting portraits. This guy was great fun. He took delight in telling me he knew Conor Mcgregor when I told him I was Irish. Honestly? Conor McGregor?
In Bali, I had Bali's best motorcyclist as my guide, but I sadly proved to be Bali's worst motorcycle passenger in this time. I loved Bali. Big thanks to my buddy Gathoe for showing me around Bali on his bike and for bringing me to the kite festival on that first day I was there. I skipped off the beaten bath a little to find these kids playing football.
I tend not to post photos of my kids. This is just a personal thing for me. Probably am too protective of their privacy. But this is one of my little boy that I love. No great timing here to get the decisive moment; no just finger kept on the shutter to shoot in burst mode and then to later select that decisive moment. My little HCB shot.
November is a bit hard for me. I am torn between this, this and this, but have decided to choose this one in the end. The edited image is a little distant from the original, but I knew that in taking it I would be able to go on many creative routes with the photo.
And this brings us to the end of a year of shot on iPhone photographs. Life is difficult when there is choice and truly I could have gone in so many different directions with these selections. In the end I opted for all colour, could just have easily gone all black and white as I love many of the photos I shot in black and white this year, particularly when shooting with Provoke.
So, here is it – the final image to make up my 12 favourite shot on iPhone photographs from 2017. A photograph shot in Dublin, and one which is part of my This gap between us will be filled with love or loss series.
Thanks to all for your kind support throughout 2017.
Here's to 2018 and the unexpected, the unimagined it will bring.