Learn how to take great photos on your smartphone
Brendan offers regular mobile photography workshops throughout the year in association with The Photo Museum of Ireland in Dublin and Cork's Glucksman Gallery. These workshops are both in-person and online.
Brendan's next series of workshops with the Photo Museum of Ireland starts on Wednesday, May 10th at 7 pm and runs for 4 Wednesdays in May, 10th, 17th, 24th and 31st. 
The next in-person mobile photography workshop in the Photo Museum of Ireland  in the Temple Bar area of Dublin city centre is Saturday, August 19th. 
Brendan has delivered workshops in many countries around the world such as England, Iceland, Lithuania, Portugal, Cyprus, Malaysia, Bali, Hong Kong, Korea, Thailand and Singapore.
Brendan also offers corporate photography workshops and has worked with Bord Gais Energy, SEAI, the Irish Health Service Executive, Mason, Hayes & Curran, Facebook, Google, PayPal and the Doyle Collection Hotels. Event-specific workshops are also offered. If you are interested a workshop, please use the contact page to connect with Brendan.
Next series of photography workshops:
In conjunction with the Photo Museum of Ireland, in Dublin, join Brendan and discover the magic of mobile photography and how to bring your photography to the next level with
a face-to-face smartphone photography workshop
Saturday, 19th of August from 11.00 to 17.30
To learn more about this series of workshops, click here. 
Check out the great photographs participants from some of Brendan's recent online workshops this made in these two videos.
What are the workshops like? Click here to find out.
Coming from a teaching background, Brendan combines over 20 years of helping learners to maximise their learning potential with his passion for photography. This results in a dynamic, engaging and learning-centred experience for the participants, allowing them to immediately put into practice the tips and techniques that Brendan covers in his workshops.
What are the workshops like?
By the end of the four sessions, you will have:
been given one-to-one feedback on the photographs to take;
become more confident in using your iPhone/Android camera and getting the most from it;
developed your eye for composition, light and content and have begun to think and see photographically;
become more aware of common mistakes that can occur when shooting and processing;
discovered some of the best apps out there for mobile photography;
learned how to master Snapseed when editing your photos and have photos to be proud of to share on your favourite social media platform; 
had opportunity to to put what you've been learning into practice each week and become part of the private online group where you can share your photos with fellow participants;
learnt of the best online resources for digital photography;
discovered how to increase your followers on Instagram and other social media platforms;
been given tips and ideas to help you continue your learning after the workshops;
made new like-minded friends who share your passion for photography;
become visually curious, visually excited and visually creative and producing photographs you are proud of. 
What do people say about Brendan's workshops?
Would I recommend the workshops? Absolutely! They are relaxed and informative, it was an eye-opener on the power of smartphone photography. Imelda McDonagh
To sum up the workshops, I'd say they are challenging, insightful and motivating. Ana Leddy
I took Brendan's iPhone photography workshop in the Glucksman and it opened up a whole new world of colour, movement and quirky ideas for me. Through his teachings and helpful advice, he taught us how to make the most of this nifty little gadget we call the iPhone to capture images that at first may seem relatively hum-drum but with processing take on a whole new life and meaning. This workshop is a must for people who underutilise their iPhone camera and those that are looking for something new to try.  Linda Curtin
The workshop gave me tips and skills to practise and explore with. The best part of the session was the personal attention, help with editing and getting to meet other photographers and enjoying the discussions on the day. Nicola Bessell
I would recommend the workshop because it is very informative and Brendan is very enthusiastic. I got a good grasp of how to use Snapseed for my iPhone photos. Emer Brady
I am taking away a great deal of confidence through Brendan's patient teaching. I loved the way it all unfolded. It was brilliant not getting stuck because I didn't understand. Everything was so carefully explained. Fran Woolf
Overall, I found the workshop very enjoyable, educational and also inspiring. Brendan's workshop demonstrated that really great results can be achieved with just a few ingredients most of us have: a decent mobile phone camera, some cheap or free apps, and a bit of time to play around and learn. So don't be afraid to just get out there, take some snaps, edit them and show the world. After all, everybody else is doing it! Ofer
It was well worth getting up at 3 a.m. to get to Dublin from Cambridge to attend Brendan's workshop. Sir Cam, Cambridge.
The session was packed full of immediately helpful tips for people of any level. Jude Jarvis
"I am seriously considering not hauling my Nikon around as much anymore. I learnt so much on Saturday – the burst mode, taking Panaromas, composition hints, trying to have fun with different exposures. Snapseed is so easy to use – but maybe that's because we were so well taught on the day."  Maragaret O' Shea.
Brendan is really clear and patient – his background in education shines through. – Imelda McDonagh
Brendan was so honest and refreshing about the art of photography and thoroughly appreciated his encouragement and commitment to sharing his knowledge. – Kate O' Halloran
I would recommend the course because of Brendan's enthusiasm & generosity in sharing his knowledge & expertise. – Hilary Tierney
The photographic tasks and review of same were great. – Sean Feehan
The workshops were challenging, insightful and motivating. – Ana Leddy
These workshops were featured in The Irish Times' We love section.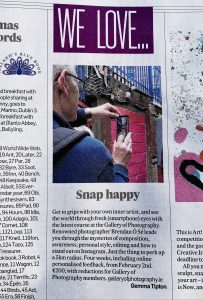 I do not personally handle bookings for the photography workshops. For Gallery of Photography, email here; and Glucksman Gallery here.