Curiosity, adventure, the unknown, the unexpected. All of these things, and more, got me excited about MonogramAsia's (MGA) inaugural street photography conference in Bangkok – 8×8. And what will I take away from it all? Wonderful conversations with sensational people; conversations punctuated with beautiful visual distractions. 
Who were these people?
There were big names from the world of street photography presenting and leading photo walks at the event – people like Eric Kim, Take Kayo- a.k.a Big Head Taco, Xyza Cruz Bacani, Olly Lang, Bellamy Hunt, Sheldon Serkin, Ghatot Subroto, Paul Yan, and Rammy Narula.
Everyone knows ERIC KIM. Google knows him so well that when you put in Street Photography into its search engine, Eric pops up in number one position. Some people have a problem with this. They resent his presence. Feel it is unmerited.
But here's the thing about Eric.
He. Is. Doing. It.
He's not sitting back and thinking: "Man, I would love to do that!" No! He is on it. He got into street photography, saw the information he wanted, the things he wanted to learn were not easily available online so he set about creating an online resource for people who shared his passion for street photography. And he worked it, creating one of the most influential platforms on the net; all the while sharing his passion for photography and if you read carefully enough – he is actually telling people over and over: this is how I have done it, YOU can do it too!
Meeting Eric is full on. The first thing he said (I mean asked – Eric loves questions) was: Tell me your life story? This was followed by: What's your philosophy? Then: Why do you make photos? As I struggled to answer these I noticed he was already formulating the next questions from the answer I was structuring. And it is not inane. No, he truly wants to learn – and as he claims, he does truly want to empower people. 
For me, when I look at a photo, I want to see where the photographer is. Because the photographer is in every photo. It can be that you can imagine their physical position in relation to the subject, or more importantly, you can feel their emotion, sense their character, or connect with their curiosity in getting the shot. The photographer is always there. After our photo walk, we all met up for dinner. Eric sat next to me. Without asking he picked up my camera and began to swipe through my shots from the day. Ooh! Eric Kim reviewing my shots. I was nervous I can tell you. But he was inquisitive, sharp, and kind about my images. I asked then could I see his. Sure! We all know Eric is capable of creating arresting street images, but as I clicked through his shots from the day I saw visual images of abstract constructions. Beautiful ones. Photos I was not expecting to see.
Another guy who you cannot help coming across online is Japan Camera Hunter, a.k.a Bellamy Hunt (or should that be the other way around?). I had the pleasure of sharing a taxi from the airport to the hotel with Bellamy and it was great to get to know him. Bellamy is interesting and engaging. His story of how he went from working in an office in Tokyo – being a salaryman – to being one of the world's most renowned camera finders is fascinating. Over the few days with him I enjoyed his dry wit, his very British character, and his kindness too. He gave us a roll of his film and I am excited to try it out. I look forward to looking him up when I am next in Tokyo and shooting some street with him, or just having a nice cup of tea!
When Ben (MGA founder)and I were first discussing the possibility of an event like this and including mobile photographers in it, Olly Lang was one of the first names I thought of. I have followed Olly for a number of years. I like his photography, but what I got most from Olly was his thinking on where photography was and where it was heading. I had listened to him on the fabulous photography podcast – The Photography Show (go check it out – in fact you will find interviews with Bellamy, Eric on here too). Olly is a deep thinker and what he has to say always gets you thinking. He is also a funny guy. Very often, as you get to know people, you need to tune into to get their humour. Olly cracked me up at times with his dry delivery and ability to snap a comic twist on things.
They say you should not meet your heroes, and for the main part that is true. Sheldon Serkin is a hero of mine. He shoots on the streets of New York with an iPhone and produces these beautiful, revealing tender (and often humourous) candid moments. Sheldon's work slows me down, draws me in and allows me to dream. Of all the people at the conference Sheldon was the one I was most excited to meet. And I was not disappointed. Over the five days we talked and talked and laughed and laughed so much. It was super cool to learn how much we have in common: Both English language teachers and both big Dead Kennedys fans. Oh, yeah!!!!
Gathot Subroto (Gathoe)- from Indonesia. I first met Gathoe when I was in Jakarta last year for a talk with MGA. I felt bad that day because once my talk was over I had to get in a taxi and get to the airport to fly home and I missed out on his talk. Gathoe is a photographer whose work I love. His colourful street work is constructed with care and precision (not an easy thing to achieve on the streets), and it has a beauty and at times a humour to it which is striking. One of the things I love about Ghatoe is his smile. What a beautiful smile! 
Take Kayo – Big Head Taco. Now, here is a gentleman. Here is a force of nature. When Take starts to talk clocks stop ticking. Take can talk, and talk, and talk. But he engages, and he wants to listen, and he wants to learn. I listened to a podcast with Take on my way to Bangkok (for me the best photography podcast out there is Ibarionex Perello's , and this was a great lead-in to getting to know the man behind the persona of Big Head Taco). I connected with Take. I liked his honesty. I liked his style and I liked the way he worked.
I am fortunate to get to shoot in amazing cities around the world. Tokyo will always be my favourite, but there is something special about Bangkok. To appreciate this you only have to look at the amazing street photography coming out of Thailand. Chatchai Boonyaprapatsara is the co-founder of Street Photo Thailand (stop reading and click now!). He presented his own work, which I love. and that of the other group members. People will know the work of Tavepong Pratoomwong, but others in the group are producing stellar photographs too. Have you clicked yet? No! Do it now!
Rammy Narula! Ben sent me a link to his work before coming to Bangkok and I remember sitting back in my chair and loudly exclaiming "Fuck!" as I clicked through his images. His stuff is good! Rammy is a cool guy. He has a cool beard and he wears cool caps.
He gave a great talk. Shared his process in getting his shots. The dedication to and the vision of what he wanted to create was impressive. He went to the main train station in Bangkok over six months to shoot in a window of light that lasted for 20 minutes on a platform. Six months work boiled down to 29 images. Photography is not about single images. It is about deselection. Killing your babies, as they say, to create something coherent, something cohesive, something with impact that the hits viewer and allows them to dream.
Paul Yan –  what a man! A rock star! A bass player – a record producer from Taiwan living in Beijing. Paul is fucking cool! He has style. His clothes, his jewellery all have personality. Paul puts his heart and soul into his work. I was going mad that I could not see his talk as it clashed with the review session from our photo walk. I had known Paul for sometime online, been a fan of his work, and now can appreciate it more that I know the man. Meeting him makes he want to get to Beijing to shoot street with him and listen to Tuesday Afternoon – the latest band Paul is producing.
Xyza Cruz Bacani . Of all the presentations at the conference, Xyza's was the one that hit me most strongly. On the panel discussion the previous day she had talked of privilege of being able to shoot on the street and it was something I had not considered before. It got me thinking of responsibility; it got me thinking of how fortunate I am. Xyza's work is on another level in terms of its quality, and in terms of its impact and message. She showed three videos of her work and in each I was quietened. As I said, I look for the photographer in their photographs and In the first video, photographs of couples in Hong Kong, I saw her. I saw her curiosity, maybe her longing, maybe envy, but her talent to observe and construct beauty and tenderness shines. In the others, I saw her ability to tell stories, to connect, to cross boundaries that only photographs have the power to do, and I felt challenged to think about what photography is and can be.
What I will remember about Xyza is her sense of fun too. Together with Sheldon, Renzo, Olly and Yoko we hit the bars together and had the craic, as we say here in Ireland.
THE PHOTO WALK
One of the questions that arose on the final day for the panel was: Who do you think got more from the conference – the speakers or the participants? One of the easier questions to give a definitive answer to. For me, I got so much from the event. It pushed and pulled at how I think about photography, think about how I see, how I construct/deconstruct visually, how I present and share my work.
When we hit the streets with the participants on the photo walk it was so cool to see how my excitement to be shooting on the streets of their city transferred to them. Before the event I was thinking what I wanted to give the shooters on the photo walk, and I guess I was hoping I could give them inspiration to see things with fresh eyes. Over the course of three to four hours we got to know each other a little. A common question for people who are getting into street photography is how to get over their fears. One little piece of advice I give is to get the first shot in as soon as you can. It is like going to a party. If you sit in the corner waiting for people to come to chat with you, it gets harder and harder. But if you strike up a conversation with the first person you see, then it is so much easier to talk to the next person. It was like that on the walk. Seeing people getting braver and bolder in trying to get that shot was great. Hearing that they felt more confident, and got shots they would never have tried was really rewarding for me.
One of the funniest experiences was getting this shot. What could possibly happen when you get in close and shoot a sleeping, tattooed man who has a Stanley blade in his hand?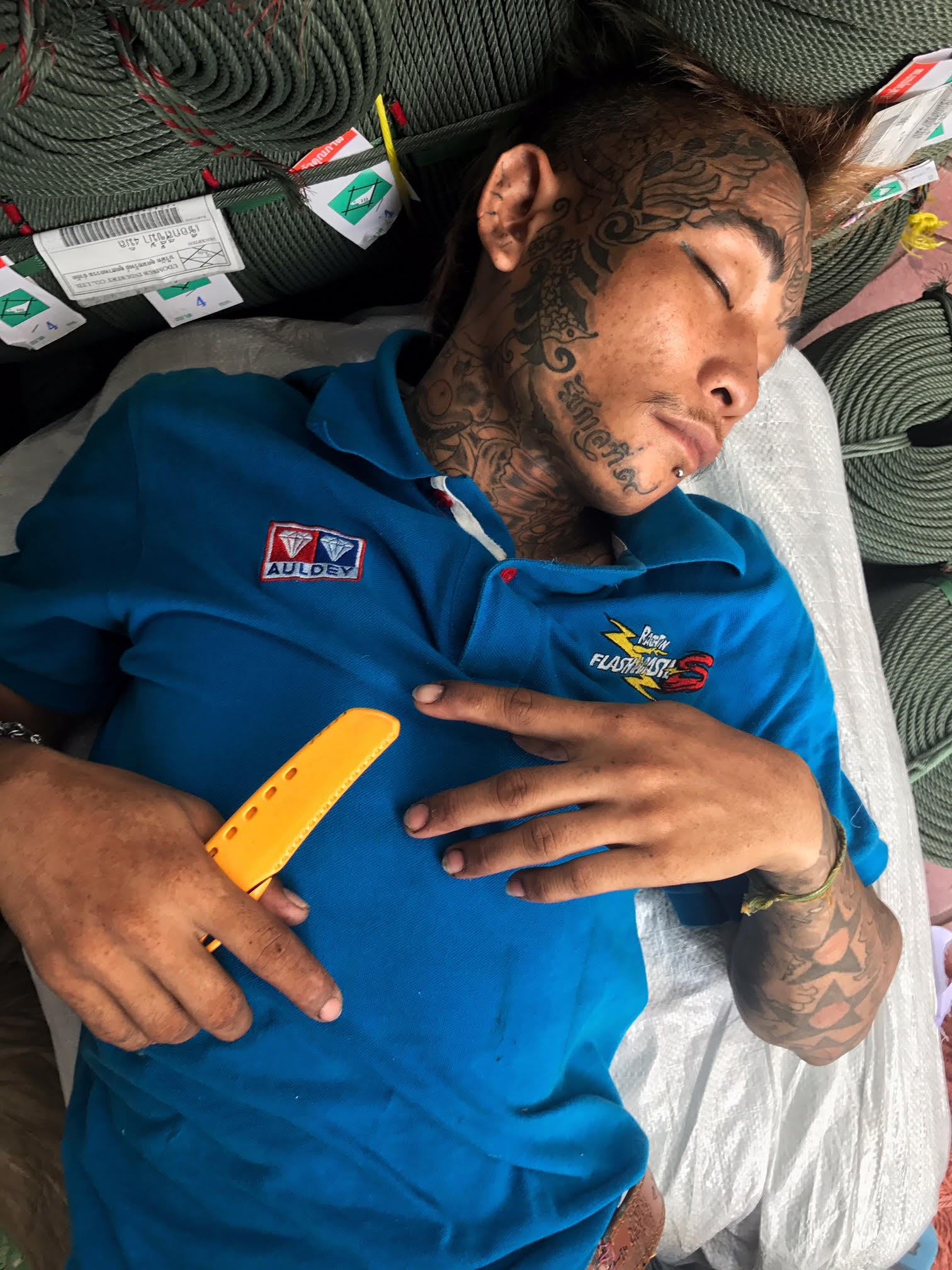 The following day we had the review and critique of images shot. Epson, one of the main sponsors, printed the participants' photos. What I loved about the photo walk is that we may all have walked along the same route but what we saw and how we saw was so different. I was really impressed by the photos they had made, and their ability to self-critique. I shared three of my own photos – none perfect – and it was refreshing to hear their feedback on my shots.
I cannot end this without giving huge thanks to my friends in MGA whose hard work behind the scenes meant we could just get on with our roles as speakers/photographers. Everything was in place for us. There were no hiccups. It all ran so smoothly. Why? Because a team was put together that all pulled in the same direction. People who were prepared to do the hard work to get the job done. And it was done superbly.
Big thanks to Elfie – next time on the streets together shooting, my friend.
 To Victor – he must have a clone of himself sharing his workload.
To Billy – thanks for being so patient with me and having everything perfectly in line for my talk.
To Mo at the wonderful boutique hotel – Nandha – and his excellent staff.
Add in to this mix the opportunity to meet Renzo Grande – co-founder of the 24-hour project – who came along to the event, and Yoko – a really special person – who is so kind and fun to be with. On the final day, Sheldon, Renzo, Yoko and I had a fun time out exploring the streets of Bangkok. It was hot, it was humid, but it was memorable.
And Ben – Mr. MonogramAsia – my good friend! My fellow dreamer. Bangkok – 8×8 was a huge success. It's done now. On to the next one.
Bigger, bolder, better!!!!