That's a question I am asked a lot: Why do I need a second Instagram account?
Truth be told I don't need one and I probably would be better off just focussing on building my main account. Addition is dilution, as they say. That is true. So, why do it then? Well, I shoot a lot of photos. So much gets my visual interest and over time I build up a lot of photographs which lead a lonely existence in the depths of my camera roll. Back in May of 2016 I decided to create another Instagram account and just post photos there that did not feature people. My thinking was that my main account is primarily for street photography shots with the human element. The second account would let me showcase images that just might not ever see the light of day otherwise. I hate rules, but I do apply just one rule to this account: no people.
So, arriving to January, 1st, 2018, I have decided to look back and choose 12 favourites from that stream. An algorithm chose my best nine, but honestly what the f*** does an algorithm know about photography? A bloody lot judging by the success of platforms like Instagram!
Anyway, here goes in selecting 12 photos from my second Instagram account. I am not going to do this like I did when selecting my fave 12 from the main Instagram account – when I chose one photo from each month. This time, I am going to make it easy for myself and just choose 12. (a little side note – I am trying to get this done in the next hour or so – otherwise it will not get done – actually took me over 90 mins)
I hit the streets of Hong Kong wanting to capture street life and character. I had my camera ready for action. My head was on a swivel seeking out that scene. Then I stopped. Perched myself against a yellow facade and shot the passing traffic.
When we are in Korea, one of the things we enjoy most is walking to the river near my wife's parents' house. The kids love to play in the water. It is a short walk; takes about 5 minutes or so. Over the years I have shot so many photographs and videos of them playing in the water and also so many shots of things I see en route. This one here is an example of the things you can see on the way. I look at it, the kids look at it, they look at me, they look at one another, and then they run on. The river is waiting.
People love it when I tell them that these are coffee pods. I found these in Brown Thomas in Cork when I was in there with my wife one day. I had to ask the store assistant to step out of the way to let me get the shot. When I showed her the shot she said: "Wow, I see that every day, but I have never seen it like this. That's fabulous." That made my day.
Tokyo sees a lot of rain. Hit that up with neon and you get some beautiful reflections. This shot was shot using portrait mode to defocus and accentuate the colours. I edited in RNI Films (if you haven't got that app, you are missing out. Go get it!)
Bangkok is hectic. An assault on the senses. I love the place. So much going on and the people are just the most photo-friendly you can meet. It can be hard to get a shot that gives the sense of activity without having people visible in it. I think this goes towards it.
I think the reason I like to shoot abstract images when I am out photographing is because there is control in this. It is not like street photography where, as the saying goes, if you see it, it is too late. There is a comfort in finding scenes which are to a degree permanent, ones you can take time with. Ones you can even manipulate. This shot is from Daegu, South Korea. I was wandering around the city frustrated that killer moments were not happening for me. They rarely do. One way to deal with this to seek out photographic constructions. This scene, while appearing calm, screamed at me.
I was asked once in an interview if I ever had a lightbulb moment and it annoyed me. Annoyed me because to begin with I could not recall any and then annoyed even more when I realised how unfortunate that is. A light bulb moment is by nature an abrupt clout of clarity which shakes you from your trodden and dour path. Why didn't I ever have one? I want one now, I thought. But you can't will these no matter how you try. But you know now that I am in the process of reviewing my images and wondering what I saw when I took a shot, I begin to think about a moment when an ex-girlfriend of mine spoke to me about seeing colour. I was about 20 years old and I was bored listening to her. She knew this. But she also knew I was not seeing colour. No, she said, you don't, you don't see colour, you see colours, but you don't see colour. This confused me, but by now I was listening to her; no longer bored. Colours, colour, what's the difference? She continued to tell me, but what she was saying continued to confuse me until I began to try to see it for myself. And then I did, I began to see colour like I had not before.  No matter how I try to explain this I can't. I am not going to even try. Perhaps the easiest way to achieve this is just by trying to see colour. It is the same with shapes and lines and layers and distortions. They are all there. You just need to train your eye to see them. This photo below is an example of this.
This photo I love because it is simple and was such an easy shot to get. I like it because when I look at it, I leave it and I am back in Bali. The sky is clear of clouds and the sea is pristine.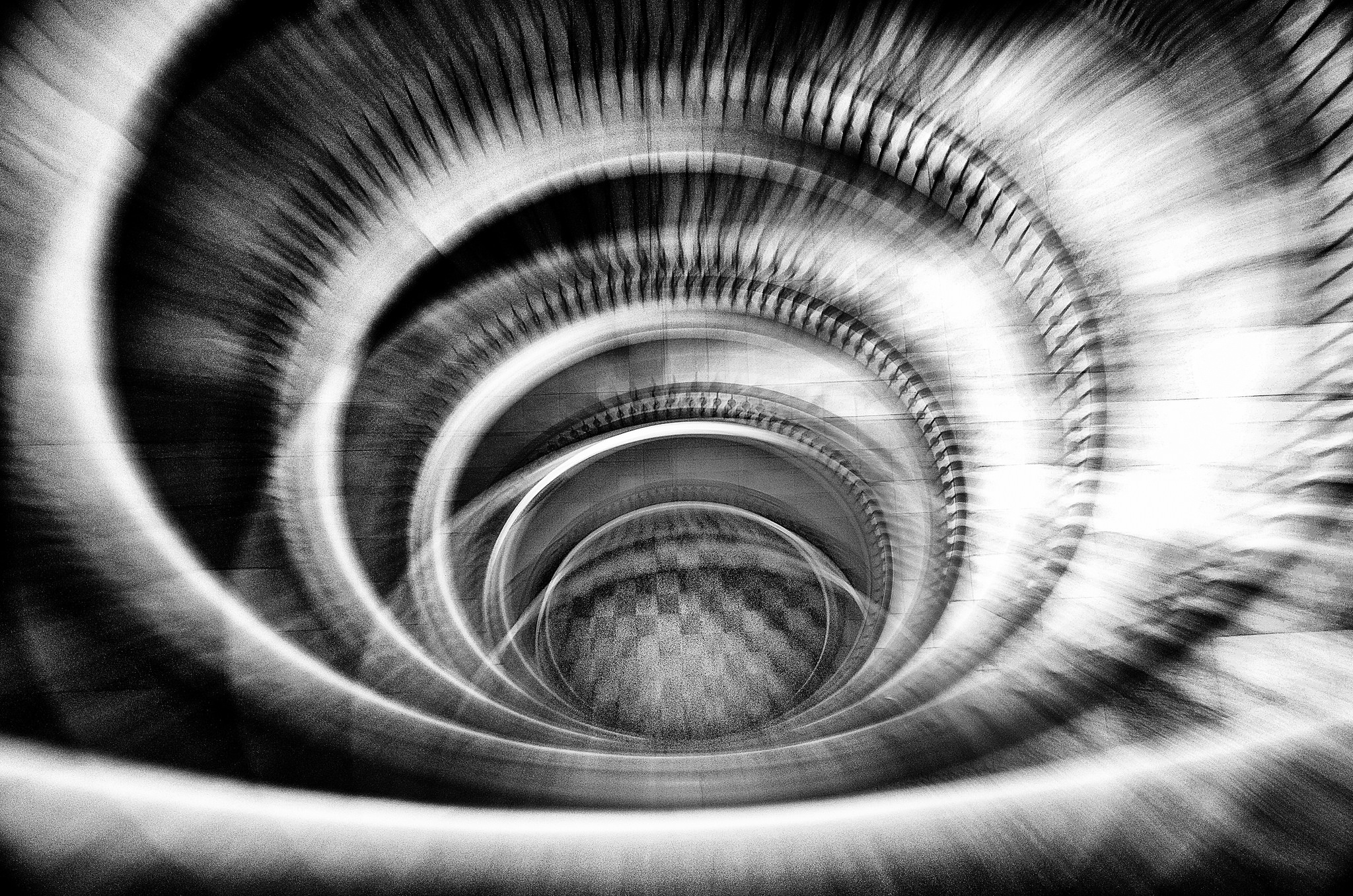 One of the hardest things I find in photography is to immerse yourself in the scene and to become part of what you are seeing. To allow the viewer feel what you might have been feeling. So often I fail in this. This image here is of a staircase as seen from above. Using a zoom burst I wanted to give the sense of vertigo I was feeling looking over it. I have a dreadful fear of heights.
I obsessed with the future. I struggle so much with optimism. It is like I am on a trampoline. Each time I am vaulted skyward I panic. Enveloping pessimism consumes me. I fear there is nothing under me to cushion my fall. Yet, each time I hit that trampoline optimism is injected and I believe again. What does this have to do with photography? Leading lines, vanishing points, all leading to the future. I stop to examine and caution floods in. But it excites me too. Commit to the future…
Trees. They need to cheer the fuck up, you know. Every photographer goes through a phase of shooting trees. They are easy. Stuck there in the ground, unable to make you question the reason why you are photographing them. Snap, snap, snap, they can do nothing. No response. Nothing. Move on to the next tree.
I teach my students how to write. One of the pieces of advice I give them is: Let your ideas control your writing; not your writing controlling your ideas. What does this mean? Well, this blog piece is an example of my writing controlling my ideas. Before I began this piece I had no idea what images I would choose, not to mind what order I might present them in. I even began by telling you that this second account is for photos with no people in them, and now here I am getting to the end of the piece and putting in a photograph with myself in it. I can offer excuses, but they would be pathetic ones like telling you this is my blog and I make the rules. Then, to compound things, I realise this shot is the one I should have used when I was talking about lightbulb moments. Too late. I just could not be arsed going back and reorganising. It's done!
Anyway, I am choosing this as my last favourite of 2017 from my second Instagram account. Why? Because all my photographs are all about me. I may not be in them, but if you look you will find me. In all of them. Every single one. Even this one.
Kiss the future….