On January 1, 2015, I posted this to Facebook: Everything will happen. Believe – achieve! When writing that I could never have imagined the magical experience that was about to begin for me. Looking back at 2015 through the lens of the iPhone there are so many highlights and accolades: being part of Apple's incredible Shot on iPhone 6 global campaign, speaking at the world's first ever mobile journalism conference – MojoCon in Dublin last March, winning many awards for my iPhone photography, being invited to London to be interviewed by the great Dan Rubin as part of Apple's Meet the iPhone Photographer, visiting Tokyo, Porto, Amsterdam, Vilnius, Milan and London, giving iPhone photography workshops in galleries in Cork and Dublin. But throughout it all, I knew the thing that would stay with me was the experience of sharing all this with my family and my friends and also the making of new friends on the way. I realised how fortunate I am, not just in receiving these accolades and experiences, but also to see the joy it brings those who love me. Seeing the wonder in my mother's face as she saw photos of my Shot on iPhone 6 photo on billboards around the world, hearing my little girl scream with glee when she saw me interviewed on TV, and
I like this little activity I have each year when I look back and choose my favourite 12 images I posted to Flickr throughout the year. It is an interesting document to see my photographic journey over the previous 12 months and gives me an idea of where I am heading to.
OK, I am going to be honest, looking at the iPhone shots I posted to Flickr in January, none of them stand out for me. This allows me to choose 2 from another month later in the year.
February was a sad month for me. My good friend Liam passed away. A day has not passed that he has not entered my thoughts. This photograph of the sun shining through a leafless tree is for him.
In March, everything changed. My photograph went up on huge billboards all around the world and I absolutely loved it. For about two weeks, I could not sleep. The excitement of it all was too much. I was doing newspaper and radio interviews and my stats on all social media spiked. I was lucky to be able to get to Milan with my wife to see the billboards for ourselves. This photograph tells the story of how exuberantly delighted I was to see my photo on a billboard.
April and I was in Tokyo. It rained non-stop for 3 of the 4 days I was there. Only having 4 days, I intended to make the most of it. This photograph, shot in Shibuya, was taken only a short few hours before my early morning departure flight. It would go on to win 3 competitions in 2015. You can read more about how I got this shot here.
April was a great month. I also got to go to London for Apple's Meet the iPhone Photographer. To be honest, this was my personal highlight of the year. Everything about this experience (read my blog post about it here) was wonderful. I got up early on the morning of the event and was blessed with the fine weather. I got out early to shoot and on that morning, I got so many good shots. This one here, that I posted to Flickr in May, is one of my favourites of the year. I stood on the road as I waited for a passerby to enter my frame. The graphic shadowed patterns of Blackfriar's Bridge were so serendipitously complemented by the black and white runners of the woman who strode past. Click!
I am attracted to light and lines. This shot, posted in June, is from a wonderful photo walk at Mojocon in Dublin in March stopped me in my tracks. I love the simplicity of it.
July was spent in Ireland. We had a family holiday in Sligo. Mullaghmore is one of Ireland's most beautiful beaches. I was walking on the sand dunes behind the beach when I saw my little girl running towards her mother and brother. I can still hear their laughter.
For August, I am cheating a little and choosing two photos. The first is one is of my little girl on her 8th birthday and the other is from the trip to London. I could not leave either of these photos out.
In September, I posted another of my favourite shots of the year. This is one that I ran across traffic to get to in Amsterdam. I saw this guy sitting on a bus stuck in evening traffic. He had this most intense glare. This shot is part of an ongoing series.
It seemed to start to rain in October  and has not stopped yet. I was sitting in the car waiting for my wife to get back from the supermarket when I saw this guy leave and battle to hoist his umbrella. I had to snap!
In June, I got to travel to Porto – my prize for winning the Mira Mobile Prize. I was met by Manuela and Joao, the organisers of the competition. Their kindness and hospitality will stay with me for a long time. Porto is a wonderful city. It has it all. This photograph, posted to Flickr in November,  was taken just outside Porto's iconic Majestic Cafe. I got as close as I could get to get this portrait of this wonderful Porto gentleman. You can read my travel article published by Ireland's state broadcaster – RTE – here.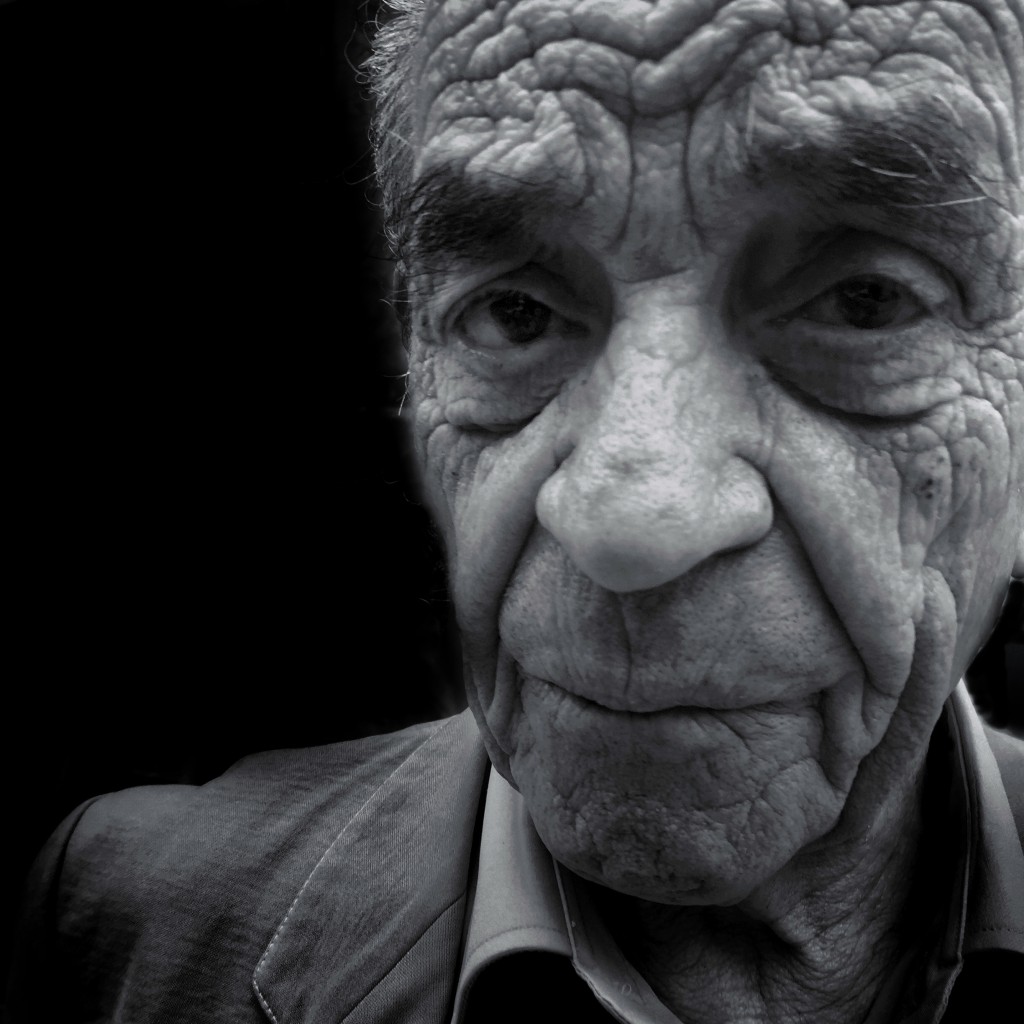 In December, I upgraded from my beloved iPhone 6 to the new iPhone 6s. Late to the party, but still hoping to get to dance, I have been battling the elements and getting out shooting. This photograph shot last Monday (29.12.15) was taken in a hurry. We stopped at Ladies View in Kerry to look down on the Gap of Dunloe. It was wild. Storm Frank had landed and the wind and the rain were ferocious. My friend Richard stood taking in the vista. I stopped behind, framed the shot and snapped. We spent another a minute or so there before rushing back to the car.
And that is it! Bringing to close what was the most wonderful year ever in my photographic journey. Thanks to all whose inspiration, love and kindness drives me on.
Here's to 2016! Everything will happen. Believe – achieve!