When my turn came to speak, the nerves had gone and were replaced with a feeling of ya, this is it and I'm going to enjoy it. The excitement really began when, along with the other six speakers who were part of the panel for smart phone photography, we got miked up. Ya, this was it. Here I was in the National Convention Centre in Dublin all miked up, all ready to go and talk about what I do on the stage of the world's first ever Mobile Journalism Conference – Mojocon!
We took to the stage and sat in the order we were to speak. I was to the left of Andy Butler who was first up and to the right of Michael Kistler, Dan Berman, Nicki Fitzgerald, Dan Rubin and Jack Hollingsworth. We were assigned ten minute slots which would be announced by the ringing of a bell. Our moderator, Patrick Hamilton-Walsh (what a pleasure it was to get to know Patrick), introduced us one by one. Andy was first up to talk about his website and e-magazine, Mobiography. Back in October, 2014, when the organiser Glen Mulcahy contacted me about putting together a panel of people from the world of mobile photography, Andy was one of the first names that popped into my head. I have great admiration for the work he does in promoting and showcasing mobile photographers on his site and e-magazine. Andy gave a well-structured and informative presentation that was well received by the large audience. Then came my turn and up I went.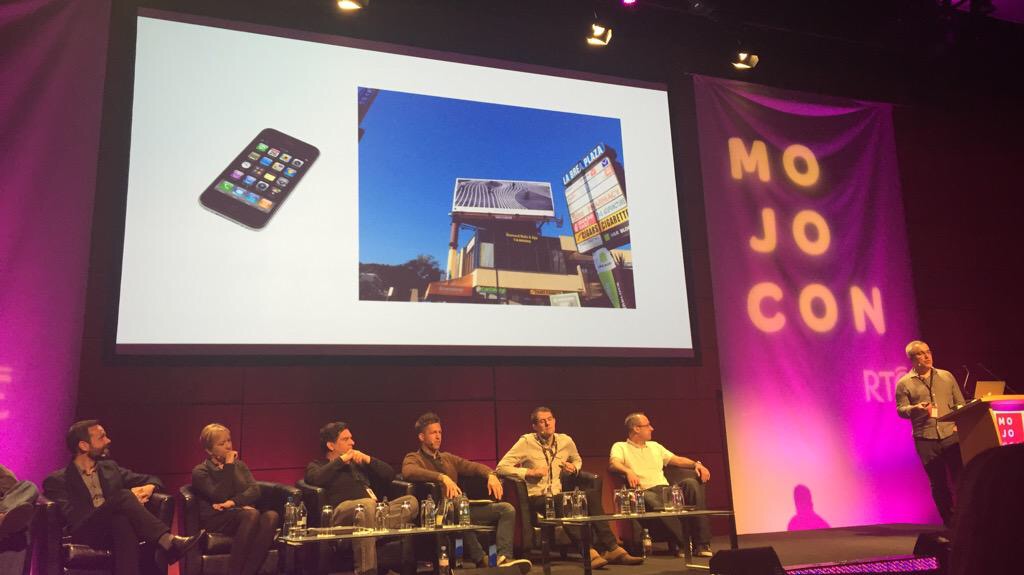 Earlier in the day, I had heard one of the speakers at another session say that for every minute of your presentation there needs to be an hour of preparation. When he said this, I immediately started to do my calculations and doubt began to creep in. Had I my ten hours of preparation done? But really the truth was that I could not get the mathematics of the calculation right, so I abandoned it. I was pretty much prepared. I had my slides, a little video clip of me showing how I do post-processing on the phone and I had written out an accompanying text, and for good measure had a few jokes thrown in. Earlier in the week, my wife had sat and listened to me rehearsing. Asking her how it was elicited – 'it's fine, but you need to slow down a little'. I am a fast talker, I suppose. Earlier in the afternoon with Michael Kistler and Andy Butler we had more rehearsals and again the advice back was "slow down!" Conscious of this, I tried to pace the delivery just that little bit more slowly. I think I managed it OK, but the thing that got me was that damn clicker for the slides. Coming towards the end of the presentation, I clicked twice and was unable to get back to the previous slide. I missed the chance to get my little joke in about selfies and to compound things, the bell rang and it was like being back in school. I wrapped things up there and then and only in later presentations did I realise that I still had more time and I should have just kept on regardless. However, all in all, it was fine. I got to tell the story of my mobile photography journey: from an iPhone 3g to billboards and posters all over the world.
As soon as I sat down, the reflection process began and has not stopped. If the conference goes ahead next year and I get invited back,  I have decided that I am going to bring my own bell and ring it at random intervals and allow it to soothe and relax me throughout.
Next up was Michael Kistler, a photographer based in Hong Kong, who gave a solid and well-structured presentation dealing with the many myths and false claims associated with mobile photography. He finished his presentation with a slideshow of his images. I really liked this style, because it showed a confidence to allow his photography to speak for itself, without need for voice over as the images were shown. I am a big fan of Michael's work and was chuffed to see his presentation go so well.
"Man! Stop phoning my camera! What are you phoning my camera for?" This was one of the many funny lines from the larger-than-life Daniel Berman, the founder of the Mobile Photography Awards (MPAs). Dan stole the show. He introduced himself to the audience as Ted Cruz, cracked a few jokes and had them in the palm of his hand from there on in. Dan showed some of the amazing mobile photography images that have won at the MPAs and spoke of how many of these have been sold for large amounts. When one of the slides did not show and he was left with a black screen, his showmanship shone when he told the audience that "this image is called black and I sold this to a gallery in San Francisco for $40,000." Dan!
I did not envy Nicki being up after Dan, but she managed very well. Nicki runs the well-known iphoneographycentral.com with Bob Weil. She spoke of the fine work her site showcases and then walked the audience through the processing of one of her own images. Again, it was a very interesting to see how she creates her images and what apps she used to do this.
Dan Rubin is one of the biggest names on Instagram with more than 750,000 followers, but this really is a very small part of what Dan does, as he is a successful man in many fields. I was very impressed with Dan throughout the day. He was a calming and supporting influence on us novice presenters. It was great to watch Dan go through his paces. Clearly he is a polished presenter and he engaged effortlessly with the audience.
The final man on our panel of speakers was the guy known as Photo Jack – Jack Hollingsworth. Jack is very well-known in photography circles. wefollow.com has Jack listed as the 11th most influential photographer on Twitter. Jack's presentation was big on numbers and stats, which are always interesting to learn, but what I liked about Jack's talk was the emphasis on how to become a better photographer. Simple, become a better person. Art from the heart. 
Coming off that stage, I was buzzing, or skipping with delight as Andy Butler would call it. What an exhilarating feeling to be involved in something like that. Walking off stage, I was met by people congratulating me, telling me how well I had done, how much they liked my work. Together with the other speakers, what had been a collegial, supportive dynamic before the session, was now one of exuberance and delight. It was over and now we could relax and enjoy ourselves. And that is what we did. The organisers had arranged a meal in a lovely Thai restaurant. The food, the wine, the conversation, the atmosphere, everything was just perfect. A night to remember!
Day two of the conference was about taking things to the street. Together with Michael Kistler and 15 other people we hit the streets surrounding the Convention Centre. Had I been asked about photo walks before I would have probably replied that I was not a fan of them. The idea of large groups of people in a herd moving together snapping in unison, would have been a right turn off for me. But the truth is I was completely wrong. Ya, we all followed the same route, but the diversity of images we got was incredible. How could so many different things have been observed?  It just goes to show how different everyone's perspective really is. The location opposite the Convention Centre is a great one for a photo walk. There is some spectacular architecture around that area and plenty activity too. The weather held up, even though rain had been forecast. We used the hashtag #mojocononthestreet and curated images posted to Twitter and Instagram to organise a contest with donated prizes from iProlens. In hindsight, we should have a raffle for the prizes as it really was so difficult to choose among the entered images. That is the only regret I have about the conference.
Here is a little clip of an interview Richard Donelan, of Start Up TV Ireland, did with Michael Kistler and myself.
It was the most amazing experience. I have spoken at and attended many academic conferences, workshops and seminars through the years, in many countries, but none compared to this. There was a buzz about the place that was matched with the sense of excited anticipation the speakers and attendees shared. Here were the leading lights in the future of journalism, coming together from all over the world, wanting to learn, wanting to share, wanting to take the next step in the evolution of mobile journalism together. To be a part of this, as a visual storyteller, a photographer was a true privilege. It has invigorated and inspired me. I met so many nice people over the weekend. Thanks to Jack Caffrey, Claire Byrne, Maeve Heslin, Margaret Ward, Richard Donelan, Juan Muñoz Fernandéz, Phyllis Stephen, Niki Mustain, Ricky Fosheim, Shadi Rahimi, Sue Llewellyn, Alison Gow, Micheal Mac Suibhne, Harry Guinness, my fellow Man Utd fan – Patrick Hamilton-Walsh, and Sinead Cassidy who was always available before and during the event to ensure everything ran smooothy. It was a great pleasure to share this experience with you all. Hope our paths cross again.
I cannot end this piece without acknowledging the work that Glen Mulcahy has done in bringing all of this together. This was the first event of its kind any where in the world. As a fellow Irishman I am very proud of Glen. It took a lot of imagination, vision and persistence to get this event off the ground. That it was such a success is so pleasing. Kudos to you, Glen!
Here's to MojoCon 2016!