Instagram is great with numbers. It calculates how long has passed since you posted in minutes, hours, days and finally in weeks. My Instagram feed goes back 238 weeks, which can be more easily understood in 4 years and 6 months. That is a long time of regular posts and a long time swiping up to get to that first Instagram post to establish how long I have actually been using Instagram. There was a big broohaa about Instagram last week when it updated and allowed non-square images to be shared. This was a great update to what already is a fabulous platform for sharing photographs. But here's an idea Instagram – why not give us a time option so we do not have to endlessly swipe up to see photographs we posted all those hundreds of weeks ago. Wouldn't it make sense? Put a little calendar icon there for us and let us make that trip down memory lane without exhausting our poor thumbs.
Instagram, love it or hate it, there has been nothing like it in the history of photography. I could bore you with statistics, but doubt I really would. People love them. Me too. So here goes. Instagram has 300 million active users. 75 million use it every day. I am one of the 75 million. If you are reading my blog, which nearly always has to do with photography, you are probably one of them too. More men than women use Instagram and the second most instagrammed food is Sushi. Now to find the most instragrammed food; well, you will need to google that for yourself.
Here are some of my own statistics as of September 10, 2015. I have posted 2085 images. I have 1840 followers. I follow 266 people, and in the past week or so I have deleted more than 1500 of my photographs. I want, and will, delete many more. Why? Because Instagram is a photography cemetery. Who swipes up for that long to see what you posted 238 weeks ago. Really though, who counts time in weeks?
Despite the tiredness in the thumb, it was great to go back and revisit photographs. So many brought me right back to the moment of the shot – the associated sensation, the excitement,  and immediately I remembered if was I alone or with someone. I found it powerfully provocative swiping though those images; discarding and deleting so many, but some stopped me in my tracks and had me enthralled. In putting together this blog post I could have chosen from many images from hundreds of weeks gone by, but the ones below seem to represent my Instagram journey best.
Photographs of my kids are so special to me. I am very protective of their privacy and nearly all the shots I post of them are shot from behind. I think it is a combination of protection and preparation for when they will be independent of me. This is one of my all-time favourite photographs. One I commissioned a painter to paint and we have it large and framed on our living room wall. Their innocence and intrigue at the passing world outside the window forever captured.
I was struck recently by this quote from Benjamin Disraeli: "Like all great travellers, I have seen more than I remember, and remember more than I have seen."  At first, it seems like a contradiction and from that you begin to question it to understand it and then realise how true it is. It leads me to Gabriel Garcia Marquez's quote about memories: "What matters in life is not what happens to you but what you remember and how you remember it." 
Looking back over my Instagram images, which are in actual fact only fractions of a particular second, I find they can catapult me back in time to that very moment I shot them. Like this one shot on a rainy, humid day from the passenger's front seat of a car travelling from Ha Long Bay back to Hanoi. I was listening to The New Yorker fiction podcast of Junot Diaz – How to date a brown girl. I can still hear the low tones of the voice. What should have been a 90-minute journey was taking over four hours. My two travel companions were asleep in the back seat and our driver and I shared smiles and nods as he had very little English and I had zero Vietnamese. Outside the rain fell and fell. The hypnotic windscreen wipers swept back and forth many times before I saw the photograph appear. When I did, I was so pleased. The image shows a fraction of a second of a four-hour journey but from it sparks so many recollections of friendship, fun and shared discovery.
It was from this trip to Asia in 2012, that I really became a photographer and the reason being was that for the first time I had a camera with me all the time. In those five weeks in Asia I posted hundreds of images on Instagram from Hong Kong, Hanoi, Seoul, Daegu, Busan, Tokyo and Kyoto. It was so easy. The whole photographic process was made simple on the iPhone and Instagram: Shooting, editing and sharing all on one device. Back then my brother was in hospital for major surgery and Instagram allowed me to share my travels with him and take his mind off things a little. When I look back at those images now, the sense of distance I had from him was shortened with Instagram. It was hard being so far from home when he was so sick, but I knew he would want me to enjoy myself, and I did. It was wonderful to be able to share what I was experiencing with him on Instagram. Thankfully, he made a full recovery.
After having so much fun with the iPhone and Instagram in Asia, I decided that when we went for a short break in Barcelona later in the year that I would only use the iPhone. How freeing it was not to have the heavy DSLR and all those settings to manage. With the iPhone I was able to see and shoot and with Instagram edit and share. Perfect. It may be 159 weeks ago, but I would probably shoot this again exactly as I saw it back then. OK, I probably would straighten it.
With the iPhone I moved more into street photography. The camera, which was also a phone, which was also a music player, was perfect for candid street portraits. It allowed me to get in close without drawing too much attention, like in this shot.
How did the iPhone and Instagram help me to develop as a photographer? Well, I went from a situation where I would only take a camera out on occasion to having one always with me. Gone were the moments when you would see an image and curse the fact that you had no camera with you. The iPhone was always with me and because of that I was becoming more and more sensitive and alert to photographic opportunities. This image below is a great example of this. Here's the story behind it. I was having an argument with my wife – as you do. Couples argue. We were at a function in Dublin and arguing over something silly that I cannot recall. While we were arguing these two cracks in the wall got my attention. The lines seemed in harmony and at the same time not. I was struck at how fixed and permanent they were; how distant, but always together. I got the shot and like always the first thing I did was to show it to my wife. That's us, I said. She said nothing in reply, but gave me a look. We continued to argue for a little while after that, but I remember being very pleased that I had seen the shot and had got it.
Then there are ones of trees and how those trees need to cheer the fuck up. Sitting in a crowded hall at an education conference in Berlin my attention was drawn to the high glass windows and those trees that shivered in the cold and rain outside. I had not been in Berlin for 6 years. The last time I had been there I had a series of telephone calls that would change my life forever. As I sat lost in those thoughts, I was staring into the distance watching the rain run on the window and the trees shiver ever so gently a little beyond. I broke myself from that melancholy and photographed the scene.
"The pleasure we derive from journeys is perhaps dependent more on the mindset with which we travel than on the destination we travel to."  (Alain De Botton)
Swiping down through the thousands of images I have posted to Instagram over the years, photographs from my travels dominate the stream. It is funny, but the ones that convey the sense of excitement most are shot in airports. Is there anywhere as exciting as an airport when you are about to head off on another great adventure? Although airports are never as exciting when you are making your way home.
Sometimes things just line up for you and you are compelled to see and shoot. This is one of those instances. I was on my way to Germany, via Amsterdam, queueing to board a plane in Cork airport and as we snailed along I saw the passengers embark at the far end of the plane. With the queue trundling along at no great pace, I had time to frame the shot.
When I got to Amsterdam, I was snap-happy and shooting a lot with the iPhone. Airports are so often such magnificent examples of modern architecture and have so many elements a photographer looks for like great light and there probably is no other place where you can find so many people from so many cultures. For this image, I crouched down on the travelator and set up the shot. I shot a lot of images from this perspective as I waited for my connecting flight to Germany, much to the bewilderment (and sometime annoyance) of my fellow travellers.
Instagram is much more than a photographic document of the past 238 weeks of my life. As I swipe down through the images I am drawn in and swept off to reacquaint myself with past adventures. I see my two children growing up. I see how I want to see and show and share the world around me. I see my photographic style emerge and evolve. I see me.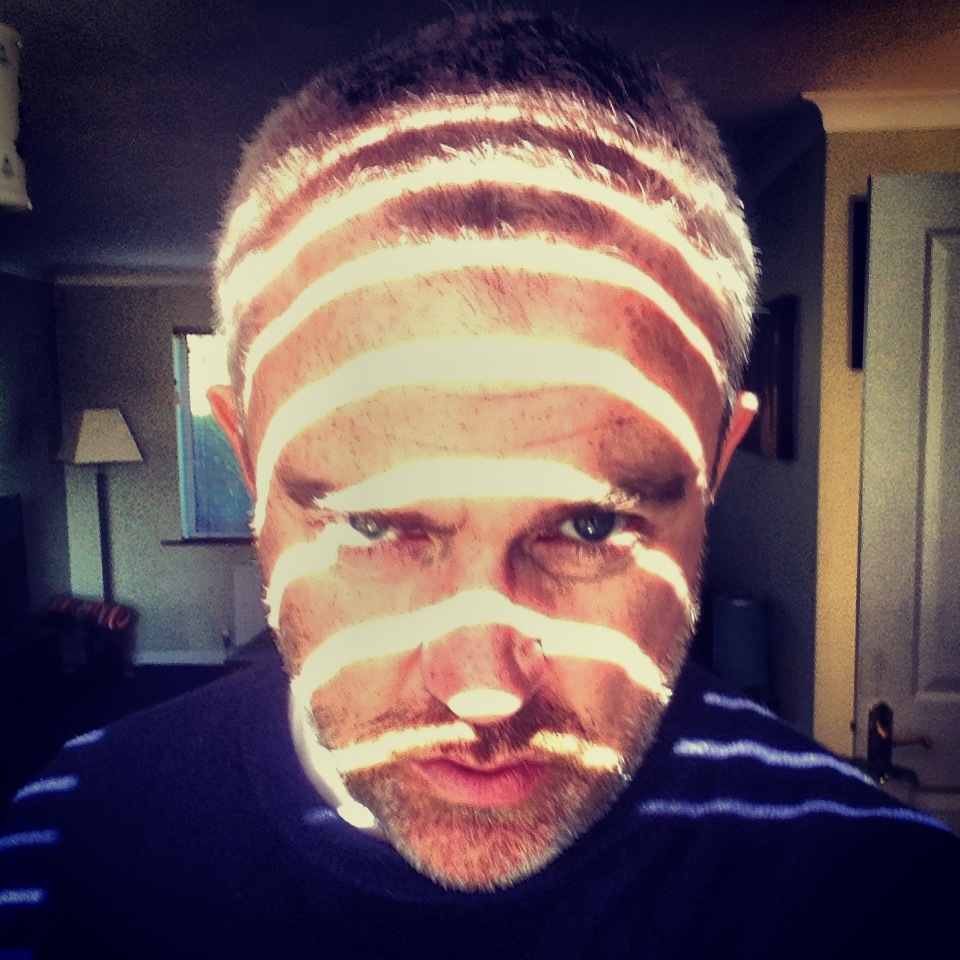 Kiss the future!