I've had the Fuji X100t for a number of months now and have shot several hundred images with the camera. The reasons I bought the camera were because I wanted to work with a fixed focal length and I wanted to have a light and compact camera. I know I could have put a prime lens on the Nikon D7000, but I really wanted to get something more street friendly.
Back in February, I wrote a blog post about my initial reaction to using the X100T and it received a lot of attention, much to my surprise. I even got abuse from some people for finding fault with the camera and writing about it. (Another person objected to my use of the word fuck, and accused me of trying to be cool by using it.) In writing this follow up piece, I read back over that review to see if my first reaction to this camera had changed over time.
Here is what I wrote about what I liked about the camera in February:
It is light! It looks cool. It fits in my pocket, a little uncomfortably, but it fits. I like that I can use the LCD screen to view an image as I am taking it (but that eats up the battery). If you want you can switch between the OVF and EVF, and there is even this little box that can appear on the bottom right hand corner which allows you see a zoomed-in-close detail of the image. The customisable function buttons are cool. You can operate the camera on silent mode which allows for better candid shots. The image quality straight out of the camera is impressive. Images are crisp and sharp. I like the fact it has a fixed lens and that there is no zoom. This forces me to compose with greater care and to zoom with my feet. This will make me a better photographer. The WiFi allows for remote control access, but I cannot, as yet, imagine a scenario to use that. Apparently, it is great in low light, but I have only been out twice with the camera, both in daylight, and I haven't had the chance to check it out at night yet.
So, of the above what has changed?
Well, the camera has not gained weight. It is still light and does not attract much attention on the street in comparison to the bulky D7000. I no longer use the LCD to compose and shoot. The customisable function buttons are good, but nothing special, to be honest. Operating on silent mode is a nice feature and does lend itself to getting discreet candid moments on the street. The image quality is top class – no doubt about that. The fact it has no zoom is probably the thing I like most about it. It results me being much more deliberate about composition and framing. Has it made me a better photographer? Not for me to answer. The Wifi? Have never used it either to transfer images or for remote control access. Night shooting – ya, I did manage to get some good shots at night in places like Tokyo, but have not done much shooting in low light conditions as of yet.
Six months down the line and what would I add to the list of things I like about the Fuji X100T? You know nothing new immediately comes to mind: no unique or previously-unknown feature of the camera have I discovered. I still love the camera's size and weight and that it can be used on silent, but the thing I have grown to love more than anything about the camera is that it has changed how I approach street photography. With the Nikon, I compensated a lot. Too far away, zoom in. The Fuji is like a little child whose hand you have to hold to ensure it moves with you. I would like to think I am composing with more care now; seeing the scene with a more sensitive eye. The funny thing is that from a shoot I seem to be achieving fewer keepers from the photos shot, but the ones I do keep I am happier with. Maybe, I am just becoming more selective.
The other thing which has changed in my shooting is my preference now to go fully manual. With the Nikon, I was aperture priority most of the time. A little lazy, I know, but the Nikon was good at making those pesky calculations that I avoided. Now, I am more considered and leave neither shutter or aperture to the camera. Shooting like this does make me think why I ever bothered to shoot any other way.
Another thing I have come to notice is that I am making fewer and fewer blur images. For some reason with the Fuji, I find it hard to defocus to any degree of pleasing aesthetics. The Nikon is still the camera for that. I just do not enjoy out of focus photography on the X100T. I love it on the Nikon and some of my ongoing projects can only be done on this camera.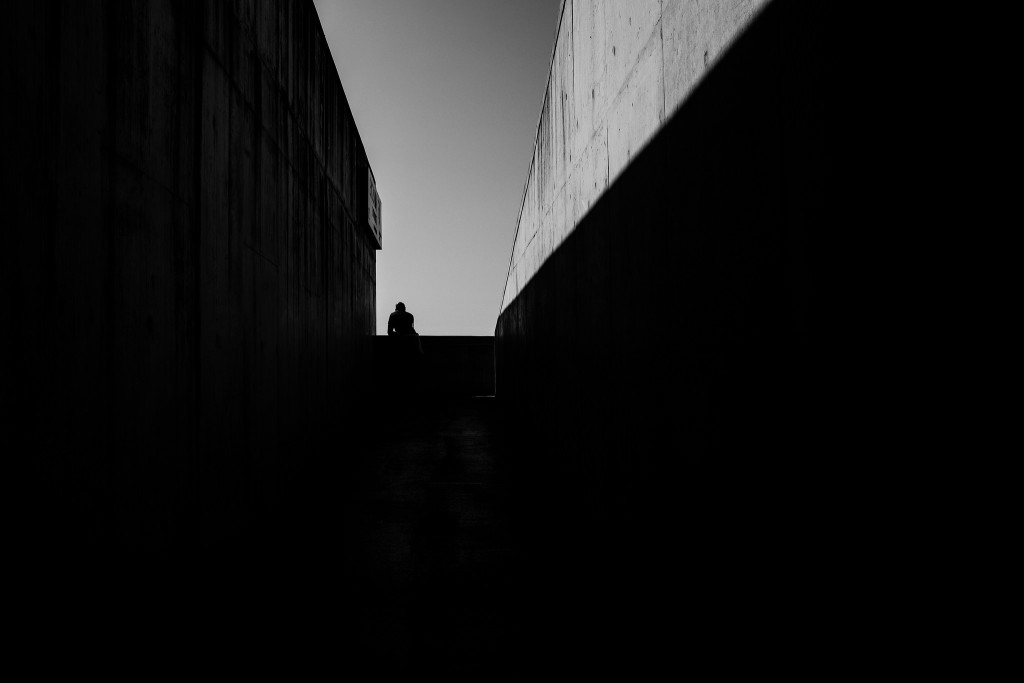 Looking back at the article, I see the things I initially did not like: battery life, the wifi, purple haze when shooting into direct sunlight, image review and the focus being slow. Well, the battery life is still awful. I got around this by buying three extra batteries, which allows me not to worry about the camera dying while out on the street. The only thing is that to charge the battery takes a few hours. Surely, the battery life and the time needed to charge it can be improved. I don't use the Wifi and feel this is a gimmick I can do without possibly because I shoot much more with my iPhone than any other camera and I like keeping all my work separate. The purple haze have not noticed that so much. Not so pressed about instant image review. But the thing that still gets me about this camera more than anything else is that it is too slow. I have missed shots because of it. I don't power the camera off between shots. I want it to be ready to respond quickly, but there have been so many times that I see something I want to shoot and the time taken to frame, focus and shoot means the moment is lost. The camera is too slow. Talking to one or two otherX100T users, I am glad to learn I am not the only one experiencing this. The Nikon is much faster and coming from that, from a situation where I would not miss shots to this is frustrating.
The reason I came to write this post this morning is that I was looking at a series of images I shot last week in Dublin and realised that these were shots I would probably not have gotten before when I was using the Nikon D7000. The reason probably being the ability to zoom. I was walking along a busy Dublin street with the sun to my back, meaning the light was on the people in front of me. Just how I like it. I was attracted to this gentleman standing on the steps of a bank waiting for his bus to come. His beard, clothes and stance all caught my eye. I pulled up as close as I could get and began to frame. Before I would have been distracted by those passing in front of me and probably would have waited to get a clean shot of him. Not now. Now I want that activity in my photos and not having a zoom meant that I could not avoid it either.
I got a few frames and then braved it out and got in front of the character and shot two more shots. One with eye contact and another, a split second later, without.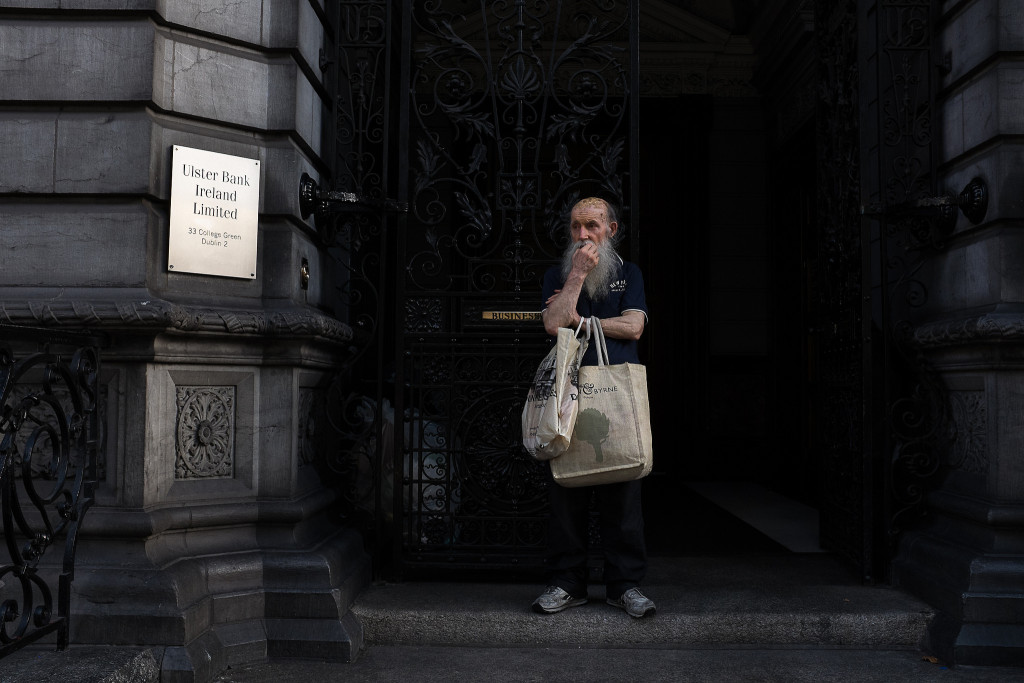 So, six months in with a new camera where do I stand on it now? I like what I wrote back in February:
Overall, I do not like the camera. It is very different to the Nikon and I am a creature of habit. I want my old camera back! But, and this is the thing, all of this is good, it will make me learn. It will make me see the world in a different way when I am out shooting. It will push me along in my evolution as a photographer and that is why I wanted it. Comfort zones are all fine and dandy, but I need to be challenged. I want to experience the frustration of not getting the camera to do what I want; it will make it all the sweeter when I get it right. This camera will drive me crazy, I know that. But I also know I will grow to love it and that it will be with me on many great adventures to come.
It is true. I bought the Fuji to learn and to improve as a photographer and I believe I am on the way and you know what – I am enjoying it. It is challenging and frustrating – just like I wanted it to be. When I am heading off for a few days somewhere or out on a photo walk the camera I leave at home is the Nikon. The Fuji X100T comes with me. It can, and does, drive me crazy, but slowly but surely I am growing to love it.
Kiss the (Fuji) future!