When Leica Cameras put their name to Huawei's smartphones you know you that the years of tradition, heritage and prestige that are synonymous with their brand is going to result in something special in terms of photography. The new Huawei Mate 20 Pro has a powerful camera on board, packing three rear lenses and an excellent front-facing one for all those selfies you want to get. I was lucky to have been invited by Huawei to London for the recent launch of their latest phone and when speaking to the Leica engineers about their involvement in the camera it was exciting to see how seriously a market-leader like Leica are taking mobile photography and how much they are pushing boundaries in this field. Earlier this year the Huawei Pro 20 got everyone talking about what the camera could do. The Mate 20 Pro builds on that and with its many new features and improvements takes what you can do with a smartphone camera even further.
What is like to shoot with?
While making the most of the screen real estate, the Mate 20 Pro, is still comparatively small and fits quite nicely in the hand. The edge-to-edge screen does have its drawbacks in relation to using the phone as a camera. For me it is important to have a firm hold of the phone when shooting and to my frustration I found that because the screen display goes from edge to edge, I was inadvertently switching between settings and also the tap-to-focus feature was being activated in places I did not want it to be. As a result, I feel you would have to have some sort of a case (not a wallet-type one) to prevent this. I liked being able to separate the exposure and focus particularly when trying to control light situations.
I like the straight-out-of-camera results shown in the photographs here in this review. The colours are bright and vivid and level of detail you can achieve is impressive. The ability to separate your focus point and exposure is cool. Touch and hold and you can drag them apart. An exposure slider (sun icon) also appears and sliding up and down adjusts the brightness of your shot. I would like if you could lock in these for subsequent shots. I found it a pain to have to reset for the next shots in a series.
What are the stand-out features?
The Mate 20 Pro is feature rich. It can identify up to 1500 different scenarios and scenes. The night mode is impressive, but it does need a steady hand or better still a tripod. With a f1.8 main camera lens it can shoot very well in low light conditions. This shot of Rearden's pub in Cork shows how the night mode works. The shutter is open for a full 4 seconds allowing as much light in as possible. This works great if you do not have moving objects in your frame like the shot of Cork's St. Finbarre's Cathedral below, but as you can see with the bus in the shot of Rearden's pub you are not going to get it tack sharp, but still this does allow you get some nice motion blur shots. 
Using the standard camera in normal mode gets great results in low light and if there is any movement in your frame, you will avoid the blurring of the subjects. I love the neon colours here in this shot of a lane in Cork city.
Having three lenses at your disposal is very cool. With the Huawei Mate 20 Pro you have a 40MP f/1.8 main camera lens, an 8mp telephoto f/2.4 which lets you shoot at a 3X optical zoom (with image stabilisation) and there is then, my favourite on this phone – the ultra-wide angle lens. This has a 16mm focal length and it is impressive in how much of a scene it can capture.
One thing I would like to be able to do is shoot on the highest resolution of 40mp without having to change it in settings. If you want to switch between the other lenses on the device you can only shoot at 10mp, otherwise at 4omp you are working with the main lens only and need to get into settings to switch back to having access to the other two lenses.
I loved the burst mode in and was truly blown away by how sharp each individual image was. I am a big fan of burst mode and have used it regularly in my street photography as I try to capture that fleeting moment. In review of the images I was delighted to see that I had not missed anything and that each shot was in focus.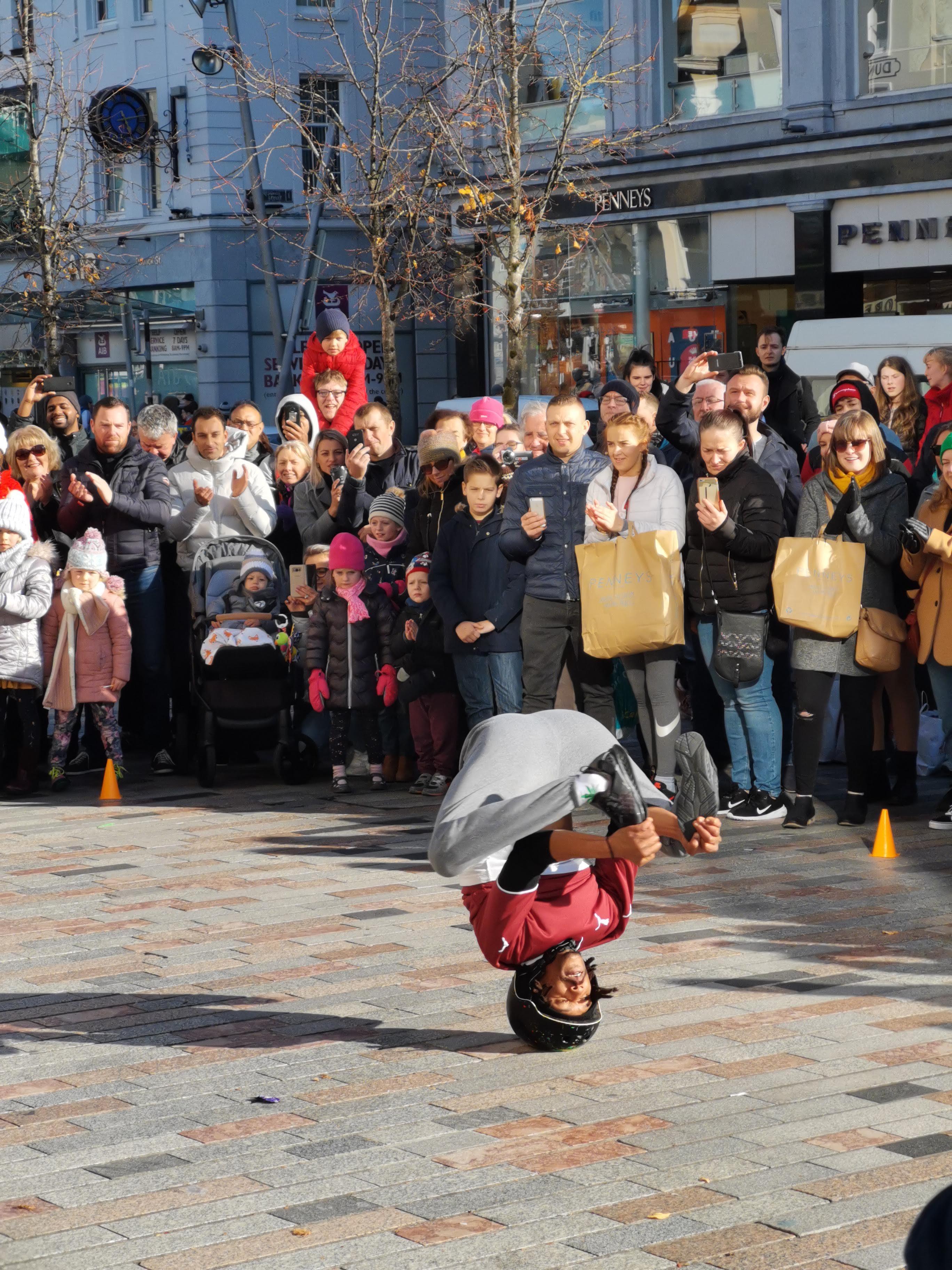 For portraits, it does a good job and will give you that blurred-out-bokeh look that so many photographers crave. I would like if it could be used for other things besides people. For now, it will only work when it detects a face.
If you want to take full control of the settings of the camera, the Pro Mode is where you can really maximise the potential of the camera and its various lenses. For me, I feel too much is made of shooting fully manually. I like to set and forget. Technology nowadays has come on so much in recent years, that I find the camera can make the correct calculations most of the time. But if you are old school and want to be master of the machine, Pro Mode will not disappoint.
Unsurprisingly the video capabilities are top class on the Mate 20 Pro. Again it is packed with features. I loved the ability to blur out your background and the All Colour feature will detect a skeleton (yes, that is right – the skeletal structure of a human is detected) keep that in colour and convert everything else to black and white. This has the wow factor!
One of the things I do not like is the beautify feature. As a father of young kids I feel there is enough pressure on them without making them think they need to apply a feature like this to make themselves look presentable in photos. In saying that, at beautify 10 I am looking good! Another feature they are introducing is a calorie counter. Yes, a calorie counter. Point your camera at a food item and it will recognise it and tell you how many calories it has.
All in all, the Huawei Mate 20 Pro is a great phone. I am sure on other reviews of the device you have learnt of its reverse charging, its high speed charging and its long-life battery. All of these are very important factors for those who like to use their phones as their cameras. Photography continues to be in an exciting place in technology and with the Huawei Mate 20 Pro, Leica and Huawei are pushing boundaries.