Sunday's All-Ireland Final was the 15th All-Ireland Final I have been to, but the first one that did not involve Cork. Back in May when I set out on this project the dream was that the Rebels would reach the final, win it and that there would be a glorious homecoming back to Leeside for Liam McCarthy after, what is for us, a huge wait of 13 years. Not to be. Not this year. No, this year was destined to be Limerick's.
I got the Luas into town about 10.30. It was busy, even at that early hour. At each stop more and more fans got on. Hushed conversations about tickets, rumours of injured players and who had predicted what in the Sunday papers could be heard. Getting off at Stephen's Green and heading down Grafton Street the green of Limerick  began to become very evident and outnumbered the maroon of Galway. Young families decked out in green pushing buggies, groups of young fellas caped in Limerick flags out looking for an early house to settle the nerves and elderly gentlemen with discreet greens walking alone, all killing time, trying to stay occupied until the throw-in at 3.30.
"I'm a teacher. The kids in my class got me this t-shirt last year. It has brought me luck thus far. Let's hope it continues today." Vincent Brannelly told me.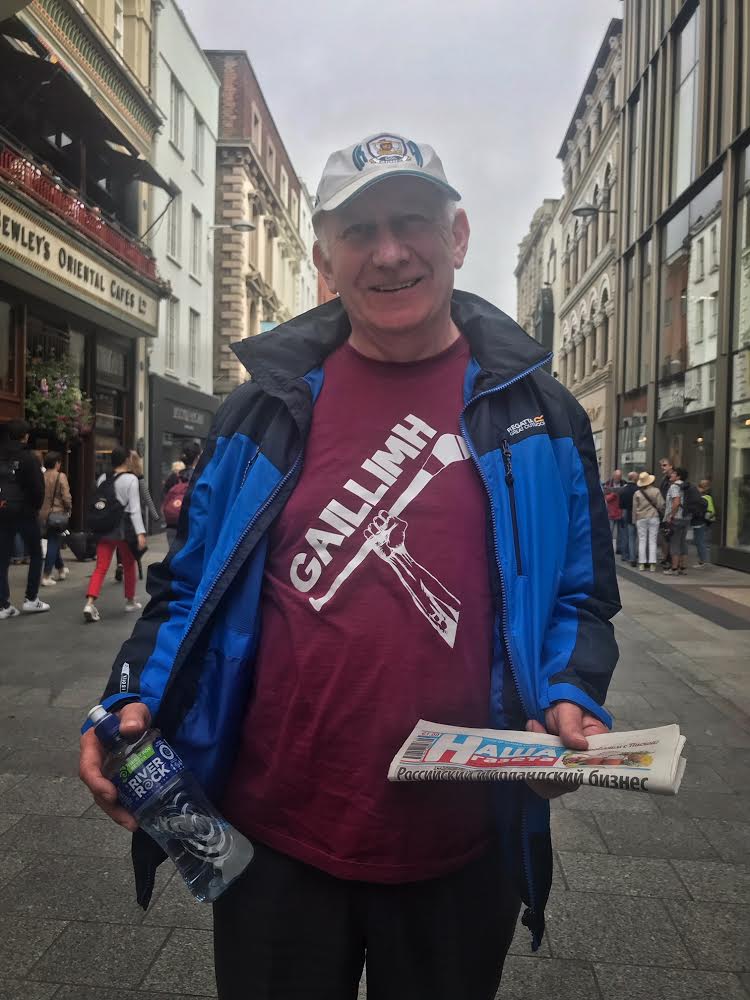 "I flew in from Denmark yesterday, but I'll tell ya, if we win today, it might be a long time before I get back." Frank O' Carroll (on left) told me. Here he is with his friends Tadhg Carey and Liam Horgan. The lads had tickets for the banquet after the match. I can only imagine the craic they had at that.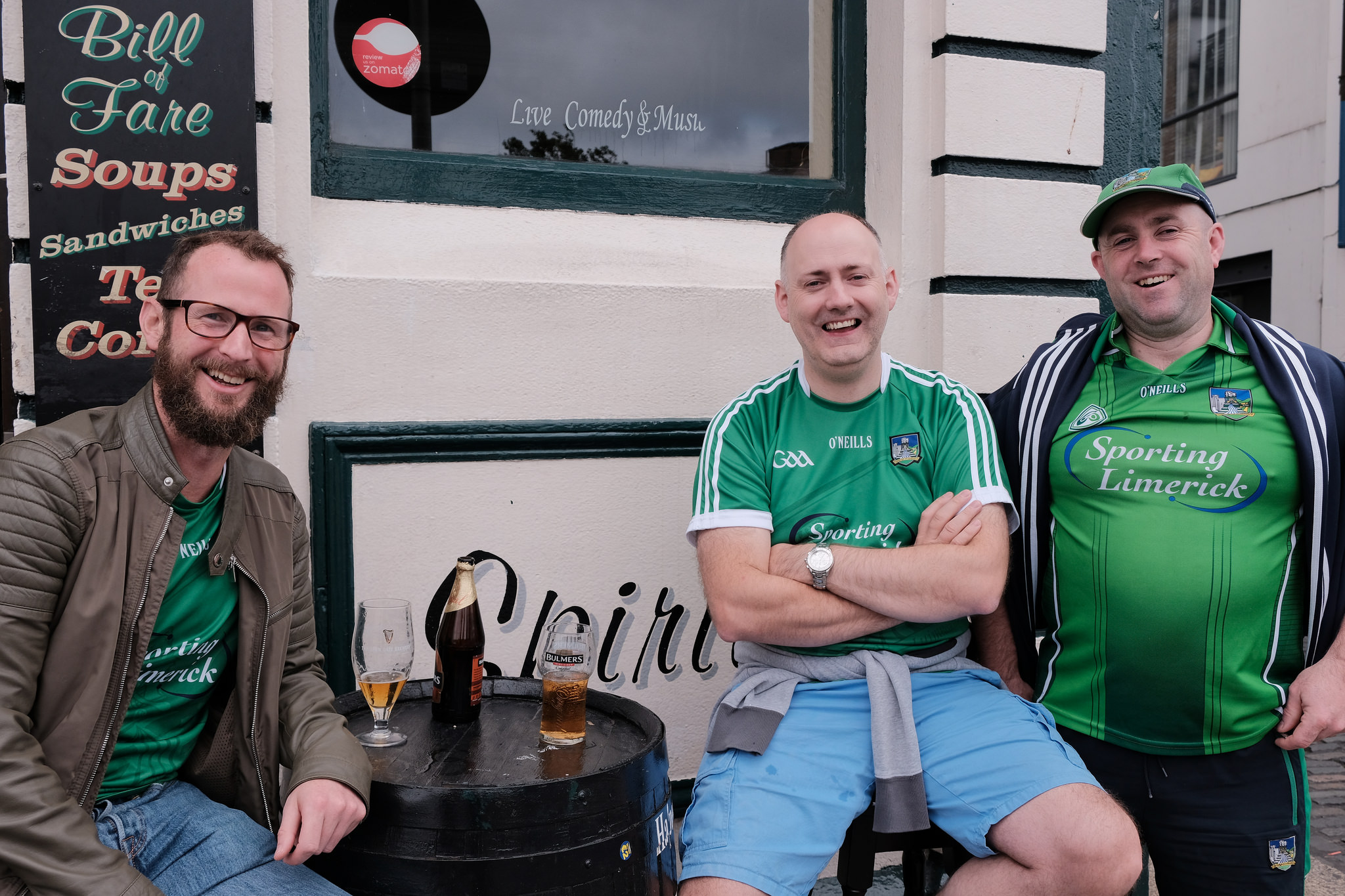 "The two Mannions. They're my favourite players." Young Darragh Monaghan told me. "Mine too!" said his brother Cormac.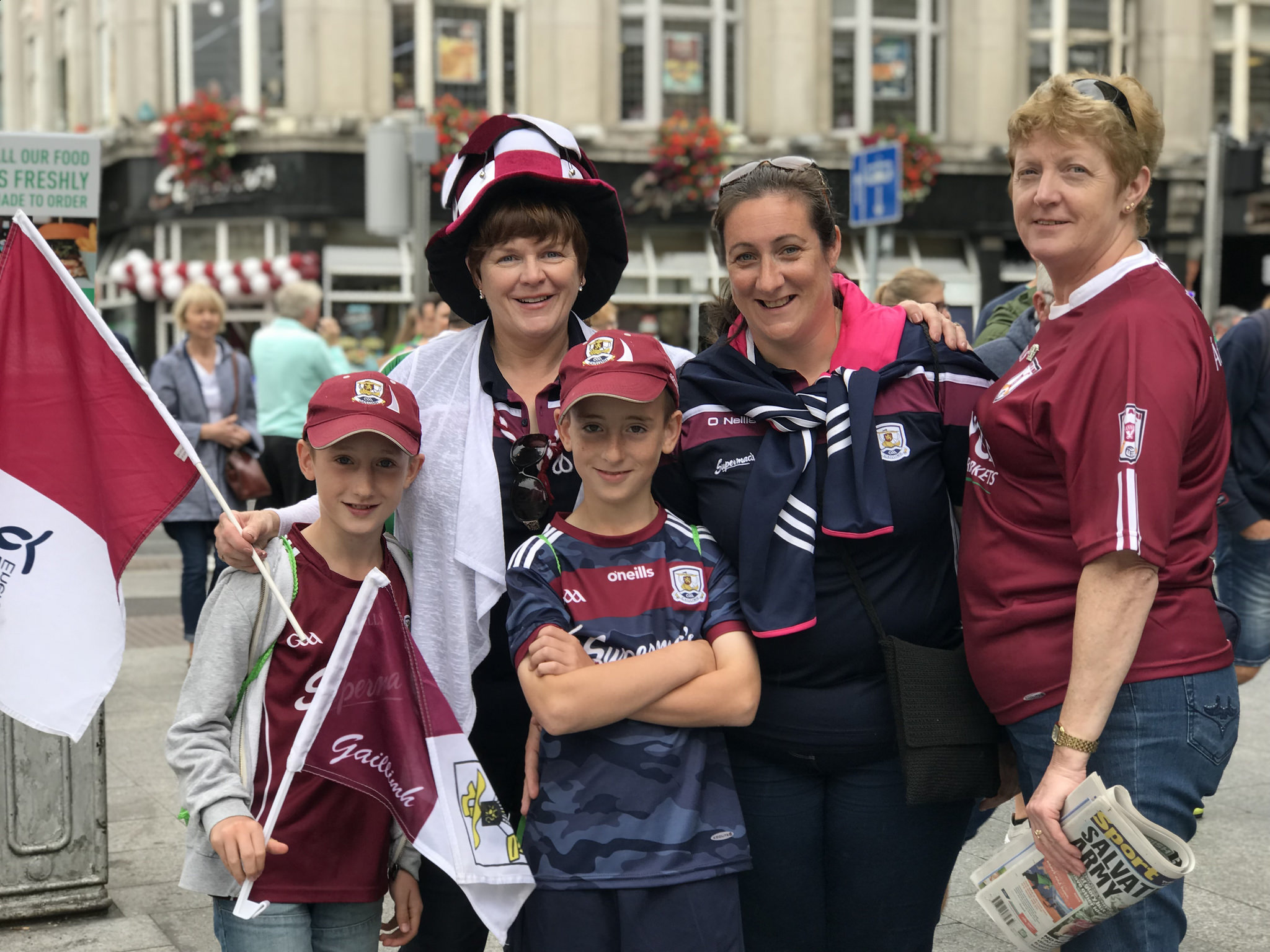 "We've a Cork lad with us! Look at him!" "Make sure you say I'm 9 years hanging around with these lads." John Buckley from Cork told me. "I'll be slaughtered!"
Gas lads enjoying the craic of All-Ireland Final day.
"Don't kill me now, but for the life of me I cannot remember your name." I said. "That is Sir William O' Dea." his match day friend John Lillie told me. Willie was too young to remember 1973 but his two friends John Lillie and John Keating did. "What stands out for ye about the day?" I asked. "The bloody rain. The rain and the ink from the paper hats running down my face!" John Lillie said.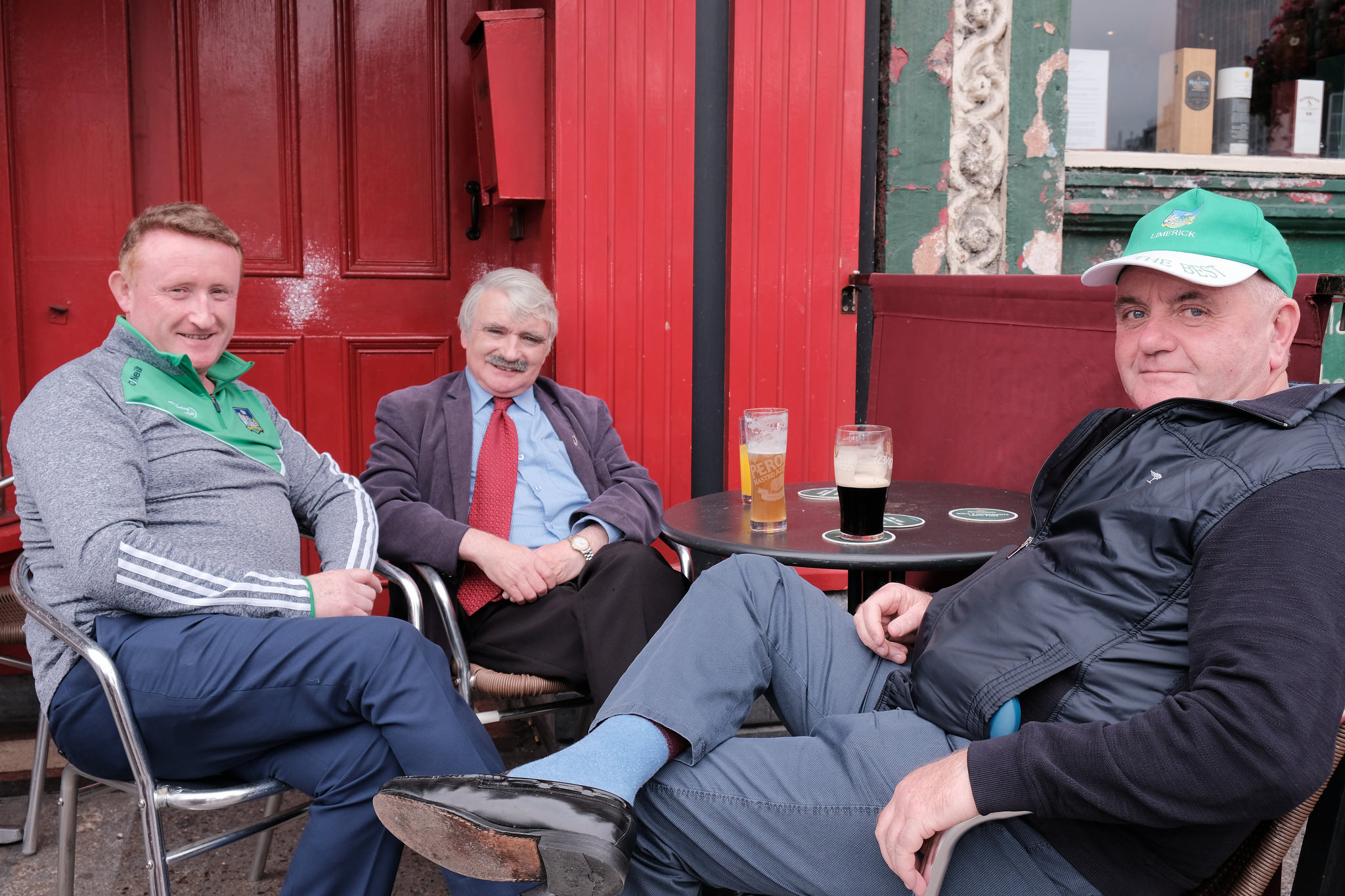 "What do I remember from '73? The rain! It was torrential. That and the pitch invasion afterwards. It will stay with me forever but I hope today will be better." Bill Chalk told me.
"They were asking me in check in in Gatwick if it was March 19th. No, March the 17th is Patrick's Day and no, it's the All-Ireland. Limerick are in it. Sure they didn't have a clue." David Lysaght told me. "How'd ya get your ticket?" I asked. "Would you believe I promised a Wexford man in London I'd buy 50 cases of his gin off him. I work in live music venues. Ya, he got me the ticket. 50 cases of Bonak Gin now. But it will be worth it if they win. "
"Oh, we're friends now, but come five o'clock we mightn't be!" Breen Doris from Galway told me. "Ya, he might have to take the bus and I'll get the train!" Colm Woods said.
Over the course of the past three months and sixteen games I've gotten to see familiar faces at the games.  Always been a pleasure to meet Galwayman John Ward at the games. Always up for a chat and to display the colours.
"OK. I am confused. That's a Kerry jersey, but you have a Limerick flag and Limerick hat. What's going on?" I asked. "Well, I wanted to get a Limerick jersey but they were all sold out. So, the only one that was left that was green was this one."Luke Fox who was heading to Croke Park with his dad Ger told me.
"I've been going to All-Irelands for every year for the past 20. I haven't missed one in that 20 years." "I'm a Kilkenny man." Tom Corcoran told me. "So, you've seen great days here at Croke Park. What has been the best for you? "2010." "Tipp won that." I said. "It was a brilliant game of hurling." Tom said. "But ye lost?" "Still, it was the best." "What about 2009? The 4-in-a-row; that was a great game?" "It was, it was that."
"Galway girl!" Ji Jay told me. "Ye're following Galway girl because of Ed Sheeran?" I asked. "Yes. Ed Sheeran. Galway girl!" he replied.
"We won!"
"We lost!" "But we both saw them win last year, but it is still very hard!"
"You got married last week? The All-Ireland is your honeymoon?" "No. We postponed when Limerick got to the final. We will go now in October. But this is better than a honeymoon." "Where's your husband now?" "Inside in Gill's getting us drinks!" "That's the way to have it." I said.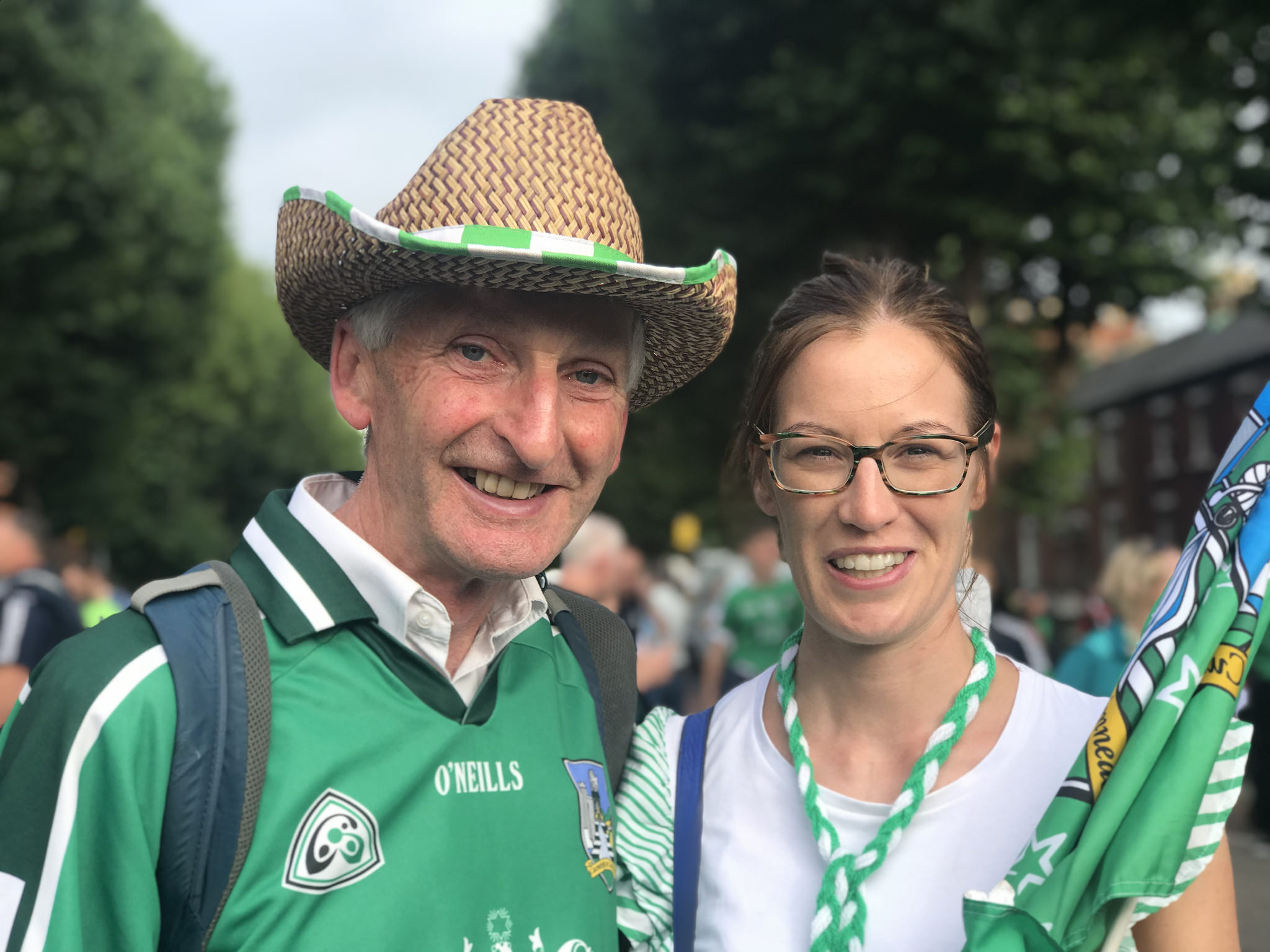 "We did it!"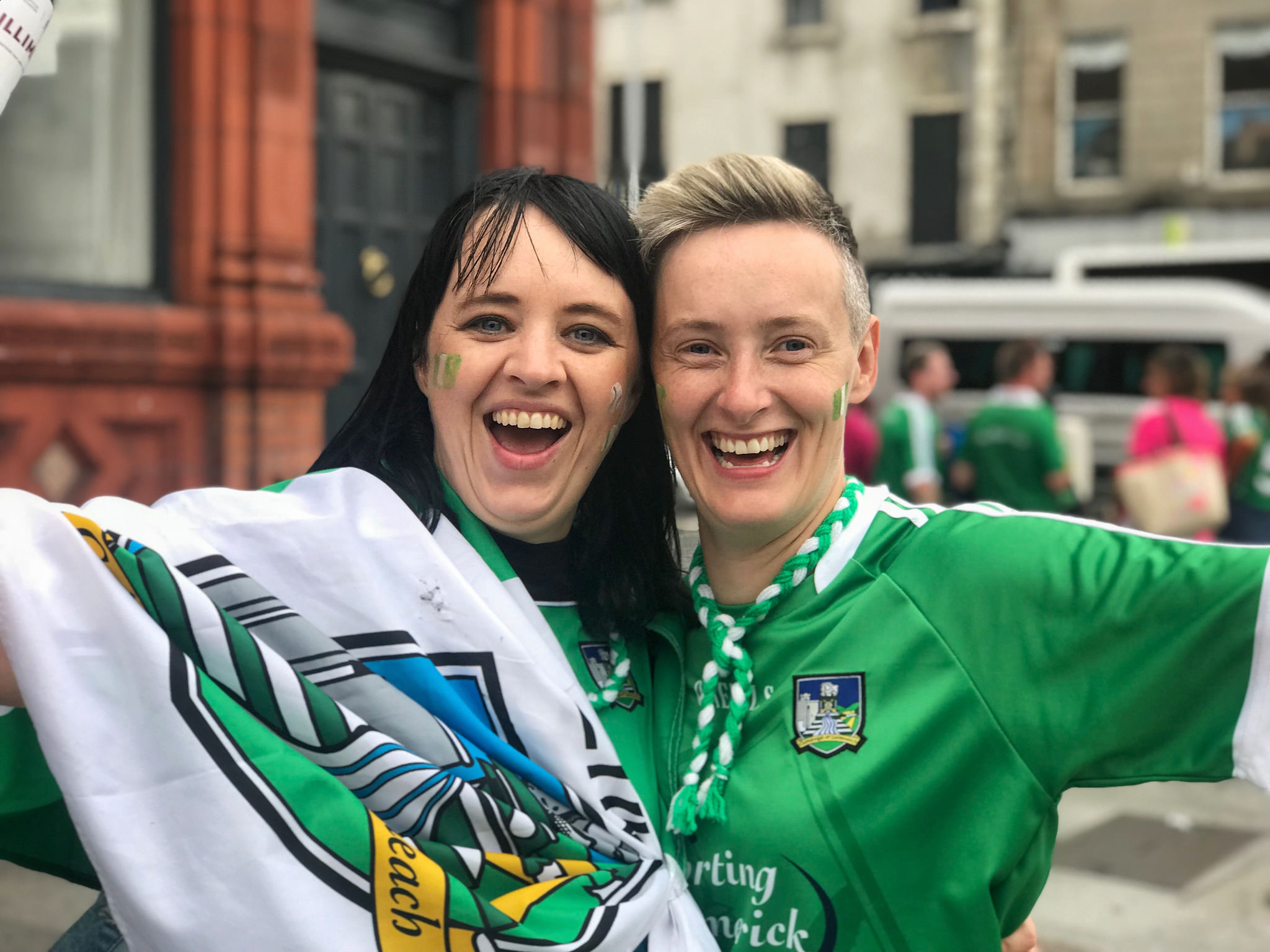 And so it comes to an end. This has been the most wonderful experience for me. Sure, Cork did not make my dreams come true, but I am very proud of them. They played some magnificent hurling and won out in Munster. We will look to next year. I got a feeling it will be Cork's year. For now, it is all about Limerick. So happy for the great people I met from Limerick over the summer that 45 years has been bridged. Congratulations again!
I cannot finish up here without thanking Bord Gais Energy, in particular Conor Barron who was so supportive in getting the project off the ground. Ellen Mackessy was fantastic to work with throughout and am really grateful to her. Thanks to Karena also and all at Bord Gais Energy.
To everyone who stopped and chatted and shared their stories with me – a huge thanks. I will never forget it.
Here's to dreaming it all up again for 2019. Here's to hurling!