So here goes with my new year's resolution for 2023; only 258 days later.
And what was the new year's resolution?
Well, to blog, to write more about photography. Back in the day, Flickr days, I used to post photos each day and each day I would link to my blog. It is great to have those now to look back on and learn how I was seeing and thinking about photography back then. Go check out a random one here, here and here.
So, today, September 16, 258 days late, I am writing my first photography blog post of the year.
Bringing you back to a Friday in July; a balmy summer's evening in Osaka after a day of trekking between Kytoto and Kobe for meetings, I eventually got time to myself and set myself three objectives:
1. Eat street food – Osaka is famous for their street food.
2. Stay out past midnight – ya, as an ageing middle-aged man with a bad knee, I usually found myself in bed by nine on this trip – exhausted.
3. Shoot, shoot and shoot some more. Engage with people on the streets of Osaka and make some photos that I would be pleased with.
With my Fuji X100V around my neck and my iPhone in my hand, I hit the streets of Osaka's Namba area. I have been in a few Japanese cities now and I know people will get upset at this, but each is a disappointment after Tokyo for me. I absolutely love Tokyo. Other Japanese cities can be too sterile and too sedate for my liking and invariably I find them uninspiring photographically. I love the frenetic flow and continuous chaotic visual puzzle that Tokyo offers. Namba in Osaka throws up its variation of this dynamic and I love it. The small side streets leading to the Dotonobori River with its neon-lined river banks are packed with activity. Izakayas, Japanese bars that serve wonderful food and drink. Loud establishments filled with workers unwinding, drinking and eating their way into the night. They come in all shapes and sizes. Some can be standing only with enough space for a handful of folk and others can be spread out with tables for large groups. What I love about them is seeing people stumble out from them, happy with their fill of food and drink and the separation from the working day that that brings. It is rare to see a sad face emerge from an izakaya; particularly on a Friday night. Week's work done; weekend ahead.
First objective was to get food. Life is difficult when there is choice and choice can cripple me. I keep thinking if I go in here, I am sure when I come out, I will discover a much cooler place just around the corner. And thinking like that often I find myself walking for ages and getting hungrier and hungrier and eventually settling for the nearest place and invariably feeling a little disappointed. So, on this Friday evening I jumped into the first izakaya I saw and got some pretty nice local dishes and even nicer local beer.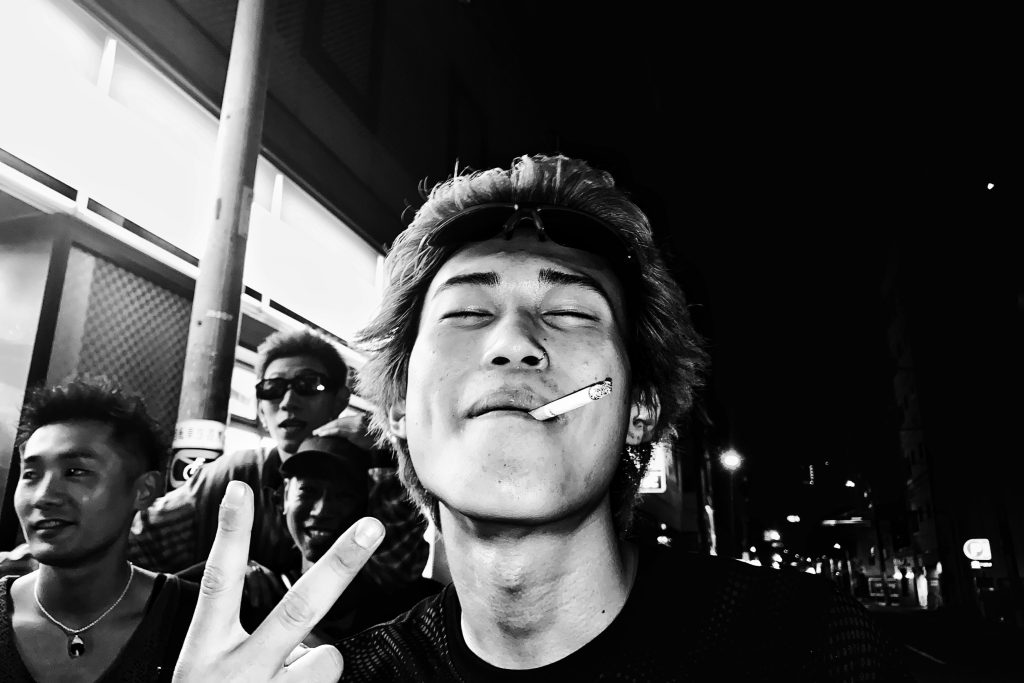 Fueled up, now I headed out with the next two objectives in mind: to stay out past midnight to experience Osaka nightlife on a Friday night, and to spend the time shooting as I did it.
As the night fell and the lights of the neon lit up, bringing colour to the streets, it began to feel more of a black and white scene to me. Very often I am asked how and why I make a decision to shoot in black and white and the answer is not easy. It is more of a feeling I get for a place or a vibe. There's also the visualisation of how the conversion to black and white will look like. And there is trust in Provoke, that bloody brilliant iPhone camera app. There are so many camera apps out there, but none I love as much as Provoke. Inspired by the 1960s Japanese photographers like Daido Moriyama, it has film simulation filters which produce the most beautiful rich and dark tones perfect for night shooting with the built in flash. Sure it is slow and laggy, but that is a limitation which you can convert to an advantage. This is what breaks it from being a point and shoot, you need to do some calculations in using it on the street.
So here is how I shoot on the streets. I am wandering around looking for interesting scenes and people. I am more of a hunter than a fisher. I get restless if I stay in one location for too long. I tend to keep on the move. When I see someone who gets my attention visually, I approach them. There is limited time to get their attention and them to commit to interacting with me, so I need to establish purpose quickly: who I am and what I want, and that I am grateful and appreciative of their time. I would say 99.9% of people are cool and cooperative. Photography truly does become a universal and visual language and any linguistic barrier that may be there is overcome once you share the shots with people. The beauty of shooting with the iPhone is that most people have one and with AirDrop you can whip those shots over to them in an instant. It's brilliant.
And with that here is the series of images shot on Provoke on the iPhone over a period of hours in Osaka back in July. Would love feedback on this blog post, as I intend to do more and more of them as I work towards keeping my new year's resolution.
UPCOMING WORKSHOPS IN PHOTO MUSEUM OF IRELAND:
MOBILE PHOTOGRAPHY WORKSHOP – NOVEMBER 11
STREET PHOTOGRAPHY WORKSHOP – MARCH 9th 2024
BEYOND THE BASICS ONLINE SERIES OF WORKSHOPS FOR ADVANCING YOUR MOBILE PHOTOGRAPHY SKILLS – 4 WEDNESDAYS EVENINGS STARTING FEBRUARY 7th