Yesterday, Thurles town square was dressed in the red and white of Cork and the blue and saffron of Clare. Crowds spilled out on to the streets from the pubs and the banter between the fans was electric. Walking up past Lar Corbett's bar I came across a group of young fans from both sides standing opposite each other chanting. Chanting songs you would not want your mother to hear. Many had their tops off in the sun. They belted out their chants, punching the air with their fists. The drink spilling from the plastic pint glasses. I stood there taking photos, thinking this could get ugly. Then suddenly one guy lit a flare. Red smoke filled the air. The Clare lads ran at the Cork lads and to my absolute amazement they jumped into each other's arms, hugging each other as they jumped up and down. A blast of The Fields of Athenry broke out and they danced and sang together until the guards arrived and dispersed them.
They moved on and joined a procession of fans making their way to the stadium. Looking behind as we headed up the hill to the railway bridge all I could see was a river of red with a few clusters of yellow. In front of me it was the same. It was Cork versus Clare on Munster Final day. There was 70 minutes of hurling ahead.
This Cork team has heart. In the five matches they have played in this year's Munster hurling championship they have entered the final ten minutes with the game in the balance. In each of the five games they had it in them to pull away from the opposition in the closing moments. Sure, they were pegged back by last minute equalisers by Tipperary and Limerick, but on those two occasions it was unforced errors from Cork which allowed the opposing side to draw level. Yesterday's game followed the same pattern. In the searing heat of battle, when the game was still to play for, Cork's leaders stood tall and drove the team on to claim victory and back-to-back Munster championships.
For long spells in the first half yesterday it looked like being Clare's day. The appeared faster, fitter and more determined than Cork. Tactically they had the upper hand. They pulled Cork out of position in the centre and the first of their two goals came as a result of this tactic. Tony Kelly saw the pitch open up for him as he raced to the Cork goal before passing off to David Reidy who took his goal well. Shortly after a long free from Clare goalkeeper was met with a sweet flick to the net by Peter Duggan and when they added another point shortly after that, Clare found themselves on the verge of half-time and 8 points up. Cork were there for the taking, but in hurling things can swing so swiftly. In the space of two added on minutes Cork cut that 8 point deficit in half. A well-won ball by Seamus Harnedy was laid off to Luke Meade who slotted the sliotar home. On the puck out the ball went out over the sideline and Mark Coleman, from all of 65 yards, sailed the ball between the posts. The referee blew for half-time. What was a bad 35 minutes of hurling for Cork had just been rescued by a solid two minutes of added time. They say the worst time to concede a goal is just before half-time. For Clare it proved to be.
The heat was unforgiving yesterday. The air conditioned dressing rooms must have been so welcoming for both sides at half-time. Maybe tactically Clare had it over Cork in the first half, but Cork won the half-time tactical battle. They stayed in the dressing room for a good five minutes longer than their counterparts. The sun beat down on the Clare hurlers and within seven minutes of the restart Cork drew level. One minute later they led and Clare never recovered. A goal from man-of-the-match Seamus Harnedy in the 58th minute put them 3 points up. With three minutes to go of added time they were five up and although Clare got a goal in injury time it was too late. Cork had staged a remarkable comeback in the second half to win successive Munster Championships.
Within seconds of the whistle the pitch was a sea of red as Cork fans stormed the pitch.
"I was born in Galway, but I support the Kerry hurlers. I move around a lot." Buff Egan told me. "This is your first Munster championship match this year, ya? I asked. It is. How come? I like to support the lower level teams." he said. 
"He came all the way from Philadelphia to see this match. And he's a yank, not even a Clare man. Well, he's married to a Clare woman. So that counts. Tommy Kearney told me of his brother in-law Michael Macateer. "What is it about hurling you like?" I asked. "Well, it's fast. It is so exciting and I guess it is a cross between ice hockey and lacrosse. And it allows me to bond with my father in-law. He loves to talk hurling. He lives in New York and we get him a gift of GAAGo to watch the games on." "We've been training him not to shout 'Go Clare!" and Score!, said his sister in law Maria Flanagan.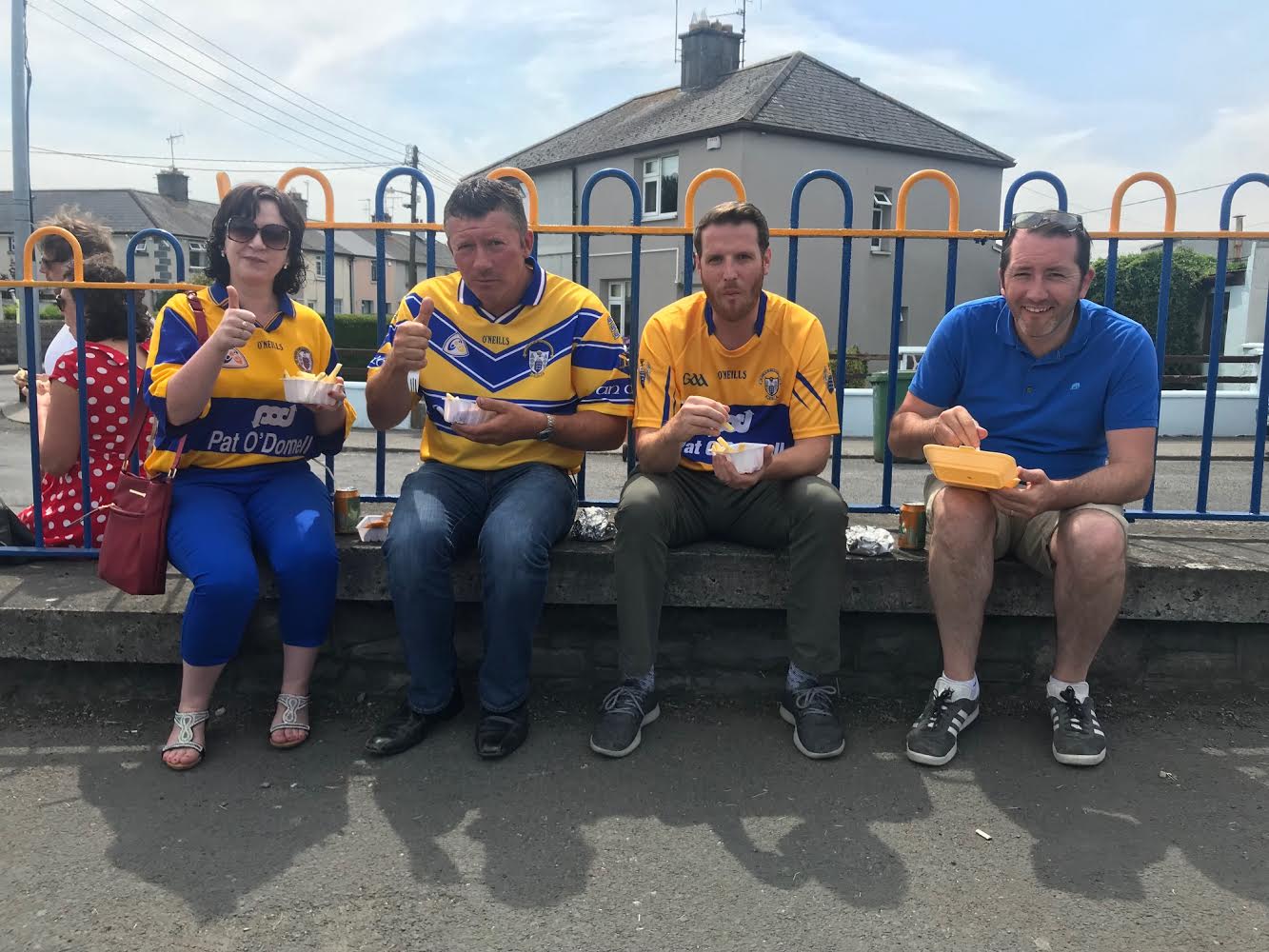 "William is not the best when Cork lose, not the best at all." Clare fan Diarmuid Mooney told me. No, I get very bad." confirmed William O' Mahony from Cork. The two lads met when working in Harvey Normans in Limerick and still meet up to go to matches together.
It was gas craic during the week queueing up in Newmarket. I was the only Corkman in the queue with all the Clare people. Danny O' Sullivan from Cork told me. "Do you get grief at home when Cork beat Clare? I asked. I am still getting it for 2013, he said. Aren't we all!" I said. They will never let us forget that one.
"We had to come out to get something to eat." Siobhan Long said. Out of where? I asked. The game! You were inside watching the minor match and came out because you are hungry? Ye going to go back in? I asked. Oh ya. But eat first!
He's only two months old, but we had to bring him. Hurling is in us. It's who we are. His uncle is Seanie McMahon. The Clare hurler? I asked. Ya! Sinead McMahon told me. Little Donnacha didn't look too happy at half-time yesterday. Maybe he knew what was coming from Clare in the second half.
Here's another mother with her son: Cork captain and his mother on the pitch after the final whistle. Maybe someday Sinead will be on the pitch in Thurles congratulating her son.
Cork go on to another All-Ireland semi-final, hoping to go one better this year. They need to wait to discover their opponents. Most likely Clare will encounter Wexford in the quarter final. What a summer of hurling it has proved to be thus far.