On this day last year, June 18, 2017, Waterford played their first game of the season against Cork in the Munster Hurling semi-final. Cork beat Waterford by 5 points that day and sent them on the scenic route via the back door, as they call it, to another meeting with Cork in the All-Ireland semi-final on August 13. Waterford beat Cork that day and their summer of hurling extended into September and an All-Ireland final against Galway. This year their summer of hurling ended yesterday, one day earlier than it had started the previous year. The new round robin for the provincial championships has provided some cracking games, but for the likes of Waterford, Tipp, Dublin and Offaly that is little consolation. They want to be hurling. They want to be hurling when it matters. A long wait for them until championship 2019 starts in 11 months time. For Cork, they have 2 weeks to prepare for their fourth Munster Final in 6 years. The second year running that Clare will be their opponents after their comprehensive victory over Limerick in Ennis yesterday.
Thurles lacked something yesterday. The square did not have its usual atmosphere. The Waterford fans did not travel in their numbers. There was little blue and white to be seen in Semple Stadium, but that did not stop Waterford from putting it up to Cork. Cork appeared nervy, almost casual in their approach. Their passing was sloppy and Waterford converted many of their turnovers into points before Cork eventually pulled themselves over the line thanks to their strong finish when they outscored Waterford by 1-4 to 2 points in the last ten minutes of the game. Cork will be happy in that they are in another Munster Final, but there must be lingering doubts. Have the team improved over the four round-robin matches? Their opponents Clare certainly have. They will go into the Munster decider full of confidence after two big wins over Tipp and a very much-fancied Limerick side.
"We used have him supporting Waterford, but we can't change his mind now. He's all Cork now. " Myles Tobin told me. "He loves Conor Lehane. He's his favourite player." "We tried our best, believe me. said his mother Laura. Little Shay is a proud Corkman now.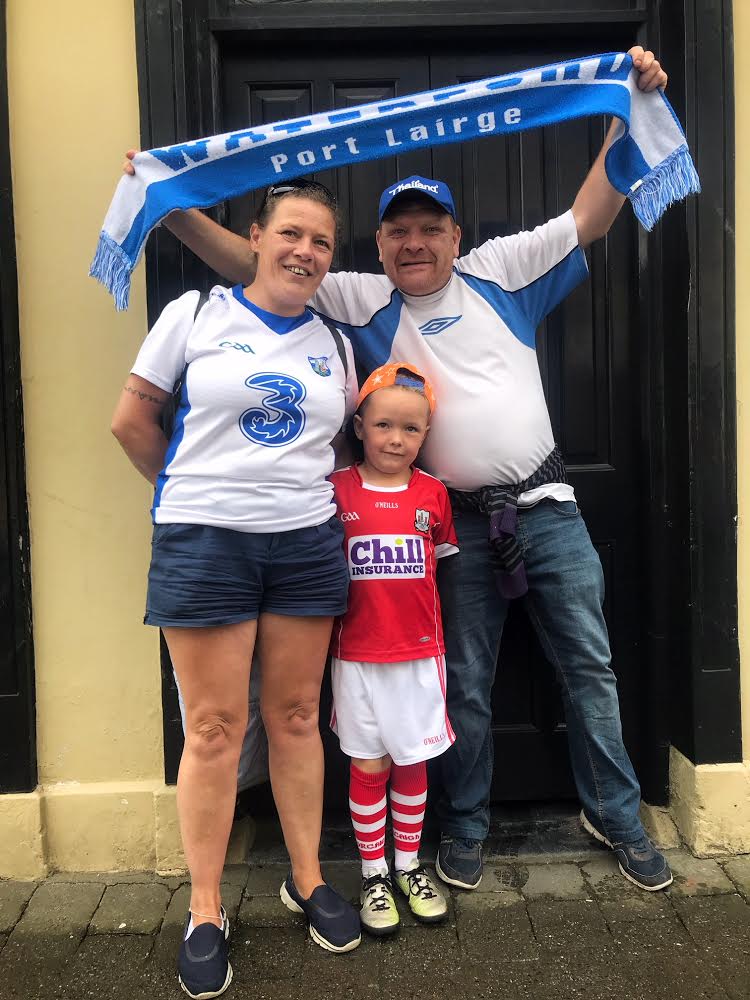 "I won €41 on the lotto last night so I am feeling lucky. It's a sign!" Billy Piggot told me. I think this Cork team will go on to do great things." "What is it about going to hurling matches together? I asked. "For me, it's the rivalry between the teams. We live in Mitchelstown, so the rivalry we have with Tipp is unbelievable."
Over the past five weeks I have been to 9 hurling matches and I can say without a doubt the ones I enjoyed the most were the ones that Cork were not playing in. It is just too nerve-wracking watching your own. You live and breathe every puck of the game. I get so caught up in it all, and I suffer! "You can enjoy the games your own county are playing in much more." JJ Darmody from Wexford told me. I have to agree with him. JJ was there with his Limerick workmate Rory Darmody (no relation). "Why didn't you go to Ennis to watch Limerick? I asked. "Couldn't get tickets. So we came to Thurles to see this match. That and a few pints." Rory said.
"Sure you know the answer to that question. There's only one team a Corkman dreams of beating. Kilkenny? I said to Micheál Martin. Of course! he said. "Ya, but we don't do it half enough." I said. The Fianna Fáil leader was there with his match day buddy Humphrey Murphy.
One of the great things about the GAA is being able to get on to the pitch at the end of the matches. As the match neared its end I was making my way towards the barrier to get on to the pitch. There I bumped into Carmel McMorrow, sister to Cork's John Meyler. She asked me to take a photo of herself and her brother after the match. Naturally, I was happy to oblige.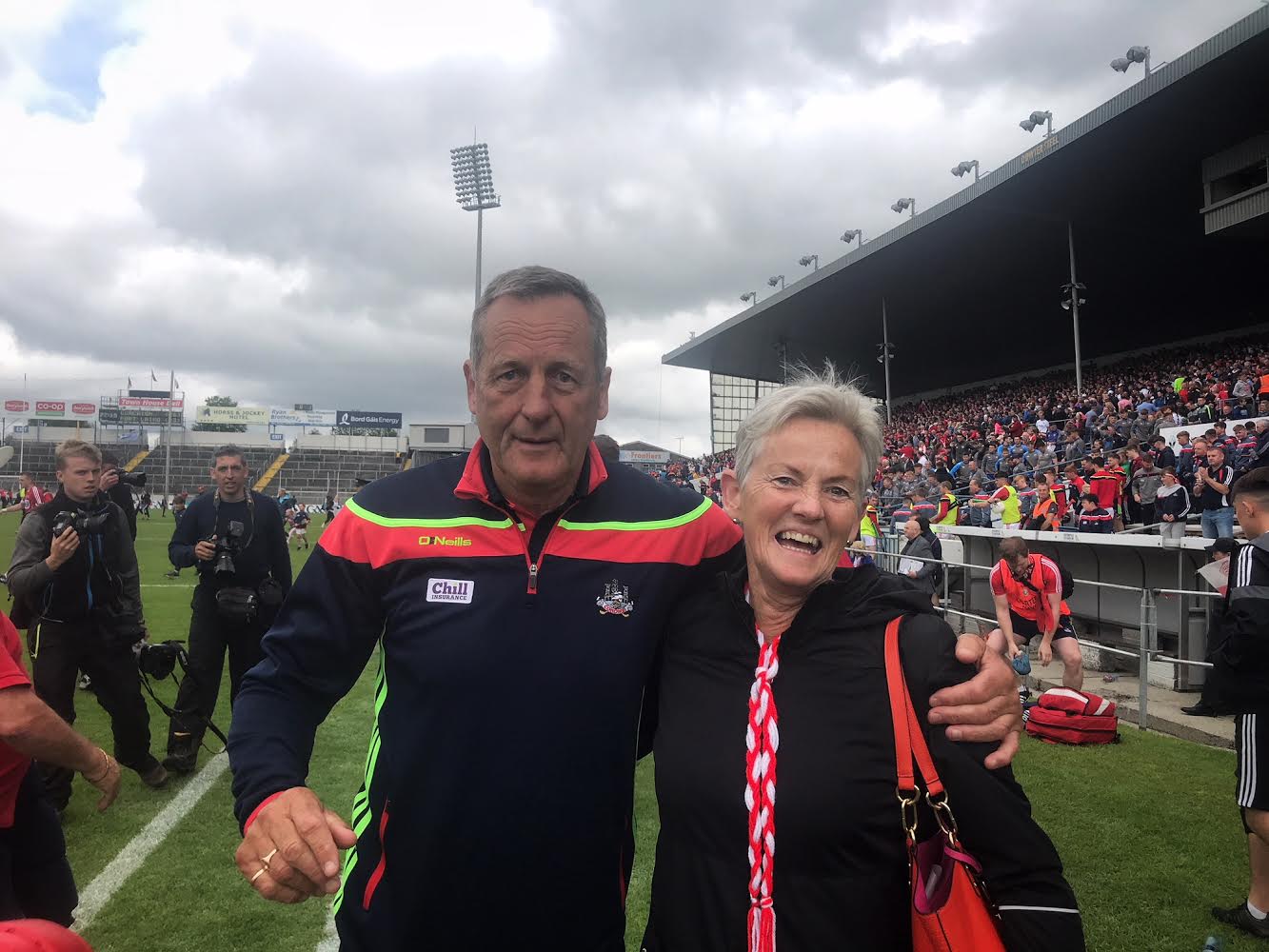 74 championship matches. That is the record Michael 'Brick' Walsh made yesterday in Thurles. It is some record. Who knows he might be back next year. It was lovely to see the crowds gather around him at the end to acknowledge his contribution to Waterford and to the game of hurling.
The first year of the experimental round robin has passed. I have loved it. We all want more games. Sure, there are things which need to be addressed like giving teams a break at the midway point, but all in all there have been some cracking games with people flocking in big numbers to see the games. I have loved it. I am meeting some wonderful people and the reaction has always been positive. I am hearing some great stories. Excited to think about how the rest of the championship will unfold.