Galway came good yesterday in Thurles. For long periods they were better than good. And yet somehow with 15 minutes left to play and after being 12 points down at one stage, a Richie Hogan goal made it a one-point game. Galway should have been out of sight. Kilkenny had only 1 point on the board after 21 minutes of hurling. Galway had 1-9. By the 33rd minute they were 12 points up. Ger Alyward goal put some respectability on the half-time scoreboard, leaving it 1-16 to 1-7 at the break. Kilkenny did what Kilkenny are famous for. They battled. They harried. They never gave up and with their supporters roaring them on as the game entered its final 15 minutes who would have bet against them? Only for a few bad wides they might have lost by much less than the 7 points which separated the sides at the final whistle with a score of 1-28 to 3-15. Credit must be given to Galway. Kilkenny of old would have smelt blood, sniffed fear and ruthlessly ripped the heart out of Galway as they powered through them. This Galway side is different. Winning last year's All-Ireland has made them confident in their own ability. They didn't panic. They kept doing what they are good at and in the end they pulled away from Kilkenny.
It is easy to see why Galway are everyone's favourites. They play a fast and powerful brand of hurling. The days of them relying on Joe Canning are gone. They now have hurlers who step up when it matters. They have a few weeks off now until the semi-final on either July 28th or 29th. For Kilkenny, they have to do it all over again in Thurles next Sunday against Limerick. They won't have the luxury of staying at home to watch the quarter final on television followed by the World Cup Final. Tipp might be out of this year's championship, but I doubt the pub owners of Thurles care. They have done great out of this new format and have had the bonus of a replayed Leinster Final. The match next Sunday has a two p.m. throw in. This means there will be plenty time to get to a pub in Thurles after the game to watch the World Cup Final on television.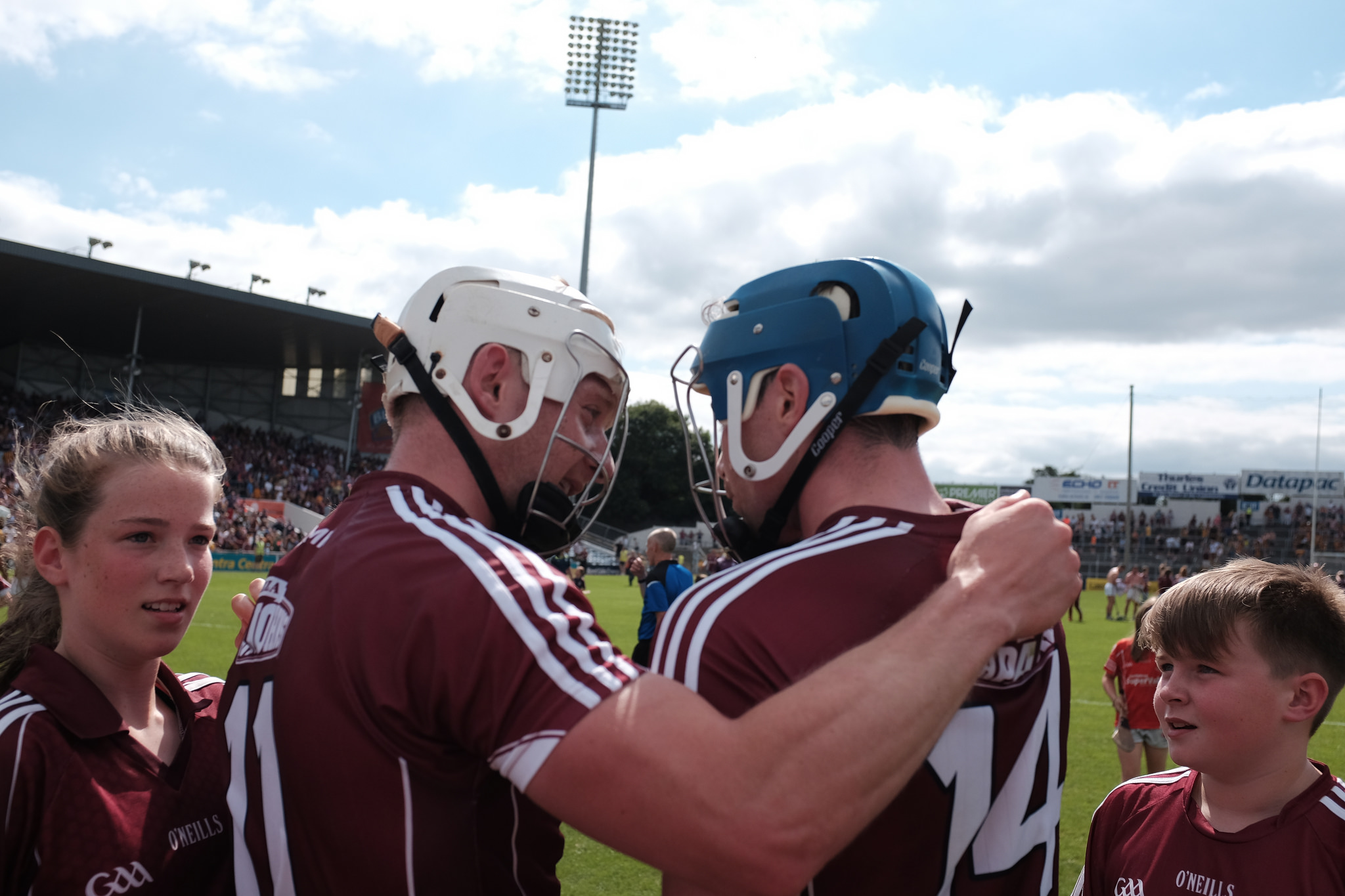 It was strange driving up to Thurles yesterday for the match. Usually, the road would be busy with Cork fans making their way to the game, but this was a Leinster Final. A Leinster Final replay. One played outside of Leinster, contested between one team from Leinster and another from Connacht. The town square in Thurles was quiet. By now I have gotten to know some of the traders on match day. "It's fierce quiet, isn't it? I said to John Ward, a Galway man. "The Galway crowd'll be coming in the other side on the Nenagh Road from Galway, he said.  Getting to meet the fans before the game took a bit of trekking, more than normal.
Seamus Doyle from Kilkenny takes pride in dressing up in the black and amber of Kilkenny for matches. "No, it doesn't take that long really. He said. I keep all the gear in the one place after each game so it's just a matter of finding it and throwing it on. I've picked up bits and pieces through the years. Do have a ritual putting it all on? I asked. No, no, I wouldn't be that way at all, he said. 
How old are ye? I asked. 18! shouted one guy back. No, we're 19 said another. That means, I said, that ye have been growing up in the very best time ever to be a Kilkenny fan. I know, said one of them, and it's not over yet. Might be over today, I said. It might be over for today, but we'll still be in it. We'll always be in it, said another. That's the truth. Kilkenny will always be in it. 
Oh, we absolutely slaughter him. We give him terrible grief. But he deserves it for being from Kilkenny. Olivia O' Sullivan from Cork may be married to Rory Moore from Kilkenny, but it does not stop her from winding her Kilkenny husband up. I'm from Cork and I am wearing Galway colours today.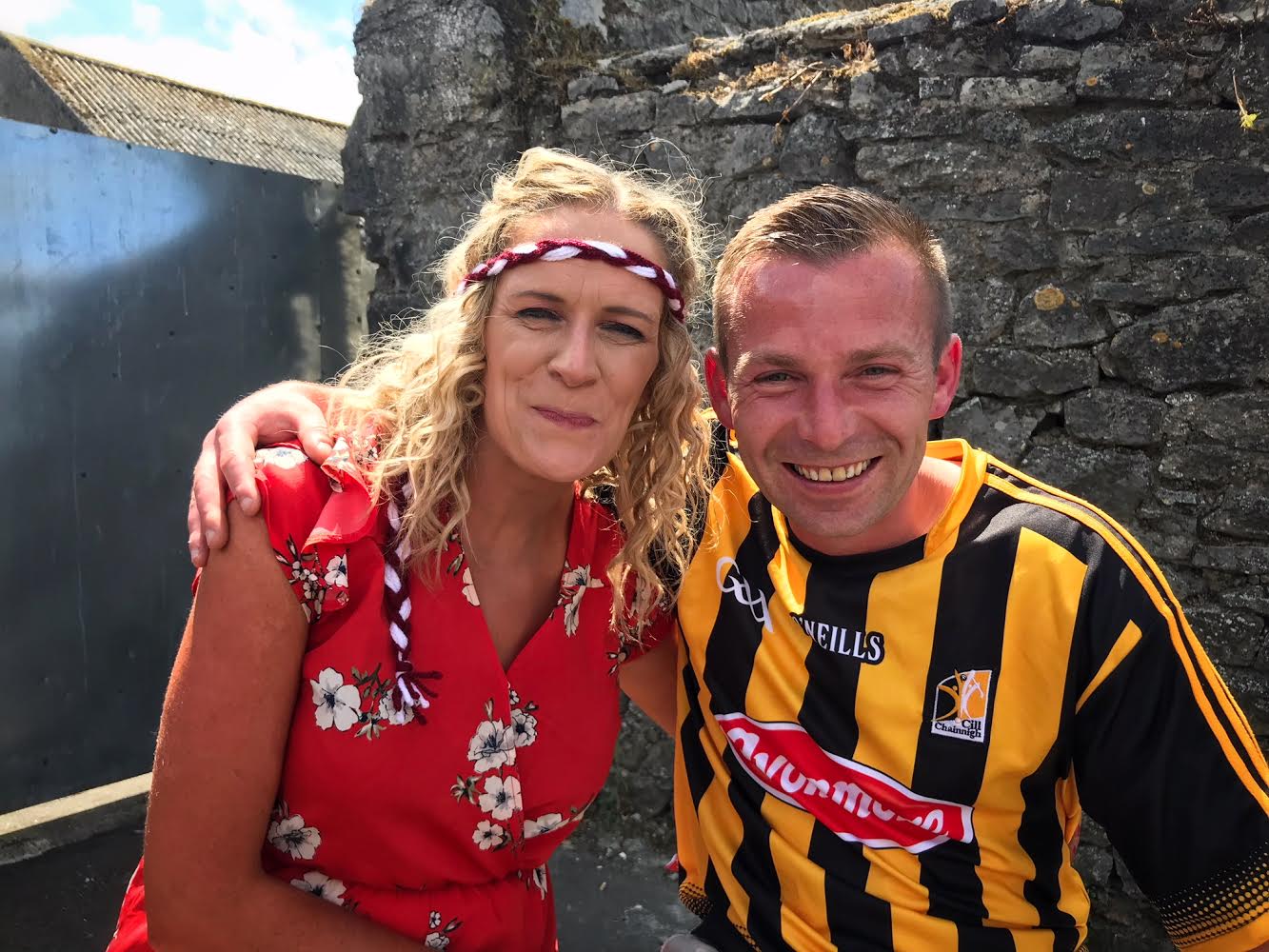 We work hard and these days out make it worthwhile. John would drive one day, and I'd do it the next. Today it's his turn for a few pints. Next day will be me. Era, of course we would be confident. They're a fine side. We'll have lots of days out with them. Lots. 
I've met many fans over the past 7 or 8 weeks. Heard some great stories and been really impressed at the passion people have for their county and what the game of hurling means to them. I have to say meeting Frank and Phil O' Dowd and their daughter Áine was one of the most inspiring. Frank is 91 years old. Phil is 83, she was in a serious car crash last year and is waiting on a hip replacement. They go to all the matches. Not just inter county. No, club games too. And I go to all the horse meetings I can too, Frank told me. I wouldn't miss it. What I love about it is the excitement. It's thrilling, said Phil. I'm delighted Galway won for ye last year, I said. I bet you loved it. I did, I did, he said, as his eyes looked off. I did, he repeated and smiled. Do they get excited during the games, I asked Aine their daughter. You wouldn't want to be from the opposing county sitting next to them, I'll put it that way, she said.
I bet Frank and Phil are planning their trip to Croke Park in three weeks time, and after that they have the Galway races and I would not bet that they will be making a return trip to Croke Park for August 19th.