I gave my first iPhone photography workshop on Saturday morning at the Glucksman gallery in Cork. It was a great experience being able to combine my teaching experience with my love of photography. We had a good morning getting to know each other and learning about how to put the phun into iPhone photography.
With a limited time frame, I planned the morning to give an overview of my own photographic journey, followed by a look at the iPhone camera and its potential, then a walk through my tips and tricks for getting the best out of the iPhone camera and then an introduction to my favourite app for iPhone photography: Snapseed. Then we got out and about around the beautiful surrounds that the Glucksman gallery is situated on. For me, the university campus where the gallery is has to be one of the most beautiful locations in Cork.
The gallery itself is a wonderful example of modern architecture.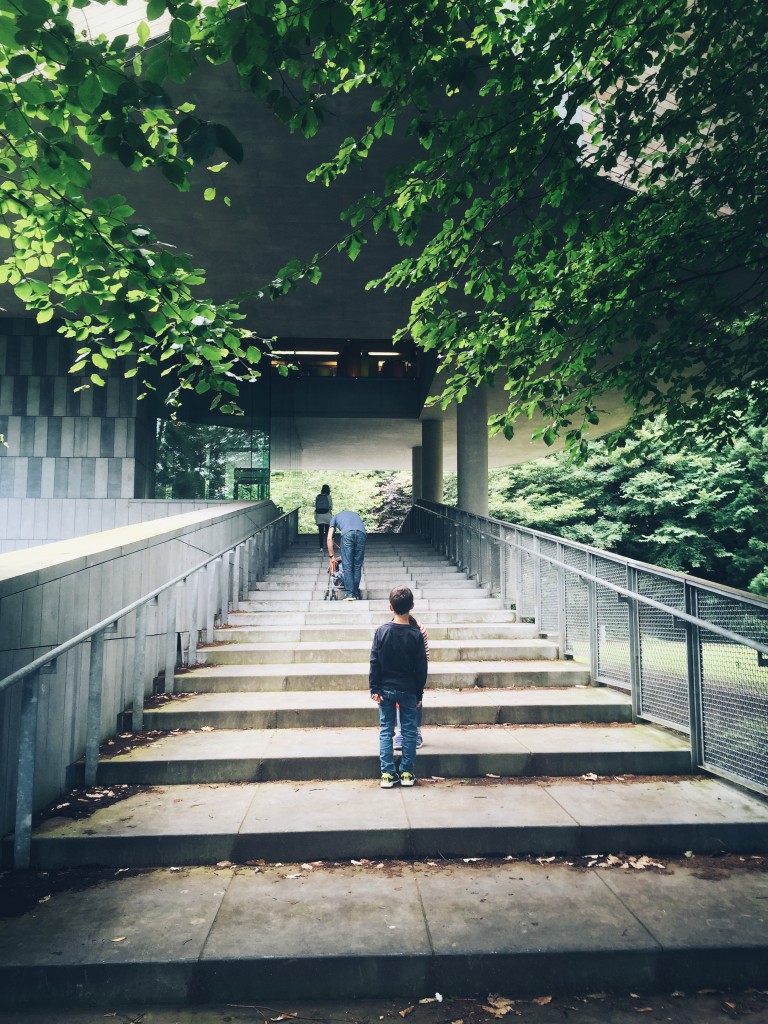 I have done a few photo walks now and each time I am truly amazed at the different observations people will make along a short stretch. I particularly like this one from Martin. I have been working in UCC for years and probably have walked by the library building thousands of times, but I never stopped to see it. When I saw Martin's shot I was really impressed.
Caroline Smyth has a fine eye for composition. This shot of bikes is very simple, but very effective and I really like the rhythm of the wheels decreasing in size.
This other image from Caroline shows her looking for reflections. Again, it is a well-composed photograph and has really beautiful light.
When we got back to the gallery, within the limited time remaining, I gave some one-to-one attention to each person as they had the chance to put into practice what they had been learning about Snapseed. It was great to see the fine shots that they created and to see everyone enjoying using Snapseed as they enhanced their images. Here are some of the images from the day.
Cristian Paradiso found unusual ways to see and compose, as is evident in these images.
Linda Curtin found an unusual and creative way to see and frame with this cool image taken in the gardens of the gallery.
Valérie Maout created these two interesting photographs. I love the creativity Valérie shows here.
The morning passed too quickly and one of the other things that came up in feedback was that some people would have liked for more time for discussion. Coming from a language teaching background, I am very aware of creating a student-centred learning environment and realise that we really did need more time to allow for this. We had some decentralised discussions, but it was a little too rushed as we had a lot to get through in the morning. After the session, I went for some Japanese food at the nearby Miyazaki restaurant, at the end of Friar's Street with a few of the people who came to the workshop and it was great to continue our conversations over the food.
It has been great that since Saturday many of those who came along have been in touch with me sharing their images they made on the day. One of the things, I like to provide my students with in my teaching is the opportunity to extend their learning beyond the classroom, and in today's world with so many ways to connect it is so easy. I am also a firm believer in collaborative learning. Everyone comes with their own techniques and we all see things differently. We can all learn from each other. I know I picked up one or two new ideas on Saturday.
It is planned to have another workshop in October and I am really looking forward to it. I learnt a lot on Saturday and with the great and constructive feedback from those who came I am sure the next one will be even better. Thanks to Tadhg and Fiona at the Glucksman gallery for all their help and support in setting up the workshop. It is much appreciated.