How can you say you love photography if it is 99% frustration? Do you even enjoy it?
These were some of the questions put to me after my last blog post. Not questions which got me thinking or made me feel anxious about how to answer.
No, I fully know why I continue to shoot and why I truly love everything to do with photography. But, how can you make photography fun? Well…
SEE IT AS FUN
I do it because there are few things in life which satisfy my soul like photography. When I get in the zone, when I am on the street and lost in the moment, it electrifies me. I come alive and whatever worries or problems I may be carrying lighten in load.
It is exhilarating. It is life-affirming. It is fun. And fun is something I believe is so neglected in photography. I believe fun is something which is so neglected in adult life. Ask an adult what they do for fun and you will embarrass them. The word fun seems to become loaded when we pass from childhood. Fun seems like something illicit; something we ought to be ashamed of. Ask a child what they do for fun and watch how excited they get when they tell you. If you have a hobby, you should have that childlike excitement and passion for it. If not, abandon it.
YOU ARE MAKING MEMORIES
In August of last year, I gave a talk at at Zafigo X travel conference about photography and how it is all about moments, all about creating memories. Photographs are visual entries in your diary which become powerful in their capacity to catapult you back in time.
When I open up iPhoto (I use it to categorise events) and look through old images, it can launch me back to when and where I was and land me softly in the emotion of that moment. It is magical. It becomes something beautiful when I do it with my two kids. The dynamic of they discovering how they were when they were little babies or toddlers and my reminiscing of days that are now long gone is a gift that just gives and gives.
YOU CREATE, YOU EXPRESS YOURSELF
I need to create. Why? Because it puts me on a path of discovery and understanding. Photography is about picking up a camera, pointing it at something or someone because your instinct tells you you need to capture that instant; to claim it and keep it for later examination. This in turn may lead to later learning and with some luck lead to subsequent experimentation. When I look back now at what I was shooting in and around 2012/2103, I see I was much more experimental. I shot much more blur; particularly on the iPhone. Why? Because of the limitations of the device. It performed poorly in low light, had no image stabilisation and working my way through this I discovered that these limitations allowed me to create beautiful blur imagery. Funny how these days I sometimes feel I have lost that freedom to create. 
CONFORM TO ROUTINE
Conform to routine and routine will conform. I am a very ill-disciplined person. My life's maxim is to not do today what you can do tomorrow, because tomorrow you might not need to do it. I leave things go forever and ever, discovering new excuses to put things off with graceful ease. I have wasted so much time. Photography changed things for me. Flickr found me wanting to share my photography on a regular basis. This meant I had to photograph on a regular basis. I began on Flickr in 2007. By 2009 I was posting photographs there on an almost daily basis. By 2012, I was posting to two accounts almost every day.
I committed to photography. I conformed to the routine and the routine conformed. This calms and soothes my soul. It gives me discipline. There is not a day goes by that I do not spend time taking/making photographs, looking at those of others, reading about photography, or hatching plans for my photography. It has been the most beautiful learning experience and has been so rewarding for me. I can say I have become a better person because of photography, because of the commitment to it.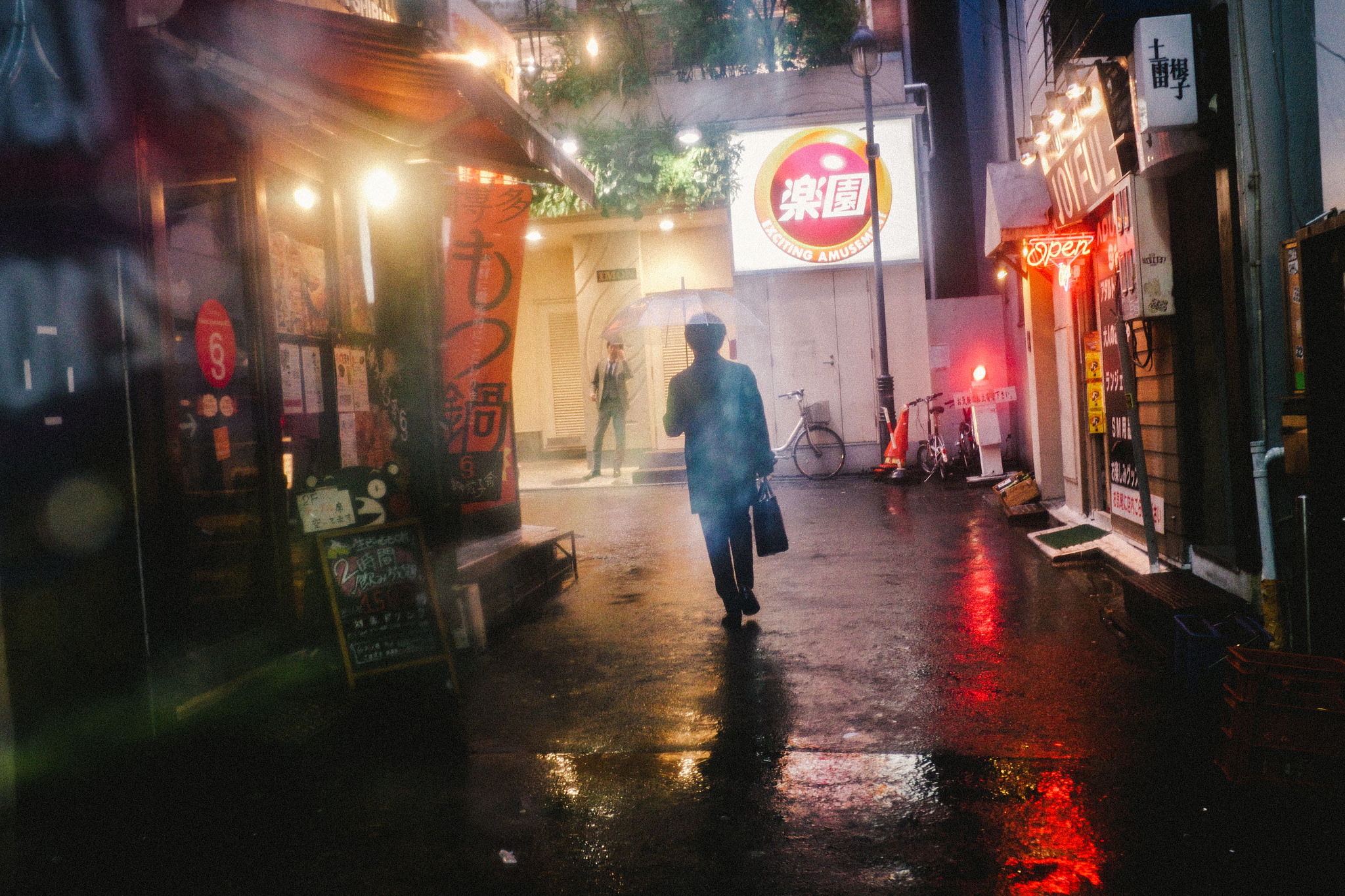 IT IS THE FRIENDSHIPS YOU MAKE
Want to become a better photographer? Here's how. Spend time with other photographers. You have to. You need to spend time with like-minded people who get you. People who won't find it strange or rude that you have the concentration powers of a puppy dog when you are walking down a street with them. Spend time with people who inspire you, people who push you to experiment, push you to achieve. People you can learn from. When I look back at the past few years, I see I have been so lucky in this respect. I have met some wonderfully creative people; wonderfully kind people. People whose work can stop me in my tracks and make me want to improve; to get to their level. And those few you might meet along the way who are insecure, jealous and negative. Cut them loose. There is truth in the saying to surround yourself with positive people. 
IT IS THE STRANGERS YOU GET TO KNOW
But they are all just photographs of strangers. People you do not know. What is it about random people that interests you? This is what a friend asked me once about my photography. Ya, I don't know them, but there is something in every one of them that I recognise. Something that resonates with me. I may not be able to immediately (or ever) say what exactly it is, but I photograph them because something attracts my attention to them. It can be a look, a gesture, a posture. It can be because they looked at me. It can be because I want to look at them. They are characters in my story. I can construct or deconstruct their reality to suit my perception; to build my interpretation. 
And then there are those strangers who I get to know a little. Those who I stop and ask if I can take their photograph. Those who I continue to ask questions as I shoot them. Those who I tell little things about myself as I try to get them to reveal who they are. I love these connections. This opportunity to get to know people a little. It can be amazing what they tell you, and it can be beautiful what their portraits can reveal. 
We all want to be seen; we all want to be heard. Photography can allow this.  
IT GIVES VALIDATION TO WHAT YOU DO
I would be lying if I said I didn't get a buzz from winning competitions or being selected for big global ad campaigns. The first time I won a competition (Mira Mobile Prize) I cried. It was a dream of mine to win a competition and truthfully I never believed I would. When it came, I was overwhelmed and felt so relieved. It was a form of validation. Any artistic pursuit is framed in doubt. We can never be sure if it is right; if it is worth anything. Competitions provide some validation. But you know, it is bullshit too. Photography should not be a competitive pursuit.
IT IS ALL ABOUT LEARNING
What is life about if it is not about learning? It never stops. There is nothing which enriches life more than learning. Granted I could spend my time learning more about the technical aspect of photography or learning about photography gear, but that does not excite me. What does excite me is that with every photograph I take, I learn. Learn about myself, learn about life. See mistakes and ya, get frustrated. But that frustration is positive. It is what drives me to learn and improve. 
STORIES; SO MANY STORIES
So many. Stories that are immediately evident and others that slowly reveal themselves. 
IT DRIVES YOU ON
I have often talked about how viewing the photographs of my friends has inspired me and pushed me forward in wanting to improve in my own photography. It is so true. Seeing friends posts photos on a regular basis keeps me wanting to do the same. Seeing them shoot something new excites me to get back out and get shooting. I try to spend some time each week looking through photo books of established, renowned photographers. This is a different type of inspiration because these are not photographers I get to engage with. Their work is polished and presented as the finished article. Yet, there is so much to learn as you explore the connections in the photographs they showcase in a coherent and cohesive presentation in book form. 
YOU DISCOVER HOW TO SEE
What is photography about for me? It is trying to see what can be seen and how to see it.
As Dorothea Lange said: The camera is an instrument that teaches people how to see without a camera. On every photo walk I have been on, one thing always strikes me. While we all walk the same route and can see the same things, how we observe and interpret them can be so different. It is what makes photography exciting, it is what gives it endless possibilities. When you are working with fractions of seconds when the shutter opens and closes, you are also working with slight shifts in centimetres, angles and aspects which can dramatically alter images.
Photography doesn't allow me to see, it pushes me to see; to construct, deconstruct and create. It elevates beyond seeing. It allows me to begin to understand. To be part of my surroundings and to be an external observer of it too. 
So is it really 99% frustration?
Of course it is not. It can feel like that at times, for sure. But it definitely isn't. It is what I do for fun. And whenever I experience that ongoing frustration, I keep coming back to why I photograph. And the answer is always the same. I do it for fun. I do it for me.