I arrive in Croke Park for Saturday's Clare and Galway All-Ireland Hurling Semi-final with 30 minutes to go before the 5 pm throw in. 16 minutes past 5 Clare find themselves on the wrong side of a 1-7 to 0-1 scoreline. It looks like this game will be over by half-time. Fast forward to 22 minutes past 7 and the stadium is still full and an incredible scoreline of 1-30 each has been reached by the two teams after two ten-minute periods of extra time. How this happened I do not quite know. In that first 16 minutes an imperious Galway have one foot in the All-Ireland Final. Clare have one foot on the bus home to Ennis with the 2018 championship over for them. Then the Clare management team of Donal Moloney and Gerry O'Connor shuffle their pack. They pull Colm Galvin back as a sweeper and Clare steady. They see out the half well and the 9 points lead Galway had is cut to 4. We have a match. Clare seem to have learnt from their Munster Final defeat to Cork when the Cork team left Clare wait in the heat while they regroup at halftime. Galway are out on the pitch of Croke Park for a good 5 minutes before Clare reappear. 10 minutes later it looks like Galway can pull away from Clare again as they go into a 5-point lead, but this Clare side are resilient and within 4 minutes they have drawn level. With 20 minutes to play the game can go either way. Galway edge ahead a number of times as the game heads towards the final whistle, but each time when they look to be building up a lead, Clare come back. On 67 minutes Galway are 3 points up, leading by 1-23 to 0-23. The game reaches its 73rd minute and Galway are ahead by 1. Clare win a free. Could they possibly bring this game to a replay? Clare's Peter Duggan makes it look easy. Galway 1-23 Clare 0-26.  A draw.
Fans start to stream out of Croke Park. Where are ye going? Where are ye going? People shout at the departing fans. There's extra time. No replay? No! Two ten-minutes of extra time will be played. Wow! 15 minutes later the teams are back out on the pitch. These two sides have given it their all and they are asked to do it again for another 20 minutes plus. Galway outscore Clare by 3 points to 1 in the first half of extra time. The score is 1-26 to 0-27. Again it looks like Galway will see this out and make their second All-Ireland final in a row. The second half begins and the sun disappears and the rain begins to bucket down. Within 30 seconds Aron Shanagher reaches high for a ball around the Galway square, catches it, takes a couple of steps back and sweetly strikes the ball home. Clare lead for the first time in the match. What can Galway do now? 3 minutes pass and the Galway crowd must be fearing the worst as their main man Joe Canning limps off. Clare lead. Galway bring it back to a 1-point game. There are 4 minutes left. 1 minute later it's level again. We have 3 minutes of extra time. Will there be a winning score? Johny Coen of Galway thinks he has it won for Galway when he hits their 30th point of the game, but in the dying seconds Clare mount an attack and their final substitute Jason McCarthy knows he has the hopes of his whole county resting on his shot. The stadium erupts. The saffron and blue of Clare lights up the stadium. On the puck out the referee James Owens blows his whistle. I sit back in my seat, exhale and immediately my thoughts go to the game coming up tomorrow. Could it possibly be as good as this? It was, but that's a story for another day.
This was my first trip to Croke Park on this project. The recent heatwave had ended and the forecast was for rain for the weekend. Heading up O' Connell Street at about 3 o' clock, I bumped into two young fellas wearing their county colours. Cathal Lowry from Galway and Joe Costello from Clare. The two lads share a house in Limerick and have been giving each other hell leading up to yesterday's match. "Will ye support whoever wins today's match in the final? I asked them. Not a hope. No way. They replied. Limerick. Will support them if they get through tomorrow. Where are ye heading in the stadium? The Hill! Hill 16 is where the real craic is.' 
Mary Haynes and Roger Carey must have thought I was crazy when I jumped out in front of them outside The Gresham Hotel on O' Connell Street to get a photo. "What part of Clare are ye from? I asked. I'm not from Clare! I am a Galway woman. Mary told me showing me her Galway colours.  What will the house be like with only one side winning? I asked. Oh, it might be a bit quiet, Roger said. Then again, it mightn't. 'We've a 20 Euro bet on today's match.' Mary told me. I wonder will they double it up for next Sunday's replay.
'Lads, I think ye are a day early, no? "We thought we could get into this match and hide somewhere until tomorrow's one starts, said Kieran Lowe from Charleville in County Cork. He was there with his buddy Colm O' Shea from Bruree County Limerick. "We'd go to a lot of matches together, Colm said, but tomorrow's is special. Anything to wind each other up and sure there's nothing better than a local rivalry. 'Will ye support each other's team after tomorrow?  I asked. God, no! said Kieran. Damn right, agreed Colm, sure where's the fun in that?"  "I'd love to see Limerick win it if we don't I said. No, no, no!' said Kieran.
"The first match I remember going to was probably the best one. I was at the 1980 All-Ireland final. The one with Joe Connolly's great speech?, I said. Ya, that was the one. What a game to start with. I just wish all of them could have been like that.' Steve McKieran told me. 'We are bringing little Allie to her first match today. Hopefully she will bring us luck. Do ye think ye need luck today? I asked. You always need luck. Steve said. "What is it about going as a family?' I asked. Ah sure it's a great day out and it brings us all together.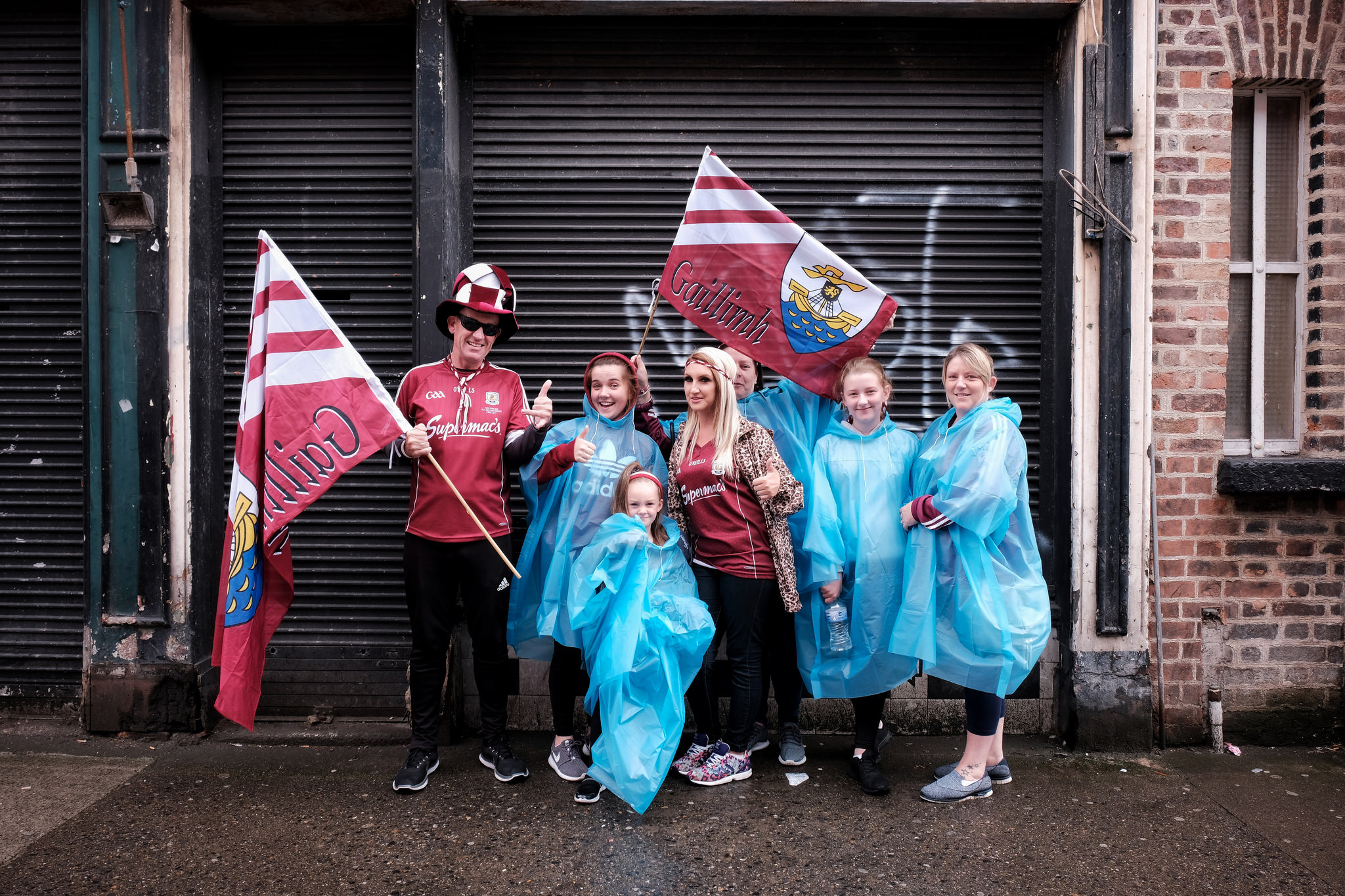 "Oh we do hold it against her! We waited 28 years for Galway to win and she arrives on the Friday of the All-Ireland!" joked Tracey Gill about her beautiful little daughter, Orna.
"Get that ball in our hand as quick as it's thrown in and take the game to them. We need a good start. And a good end too." Mick McNamara told me.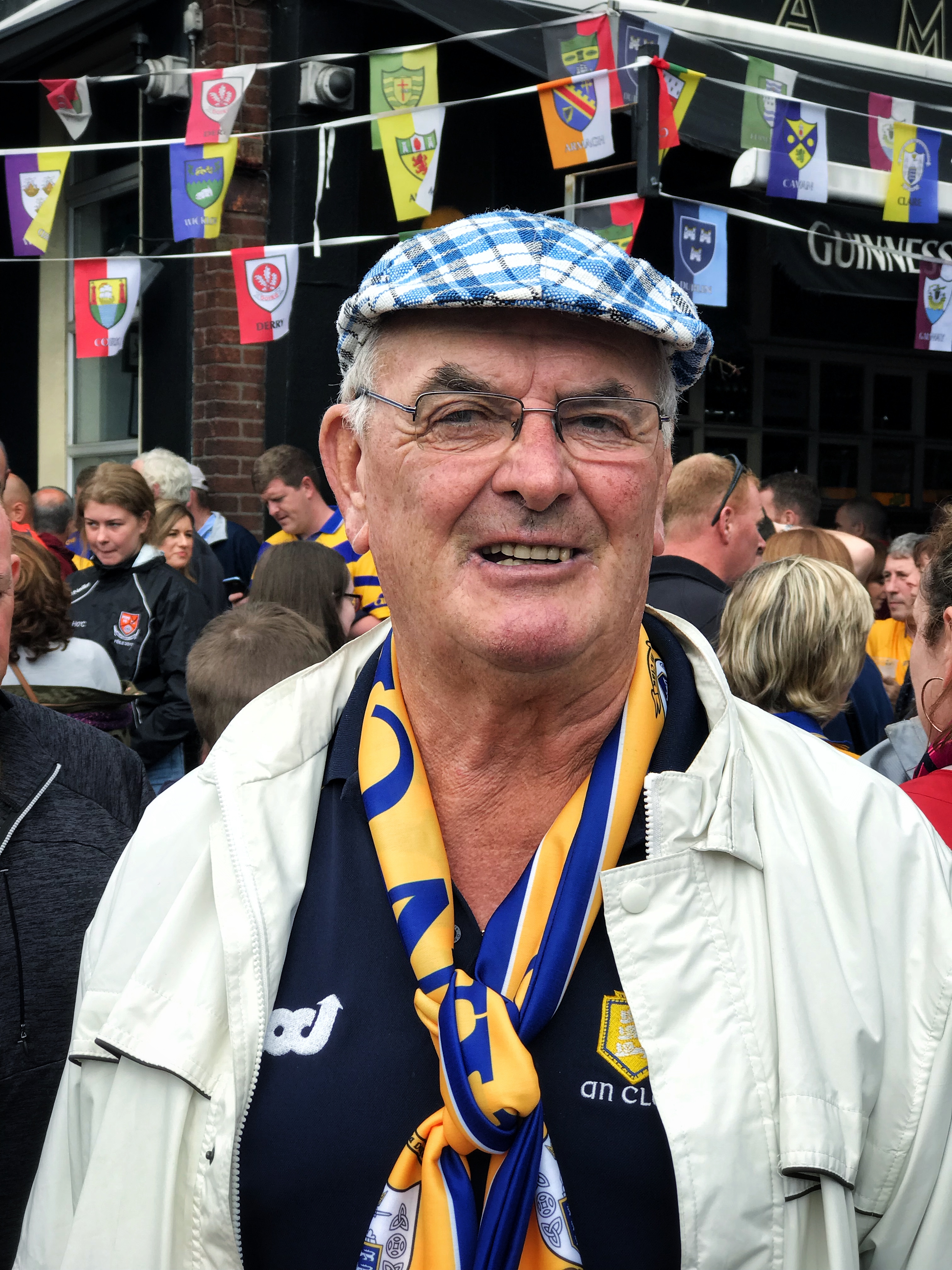 A Tipp man, a man from Roscommon and another from Waterford at the Clare Galway game last Saturday. The three friends – Tom McGrath, Michael Caslin and Noel Kelly – see the games as an opportunity to meet up during the year. "We might not see each other for months but when there's a game on in Dublin we make sure to get together."
And so it goes on. What a championship this has been. The next blog post will tell of heartbreak for me. I was absolutely devastated to see my beloved Rebels crash out to Limerick. But the project goes on; the championship goes on. I cannot wait to be in Thurles again this Sunday. I bet the hurlers and fans of Clare and Galway cannot wait either.