78 minutes and 38 seconds into Sunday's All-Ireland Hurling Final and Joe Canning stands over a free in his own half under the Hogan stand. His Galway side that he has carried for the most part of this game find themselves trailing by 1 point. We are over time. A full 1 minute and 38 seconds of the 8 added on minutes over.  The 82,000 inside the stadium and the millions watching on TV and listening on the radio hold their breath. Could Canning level the match? A Galway side that looked dead and buried on 68 minutes when Shane Dowling scored Limerick's 3rd goal to give them a 8-point lead somehow rallied to bring the destiny of the Liam McCarthy for 2018 to a 1-point game. Joe Canning has been in this position before. In 2012, not too far from the spot he is now standing on, he scored a free into the Hill 16 end to salvage a draw for Galway against Kilkenny. This time he is further out and facing the Canal end a full 100 metres away. But this is Joe Canning; no ordinary man, no ordinary hurler. This has been the season of the comeback in hurling. Sides have seen big leads clawed back. And in the back of every Limerick person's mind is 1994. Could Limerick trip up when the end line is so close in sight again? Canning lifts and strikes. The sliotar soars and sails towards the Limerick goal. It is on target, but does it have the length? For 5 seconds it sails through the air before coming down in the large rectangle where 9 Limerick and 6 Galway players wait. The players tussle and swipe, desperately trying to get the sliotar. Then a green shirt breaks from the pack. Limerick's Tom Condon bursts out with the ball. The referee blows the final whistle. And with that 45 years of hurt disappears. Limerick have won the All-Ireland Hurling Final of 2018. They have won, what many will consider to be the greatest All-Ireland of all time. They are champions. Liam McCarthy is theirs.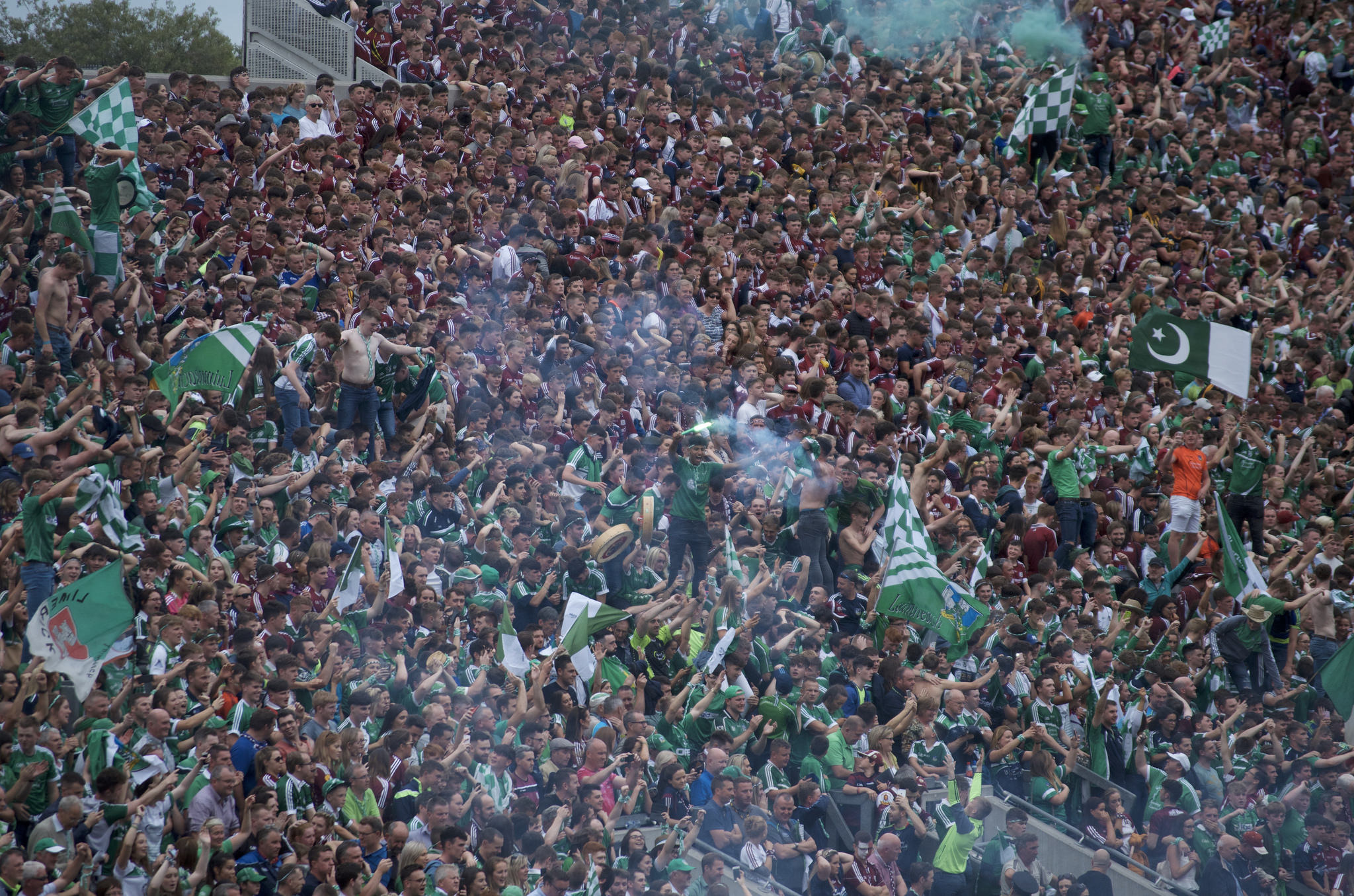 The roar from the Limerick crowd is deafening. The stand shakes and shudders such is the intensity of their celebrations. The stadium is awash with green. The Limerick supporters surrounding me are hugging each other. Tears of joy running down the faces of men who would have been but boys when their county last won. Down below some supporters burst on to the pitch. They have waited a generation to see their hurlers win. Now they want to acclaim them on the field. Much has changed since their last win in 1973 and one thing is stewards will not allow fans on the field after the game. They are shepherded back to their seats. On the big screen and over the loudspeakers John Kiely is interviewed: ""We were always the bridesmaids – but today we got over the line." On the pitch the players are running from one to another jumping into each other's arms, hugging tightly. They have done it. They've won. The Cranberries' song Linger blasts out over Croke Park and the relief of finally getting over the line now seems to turn to joy; to enjoying and savouring this moment. Limerick's moment.
The match was not a classic. What it did have was a classic ending. Limerick were by far the better team, but so easily could have blown it in the end. They went 30 minutes in the second half without scoring a point. They had 20 wides. Galway were flat and never looked capable of reaching the standards they had set in matches like the Leinster Final replay and the 2 All-Ireland semi-final against Clare.
My take on it is this. I feel the new format, while being a great success and giving us some absolutely classic encounters, was one that teams found hard to manage. The players are amateurs. They were asked to play so many high intensity matches at intervals they had no previous experience of. In seasons gone by teams have played as few as 3 games and won All-Irelands. Kilkenny won most of theirs playing 4. Galway played 9 this season. Limerick played 8. I saw evidence in Galway's play that they were in decline from the Leinster Final replay. In that first 20 minutes they produced the best hurling of the championship blowing Kilkenny away and racing 9 points up. But in the 2nd half Kilkenny mounted a comeback and got within a point of them. The 2 matches against Clare followed a similar pattern. Galway could not maintain their momentum. The arrived to the final tired. Limerick on the other hand were that bit fresher, but not at their peak. Their score of 3-16 was their lowest of the championship. Placing 3rd in the Munster Championship created a path to the final which benefitted Limerick. They had a 3-week break from their defeat to Clare before playing Carlow. With all respect to Carlow, Limerick's next real championship game came a week later to a Kilkenny side who would play their 3rd championship match in a row in the space of 2 weeks. Limerick then had a 2-week break to the semi-final against Cork and another 3 weeks to the final. Yet, while they were clearly the better side on Sunday and clearly the best team of the championship, I felt they were not at their very best in the final.
Looking to next year, I think teams and the GAA will have learnt an awful lot from the new format this year. I would imagine the GAA will convene and from this there will be some minor changes to allow all teams a break in the round robin series to ensure no team has to play on 3 consecutive weekends. With no papal visit next year, we will probably see the final being pushed back to the first Sunday in September. For teams, the challenge will be how to manage players' fitness and to manage the squad. With the games coming thick and fast it must have been hard to get those who did not make the first 15 to match–day levels of fitness with so little hard training possible with the quick turnaround of games.
All-in-all it has been a brilliant season of hurling. I have loved every moment of it, bar my beloved Cork hurlers losing to Limerick in the semi-final. I got to go to stadiums I have never been to. I saw some classic encounters. But what I will take away from it all is the sense of pride and identity the sport of hurling brings us. Over the 3 months of the championship I met with hundreds of supporters from all the participating counties and many with no allegiance to any side. I can literally count on one hand the number of people who walked past me or said no when I told them of my project. Invariably I was met with a smile and a warmth. People were quick to gloss over crushing defeats they experienced and tell me of the craic they had with their friends or family on the way to or from the match instead, or they would tell me with hope how this year would be different. I heard many the story of great rivalry, but none of bitter hatred you might get in other sports. Engaging with them, I have heard their stories and learnt what their county means to them; discovered how hurling lets them live off past glories and dream of ones to come. Hurling is something we all share and cherish. We may be selfish in our dream of glory for our own county, but hurling is all of ours. A national treasure passed down through generations. Its story tells of who we are.
Part 2 – with photos of the fans I met will be posted tomorrow.