Each year is different.
Last year was the first year since my teens that I had not ventured outside of Ireland.
2022 and things changed.
On an early morning in March I got into a taxi for the first time in over two years to head to Cork airport. Colombia for work was the destination. In April, I was on a university exchange in Oslo. May brought me to London for MojoFest. June and we were off to Korea on our family holiday and I travelled from there to Japan for work in July. Early September and I was in the US driving from Seattle to Kennewick to visit my Uncle Jack.
After two years of zero travel, I was very fortunate in 2022 to be able to travel for both work and leisure.
During the pandemic, what I missed more than anything was the adventure of travel. At night, in my dreams this adventure would manifest itself and I would find myself in visually-rich locations, totally immersed in the moment, photographing and constructing images. To compensate for not being able to travel and see the new, I would head in town and try to see how to see new things in my city.
These shots I am choosing from 2022 are from my travels and from home. This is one I shot back in January of this year of a late evening scene on Washington Street looking west.
In February, I was back out on the streets of Cork chasing light, working scenes and hoping that good photographic fortune would meet patience. I loved the colours and light of this scene and when the guy walked through with his guitar on his back, I knew I had a shot.
Colombia. This was my first trip in over two years. Covid was (and still is) a serious thing. Heading to Colombia in March, I was afraid of contracting it and being holed up in a hotel far from home. Thankfully, I stayed Covid-free and was able to work for the two weeks I was there. I spent some time in Bogotá either side of a week teaching in the Universidad Nacional de Colombia in Manizales, a city high up in the Andes mountains which had the most spectacular sunsets.
Here are another few of my favourite shots from Colombia.
In April, I was on a university exchange visit to Oslo, Norway. What struck me about Oslo were the sculptures that decorated the city and the wonderful art galleries it has. A return visit is merited just to wander around Vigeland Sculpture Park again.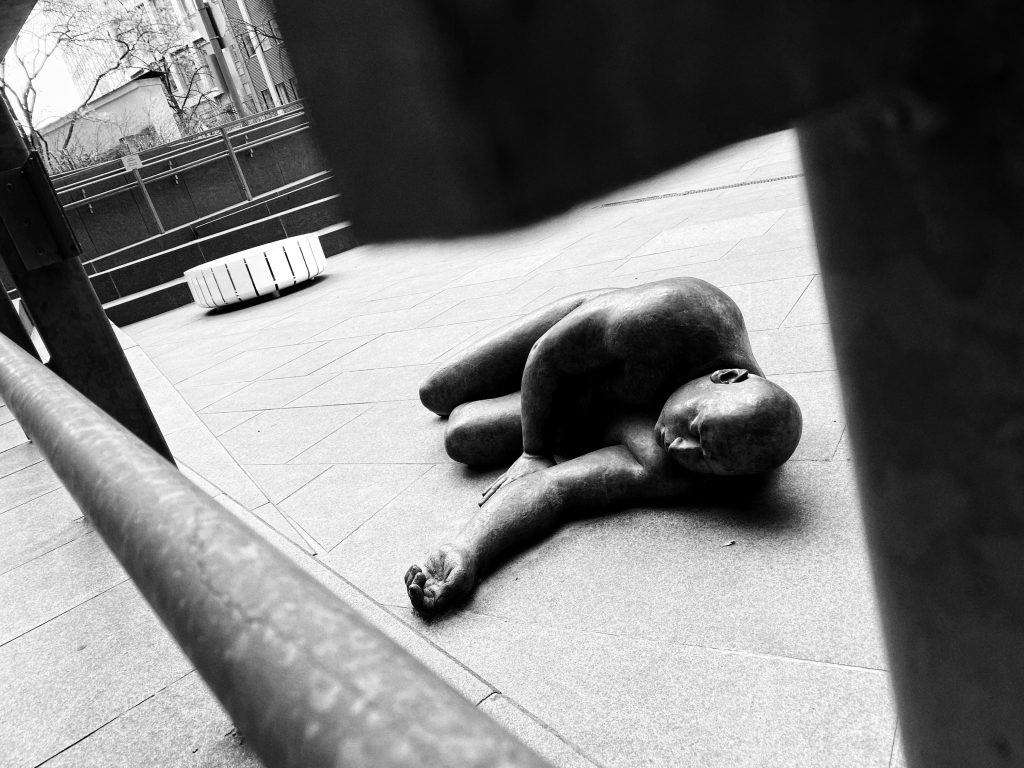 In May, MojoFest came to London after a three year break since the last one in Galway back in 2019. Glen Mulcahy invited me along again to this event to moderate a panel and also to deliver a workshop to journalists from around the world. I loved meeting up with old friends like Andy Butler, Jack Hollingsworth, Sir Cam, Philip Bromwell, Caroline Scott, Mark Settle, Mal McCann, Mark Egan and Jon Gill (check his video of the photo workshop here). London is one of my favourite cities and a place I love to photograph. Also, a shout out to Mark Fearnley, whom I got to meet after all these years when I was in London.
After a long three years for us as a family we got back to Korea in June. Covid restrictions were still in force and many of the places we would know and love in Korea were very strange to see without the throngs of tourists you would normally find in these locations.
From Korea to Japan in July and jumping through many hoops to get there. Japan still had strict Covid restrictions and were prohibiting visitors to enter without invitation. It took two trips to the Japanese embassy in Dublin in June to get a business visa to visit in July. Leaving Gimpo Airport in Seoul was surreal. What would normally be a bustling airport was virtually deserted. There was a single flight departing from Seoul to Tokyo on that Sunday morning. A coffee shop had a sign in its window that it was closing for two weeks. The calendar on the table showed the date of March, 2020. July 2022, the shop was yet to reopen.
It had also been three years since I had last been to Japan. Staying again in Shibuya I was amazed to see how the district had changed. The train station, which had always been a challenge to navigate, had transformed and expanded. Some of the places I would have eaten in had closed their doors and others were unprepared to welcome non-Japanese speaking diners to their establishments. Where before English menus were on the tables, now they had to scour the backrooms to see if they still had tourist menus. Still though, when not working, I really enjoyed being able to shoot street in Tokyo and to meet up with buddy, Laurence. If you are thinking of visiting Tokyo and want to get to see the hidden gems in the city for photography, you definitely need to take one of Laurence's workshops.
I stayed in Osaka for a night while visiting partner universities in the Kobe and Kyoto area. I had very little time there, arriving late evening and leaving early morning. Would love to have more time exploring this city.
Narita Airport in Tokyo is one of the world's busiest but in late July 2022 it was eerily quiet. On the night of my departure there were three flights in total leaving Tokyo. I walked the long corridors of one of the world's busiest airports past the shuttered shops and restaurants and barely passed another soul. Surreal. I hope I never get to see the airport like this again.
In February of 2020, my uncle fell, and then fell ill and left independent living and moved to a care home in the US. He is in his 90s and up to 2019 he would travel home to Ireland each year. Since then, Covid restrictions and poor health made his annual returns impossible. Throughout the pandemic I was planning, once it became possible, to visit him. Looking back at 2022, the highlight of the year for me was getting to the US, staying in Seattle (big thanks, Jen!) and driving over the Snoqualmie Mountain Pass to meet my Uncle Jack in Kennewick.
I had not been in the US for over 20 years. I was shocked to see how expensive everything was. People say Ireland is pricey; that Oslo will leave you broke, but the cost of things in the US was just crazy. The second thing that shocked me was the homelessness and the open drug use on the streets of Seattle. Here in Ireland we have similar problems with these issues but not on the scale of what I saw in Seattle.
I am a morning person and slap jet lag on to that and what you get is opportunity. Opportunity to get up with lark and explore Seattle in the early morning. Not far from where I was staying brought me to the sea front. Each morning I walked and photographed, ending up downtown in the heart of Seattle.
In October, I was back in the Dublin for the first face to face mobile photography workshop in more than 30 months, and it was brilliant. There really is no substitute for getting out on the streets and shooting. Sure you can learn a lot online, but nothing beats being together in a photography workshop. The participants I had that day were so great to work with and some of the shots they got were inspiring. Really looking forward to offering a Street Photography Workshop getting back out again in February and June. Check the Photo Museum of Ireland's website to book.
In my day-to-day routine, I shoot regularly. Sometimes it is just reactionary; other times I task myself to create visual constructions.
What might be in my mind's eye of what I want to create and what I see and the distance and difference between the two can be frustrating. The vast majority of what I photograph is not good. So why do I still do it?
I have been doing these end-of-year reviews for years now. Sometimes, I focus on choosing my favourite 12 photos from the year; one for each month, but this time I did it differently. How I shoot, why I shoot has changed. Social media, I realise, is not a productive platform for my photography. I am not as focussed on Instagram as I was before. I began to post to Flickr a bit more. I toyed with Vero and Glass. In reality, what I need to do is shoot less, share less, review more, learn how to sequence photographs and to find themes and patterns in my photography. In 2023, I want to blog more, Instagram less.
These photos from 2022 mean so much to me because I still find joy in the pursuit of deciding what to leave in and what to leave out of the frame as I battle with the visual puzzle of photography.
Here's to much more in 2023. Thanks to all who support me and inspire me. You know who you are.