The Field of Legends. Semple Stadium, Thurles on a Sunday afternoon in late May. The Cork and Tipp hurlers. 70 plus minutes of hell-for-leather hurling. 134 years of tradition. Two teams with the one dream.
Sure you can travel to Barcelona, to Glasgow, to Liverpool or Manchester, or even Buenos Aires to see great rivals in action but are any of those a match for the blood and thunder of a Cork Tipp Munster hurling clash in Thurles? For me, the answer is a definitive no!
Cork headed into yesterday's game on the back of a good win over Clare the previous weekend, while their rivals Tipp had suffered a bad loss and a worse fallout after their match against Limerick. The pressure was all on Tipp to perform. I had expected them to be raring to go from the get go, but it was Cork who powered into the game racing into a 7 point lead before Tipp put their first score on the board in the form of a goal. Within a few minutes of that they reduced Cork's lead to just one point, only for Cork to take off again to put another seven points between them, before finishing the half 9 points to the good. In hurling a 9-point lead is not an insurmountable one. Look back over the history of these two teams and you can find many's the match where either side looked dead and buried only to stage a great comeback. Yesterday's match was your classic a game of two halves and a draw was probably a fair result. Both sides can take positives from the game. Cork might count themselves unlucky not to have closed the game out, but Tipp could even have won it had Anthony Nash not been on form in the Cork goal.
I was on the road to Thurles with two buddies yesterday, cousins Kieran O' Connell and Jimmy Lonergan. We left Cork early, driving to Thurles at a little before ten beating the match-day traffic. The skies were grey and the clouds did not part. I sat in the back of the car listening to them telling me stories of their Uncle Ted who passed away in 2016. Ted, a proud Dunmanway man, used to bring them both to Cork matches when they were kids. Jimmy told me of one match they went to in Dublin when he was young fella. They travelled up by train from Cork. In those days you could get off the train in Connolly Station in the heart of the city centre. Ted and Jimmy left the station on their way to Croke Park to see Cork play, stopping outside to buy a match programme. Before the game they had a bite to eat in a cafe. Sitting across from each other, Ted opened his programme to read it as he eat his chips. "All I remember is this roar, Jimmy said, He flung the programme out of his hand like it was on fire and in doing that he also swiped his plate of chips and sent them flying. The programme wasn't for the Cork match at all. There was a soccer match on in Dalymount the same day, and Ted had bought the soccer programme. He was disgusted, more so about having something to do with soccer in his hand, than losing all his chips."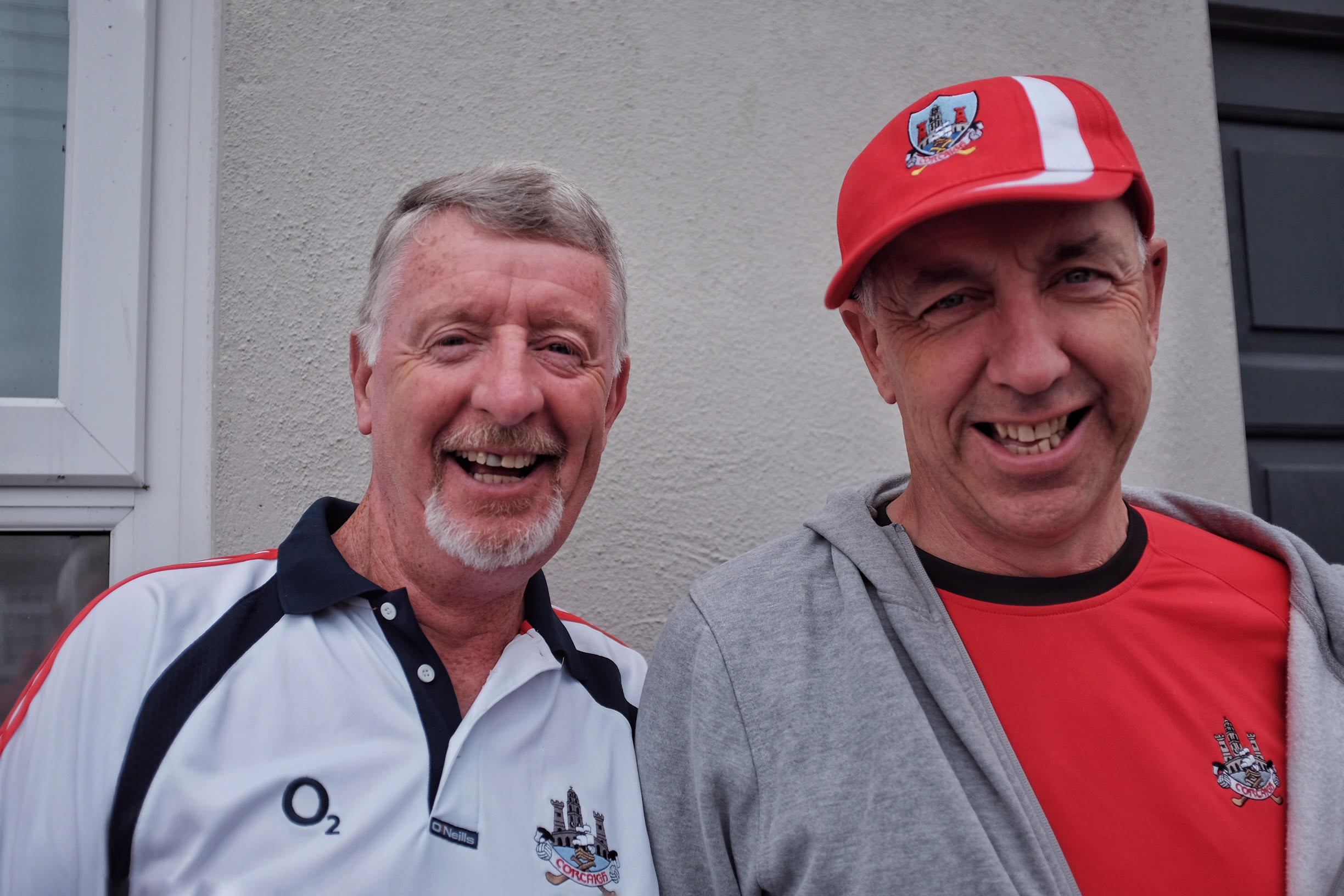 The square in Thurles before a game can be electric. There is a sense of anticipation in the air quelled by banter and pints as both sets of supporters mingle freely. At half-past ten yesterday morning when we arrived the square was quiet. The trains carrying Cork fans had yet to arrive and the Tipp fans with shorter distances to come were still at home reading their newspaper predictions of the game to come. Outside Hayes Hotel, where the GAA was founded in 1884, was Joe Cole dressed from head to toe in red and white. "The winter is sad, he said, until things get going again in the summer." Joe has been going to matches all his life and for the few moments I was chatting to him, it seemed like everyone who passed by knew him by name. Two who stopped to chat with Joe were Austin O' Hara and Gene McCarthy. "What is it about the hurling that brings ye together, I asked. "We might go months and months without seeing each other, then the hurling comes around and we can meet up and get together again, Austin told me.
"We're here to see our teacher play." Who's yere teacher? I asked. Colm Spillane (Cork's corner back). And in a few years you will be here to watch us play for Cork. You got to love their cockiness.
Among the red jerseys of the Cork fans and the blue and saffron of the Tipperary jerseys Eamon Murray's bright yellow jersey of his Armagh club, Cú Chulainn's, stood out. Eamon was having a bite to eat when I approached him. He put his food to one side and told me he was down in Thurles for the weekend. "I told the wife I'd got us a hotel for the weekend. Where she said. Thurles. Thurles, never heard of it. Where is it? she said. He told her he was going to the match when they arrived down. "What about football? Do you prefer that? I asked. No, there is no comparison to hurling. Hurling has everything.
I have yet to bring either of my kids to a game. I am half afraid Cork will lose and the experience scar them for life. I used to think they are too young but seeing supporters bringing babies to matches makes me think I should get my act together and bring them along. I met Adam and Alex Finn having some chips in the main square before the game. It was Alex's first game. "Do you play hurling, Alex? I asked him. No, he's a retired hurler like his Dad, Adam told me. That's three of us so, I said.
One of the things I have really loved seeing in the games I have been to is parents with their little babies with them. At half-time in yesterday's game I came across three generations of the Darcy family: little baby Emily dressed in yellow for Tipp, mother Helena and grandmother Meta. "Did you bring Helena to matches when she was this age?" I asked. No, she was probably a little older. Meta told me. Look at that smile Emily has! I bet she knew the Tipp hurlers would come good in the second half.
Then on the pitch at the end of the game I bumped into Gemma Dwyer who was carrying baby AJ. I stopped her, told her of my project and asked if I could take some photos. "Why is it important for you to bring the baby to the matches? I asked. Well, her uncle was playing today, so he had to come. How did he find it; was he OK with all the noise? I asked. He was grand. He slept right through the first half and then woke up for the second half. "A bit like Tipp so! ", I said.
In Leinster, Wexford had an easy win over Offaly, and Galway showed their class and intent getting the better of Kilkenny. It looks like the Kilkenny Wexford match in two weeks' time will be the one to decide who plays Galway in the Leinster final on June 30th.
Next weekend in Munster will see the summer opening up for some teams and closing off for others. Waterford and Tipp meet in Limerick with either side knowing a defeat could very well spell the end of their summer. Down in Cork, Limerick come to visit fresh after their weekend off and they will be confident after beating Tipp. Cork will be looking to build on their good start, but might find it hard against this coming Limerick side.