Looking back on the images I posted to flickr this week I have chosen the following ones as my favourites of the 14 I posted to both accounts.
This was taken aboard a small tourist boat in a lagoon in Ha Long Bay in Vietnam. A lagoon should be a peaceful place, but there were too many boats, too many tourists like me. This rope was lying on the front of the boat, its frayed texture attracting me. This image lay in my archives since being in Vietnam last year. This week I ran out of new images and had to raid those archives. This was one which caught my attention. Now, of course the image is over processed (Snapseed is a fine piece of software), but I do like the result.
The thing with the iPhone is that you always have a camera with you. And like a good old-fashioned gun slinger, you got to learn to draw that weapon fast when the image appears. This long-legged lady bounded towards me as I was sitting in the reception area at work. I whipped the phone out, kept it at seat level and snapped as she walked past. I just knew I would love the result.
I love the corridors in work. Light streams in so nicely and by pointing the iPhone down and quickly turning it back up and clicking you can get some really, lovely, streaky blur shots. And what better for making people look skinny – well blur of course!
On the little walks on my breaks in work I have the iPhone at the ready and shoot as I go. I am scanning the scenes ahead, trying to fix on interesting looking characters. This guy, sombre and anxious looking, approached . The huge stone wall behind gives a nice background to the image. Why the Perry Como title? Not sure, but when I was a little boy we used to listen to a lot of Perry Como – and one of my favourite songs of his is Catch a falling star, which came to mind when I saw this guy.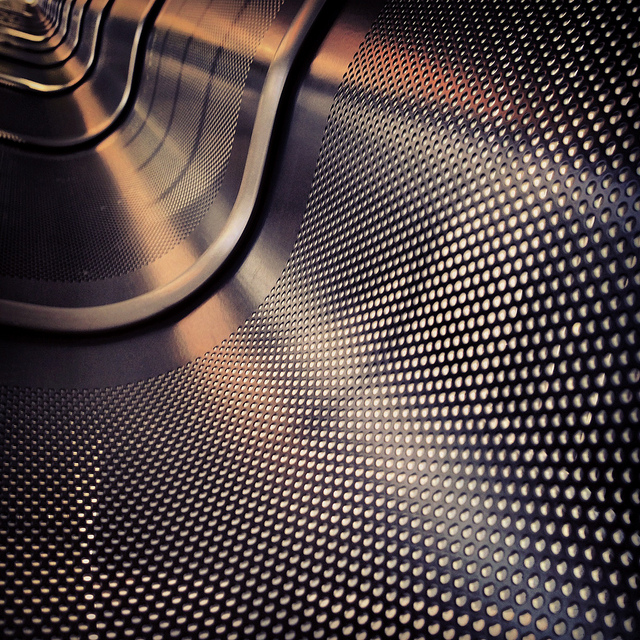 An old one i had been meaning to post for a while. I took this in the airport in Berlin while killing time. The sun was obliging and the result of the light on the metal is quite pleasant.
I wonder what images I will post here next Sunday.