Today at Apple. Well, last Saturday at Apple in their brand new Singapore store on Orchard Road for a photo talk and walk. It was great fun.
I got into Singapore on Friday morning and after a quick meeting with Apple staff, where I was told that the talk had reached maximum occupancy in 24 hours, my good friend Arik Chan – whose photos populate this post – and I hit the streets to scout for good photo opportunities.
Now in a big city on a busy Friday evening of course you are going to find them. I was looking for shots which could guide the participants the following day when we headed out as a group.
I have been on a new photographic path since I began to shoot in Portrait Mode. Why? Two reasons: 1. It slows me down – which is always a good thing to help you improve. And 2: it means I get to engage with people on the street. I get to talk to them as I shoot.
Singaporeans are a friendly bunch. Here are some of the portraits I shot.
We had been worried that the weather might not be kind to us. The talk was scheduled was 5 p.m. At 3 p.m on our way to the store it was lashing, but I had a feeling this would not last.
The structure of the talk was to give a background to myself and my work and to guide and inspire them as to the type of shots we could get on the one-hour photo walk.
Here we go
Reviewing some of my favourite photos
Some of the participants
I love photo walks. Everyone walks the same route, passes the same things, but sees things so differently I am always amazed at the shots participants bring back; very often shots I wish I had gotten myself.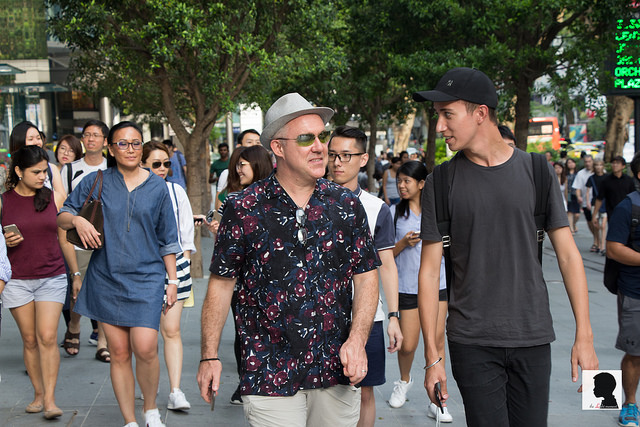 With a group of 50 people it is not easy to give individual attention to each person. So with the help of some Apple staff we broke up into 3 groups and I spent 20 minutes with each.
It was a blast. Particularly seeing people putting what they had learnt into immediate practice.
Putting Olloclip into action
When we eventually got back to the Apple Store for a 30 minute review of each other's shots I found myself exclaiming – "Wow!" – many's the time. If you check the hashtag #todayatapple you can find some of their shots.
Reviewing photographs
I got to thank Monogramasia for their continuing support in all I do. Means a lot! Thanks to Olloclip also – really appreciate the backing. To Apple's excellent staff in Singapore and of course, to the wonderful people who came to the event and made it such a fun experience for me.
With some of the participants
And last, but not least, to Arik Chan for these great photos of the event. Check Arik's work here and here.
With my good friend, Arik Chan
Until the next time, Singapore…