I could let an algorithm decide what my best photographs of 2019 are, but where is the fun in that? Photography should be fun, and let's admit it – Instagram can suck the joy out of what should be a fun pursuit.
So, I say to hell with the algorithm and hello to some of my own personal favourite photographs I created over the past 12 months; all shot on iPhone.
When I look back on 2019, it was another great year for me shooting frames. Photography is about memories and this year was a cracker. My travels took me from Cork to Barcelona, Lisbon, Tokyo, Kyoto, Kobe, Seoul, Daegu, Busan, Hong Kong and Beijing. I like to travel. I am fortunate to be able to do so and while in these places, be it for work or pleasure, the objective is always the same: to be ready to get that photo; the one which will be better than all the ones I got before. Never happens though, but still it is such a thrill to be on the streets of big cities trying to see what can be seen and how to see it. In saying that, most of my favourite images of 2019 were shot right here in the People's Republic of Cork.
It is hard to separate photography from cliches and in writing this I am going to throw in a few of my favourite photography cliches along the way.
Here's the first: I remember reading a long time back that at the end of the year if you have 12 photos you are proud of that it has been a good year. Not sure if I achieve this each year, but it is something I aim.
So here goes. 1 photo for each month of the year.

J A N U A R Y
Every Saturday morning I bring my daughter to her drama class, park the car and for the hour she is in class I wander around the city centre chasing light and trying to make photographs. In this photo here I like how the sharp-dressed guy contrasts with the dressed-for-the-cold older guy, and can you spot me in the photo?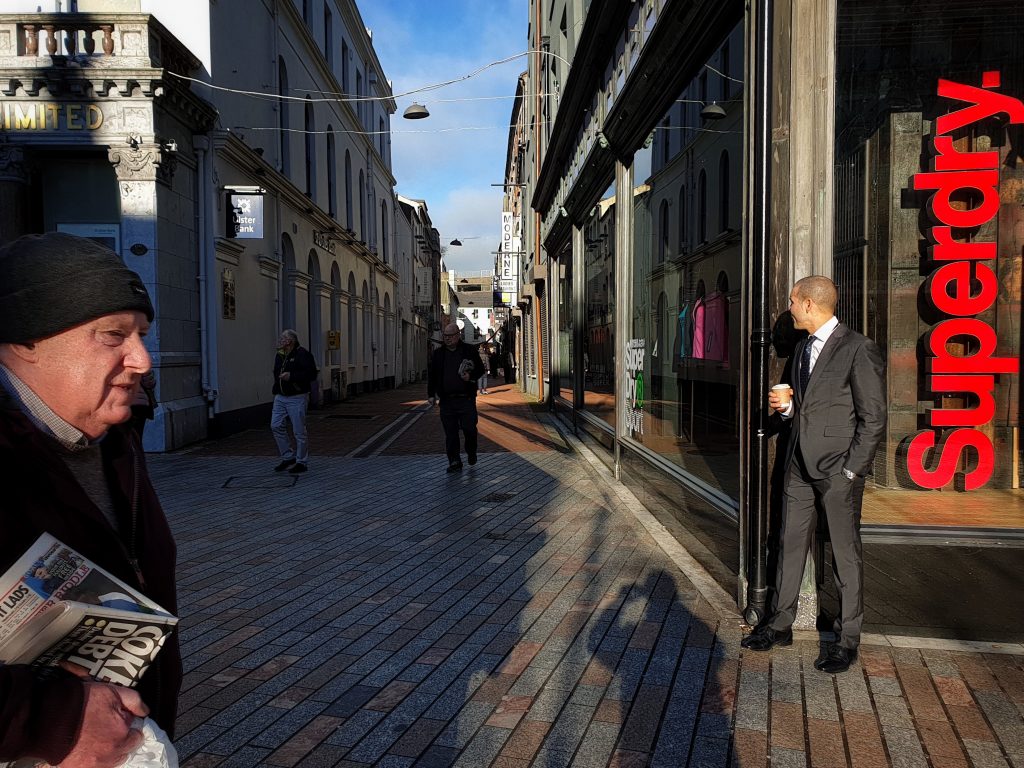 F E B R U A R Y
And here is another photography cliche: photographs lie. Looking at this scene from Temple Bar, Dublin you would think the guy was pretty fed up and bored, but was he?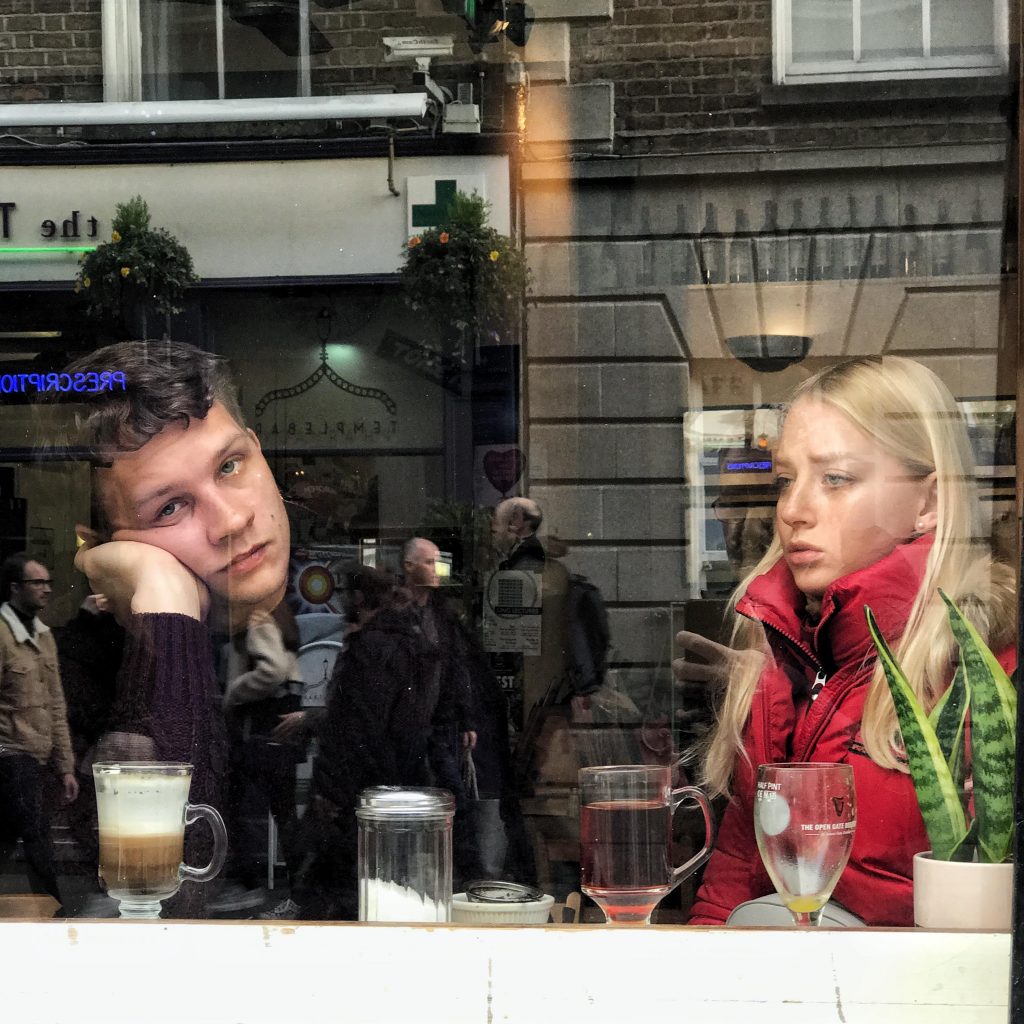 M A R C H
The forecast was for torrential rain. Yet, this street photography workshop I had in Cork's Glucksman Gallery in March was one of the best of the year. We hit the streets knowing we would get soaked, but also knowing that rain adds atmosphere; particularly in creating beautiful natural filters when you shoot through glass. I got some lovely shots of Cork on that photo walk; hard to choose just one favourite, but this one I like.

A P R I L
Tokyo continues to be my favourite place to shoot in. One of the things I demonstrate (and repeat a lot throughout the day) in my photography workshops is frame, and then reframe. This shot is the result of reframing. It began with a straight-on shot of the cooks at work in the restaurant, but then I noticed the pots and pans and I worked it until I got the guy's head as best as I could framed out by one of the pots.

M A Y
This year was all about light and shade in my photography. You can check out a whole series of these type of shots here. These shots are about framing and reframing and getting the exposure right and then shooting on burst mode and getting your subject clean in the frame. Barcelona has the most beautiful light to bathe your subjects in and so many cool backgrounds to add that little more to the image.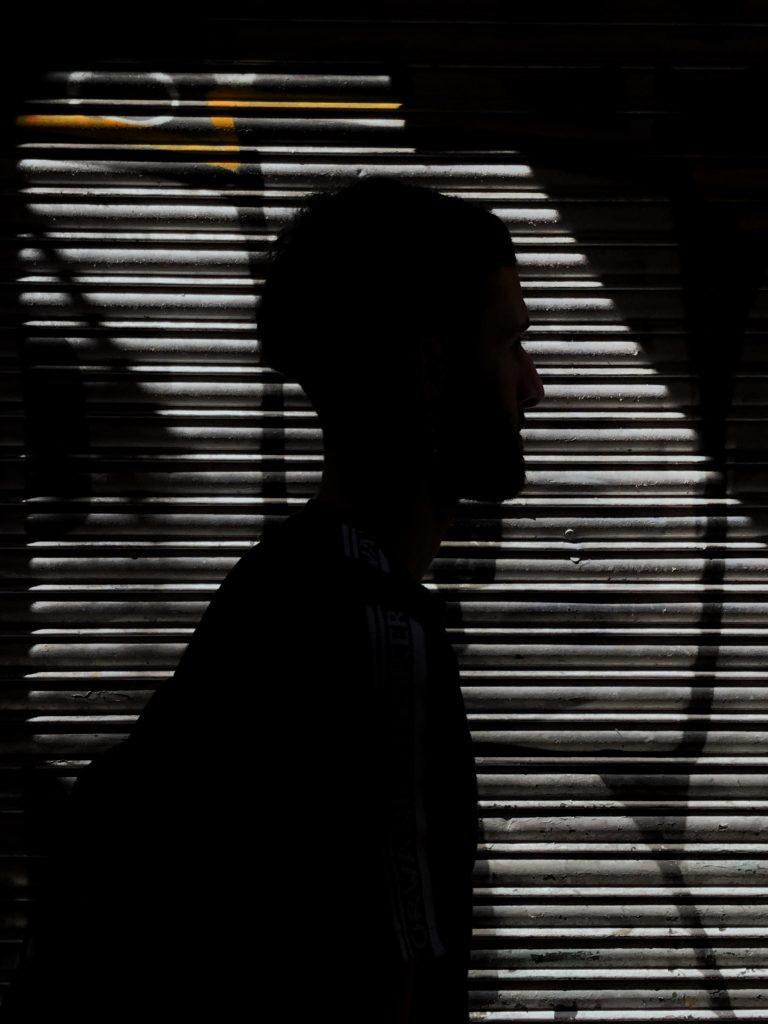 J U N E
Sometimes you just walk into a ready-made scene and all you have to do is snap. This is what happened on a photo walk in Dublin. This guy was taking a cigarette break and was obliging to pose for a few photos for me.
J U L Y

This photo really could be from anywhere but it was shot late evening in a shopping mall in Beijing.

A U G U S T
August brought me to Busan and to the beach. I met these three guys who posed for me and I cropped to fill the frame.
S E P T E M B E R
September brings me back home to Cork and back to my hometown project. Another cliche in photography is to work the scene. The previous month Cork artist, Shane O' Driscoll, unveiled his wonderful mural on the former ESB power station in Caroline Street. I had seen a few photos of it and knew I needed to get down there and see how I could see it for myself. This one below required a little imagination to create the reflection. It is great to see Cork getting artwork like this. Hope more is to come.

O C T O B E R
Here is one more image where framing and reframing came in. I was attracted to yellows at first but then noticed the lines and curves and reframed to make sure these were set up properly. Then I waited for a passerby – all the the time hoping the sun would not disappear behind a cloud.
N O V E M B E R
Working that scene in the stairwell of the O' Rahilly Building in UCC and this cool dude walks into my frame.
D E C E M B E R
Into the final month of 2019 and fitting I should wrap the year up with another photo of Cork and this time with a view of the wonderful mural of Fintan Magee's and the northside of Cork in the background.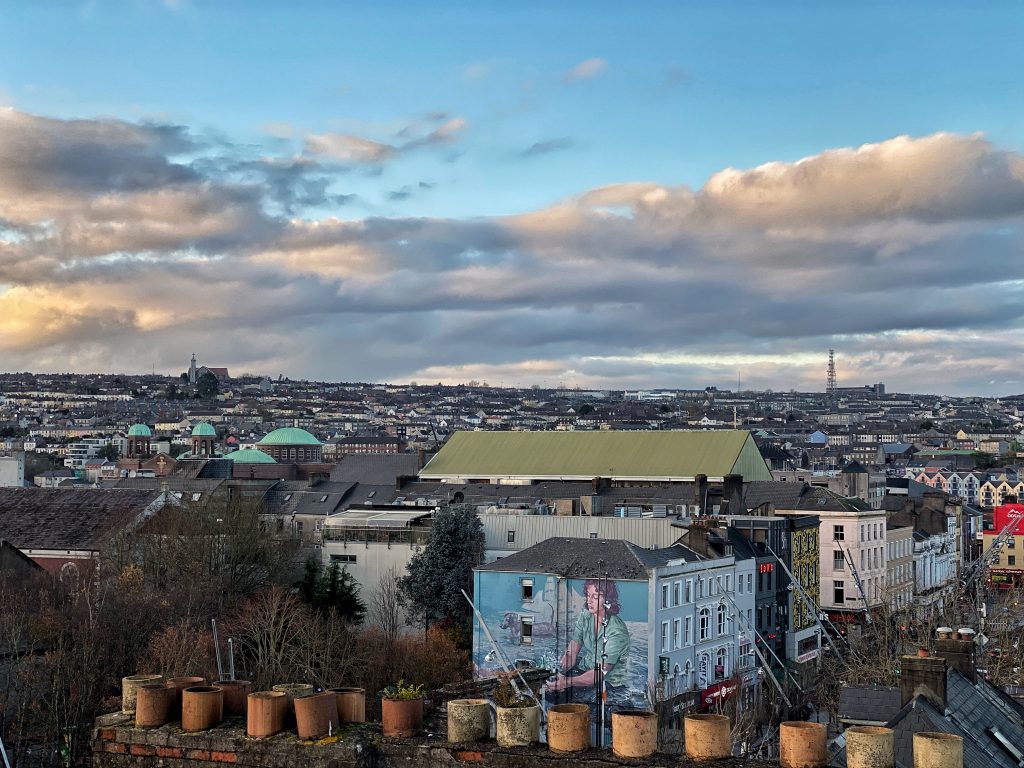 So there it is. 1 photo for each month of 2019. I could have chosen 12 different photos so easily but it's done now. 2019 has been a good year. I am excited about the upcoming projects I have for 2020 and the places my photography will bring me.