I made the mistake thinking Dublin hurlers would play Kilkenny in Croke Park last Sunday. Thankfully it was pointed out to me in time. Parnell Park is actually the home ground of Dublin GAA. It is a small stadium, not unlike Pairc Uí Rinn in Cork, and a stadium which was perfect for the thrilling spectacle the two teams served up on a sunny early summer's day. As many had predicted, Kilkenny prevailed, but not before getting the most almighty fright from a promising Dublin side. Truth be told, the Dubs deserved more from the game, but they can take many positives from the encounter.
The sat nav did its job for me, getting me from Tullamore to Parnell Park in ample time before throw in. With the help of a friendly Garda I found a parking spot close to the stadium, got my gear, applied my camera settings and off I went to meet some hurling fans and see Dublin and Kilkenny in action.
So, who is bringing who to the match, I asked. Well, I suppose Sarah is. I'd be more of a football supporter, said Mark Hender from Dublin. And, of course, you'd be a hurling supporter, being from Kilkenny, ya? Is there such a thing as a Kilkenny football team?, I asked. Very funny, very funny, she said. What's an ideal 2018, so? I enquired. Dublin for Sam and The Cats for the hurling, and we are all happy said Mark.  Not all, I said. Not all of us!
I wonder if in places like India and Pakistan do they allow kids to bring to their cricket bats into big games. I am always fascinated to see young Irish kids bringing their hurleys to hurling matches. Where else in the world could this happen; allowing supporters bring in, what is for all intents and purposes a weapon to a high-tension, high drama sports match? It is both crazy and beautiful at the same time.
Doing a loop around Parnell Park I came across a father and son pucking a sliotar against the wall of the stadium. The young lad, Gerard Russell, had a lovely swing. I got talking to the pair of them and his dad, Rob, told me Gerard played both hurling and football with his local club. If you had to choose, I asked him, if you had the chance to play with either the Dublin footballers or hurlers, which would it be? Just the shortest of pauses and he replied, the footballers. Pity, I said, you've a fine swing, you know?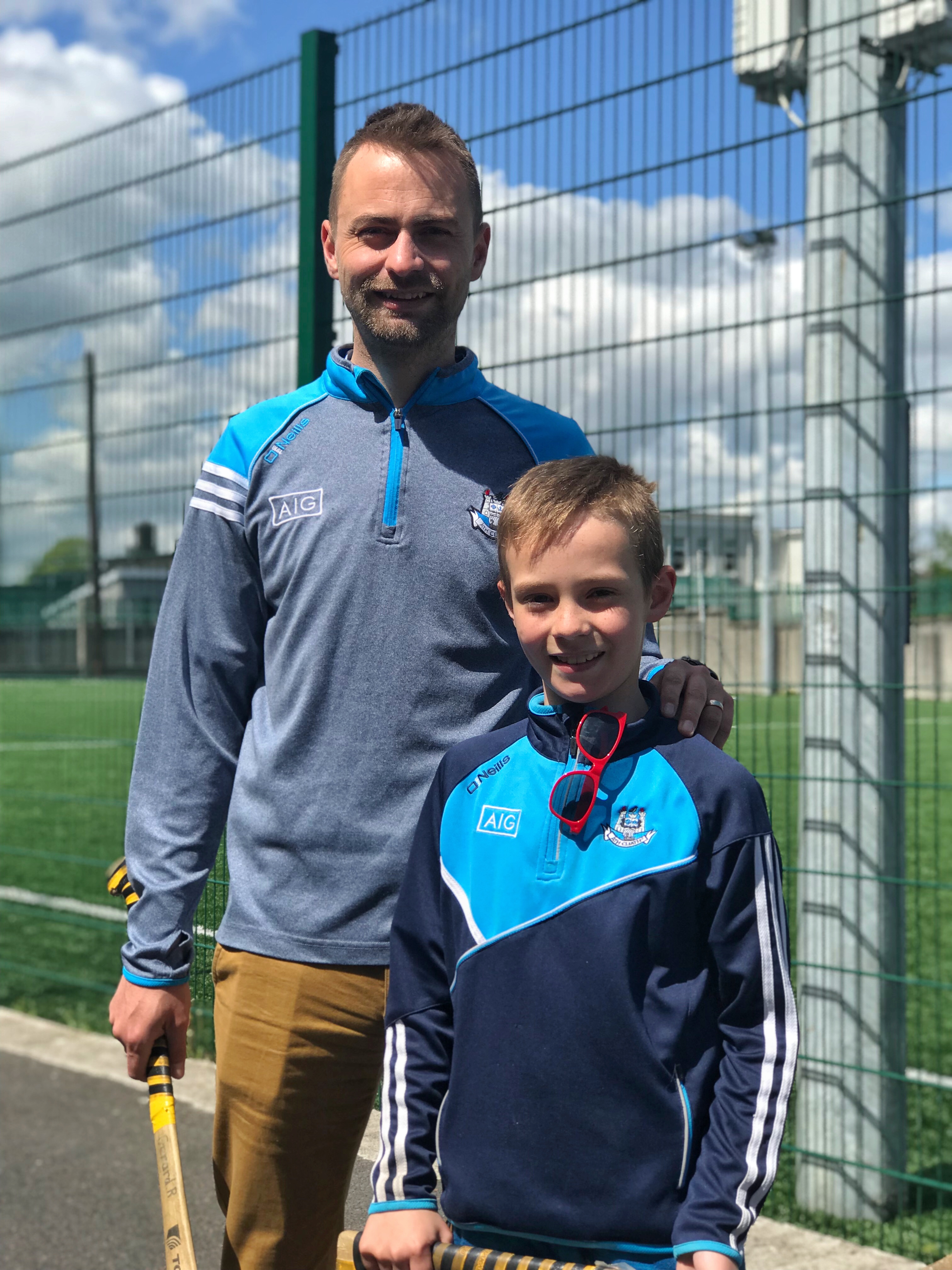 The match itself was a cracker. Dublin raced into an early lead and led by four at half-time. Kilkenny were kept in much to the thanks of their goalkeeper, Eoin Murphy, scoring long range points from frees.
I took a wander around the stadium at half time, looking for characters, looking for stories. Just like in Tullamore the previous night I found a young father, Kieran Groarke, with a baby. Kieran's 6-month old baby boy slept soundly on his father's chest. It's in us, Kieran said. I was brought to the games by my father, not as young as this little fella, but maybe at around 3 or 4 years old. He'll probably do the same with his son. Give him a love it. 
Do Kilkenny fans know how blessed they have been in Brian Cody's reign? Sitting among them for parts of the game, you could be fooled into thinking they have been starved of success. They are league champions for 2018, and have won 4 All-Irelands already this decade. That is the same number that their two biggest rivals Cork and Tipp have each won in near on 30 years. As the game edged closer to its conclusion you could sense their anxiety. Looking to the sideline and to the man who has lorded for years over all comers, Brian Cody, there was not the same sense of impending doom. Now, he was not the picture of calm, as he moved up and down the line shouting his charges on, but I did sense that he knew his team were still in it, and still capable of doing what his Kilkenny team does best: winning. And that they did. Trailing by five with five minutes to go, by the time the four minutes of added time had passed, the referee's whistle signalled a one-point victory for the Cats. I am sure Pat Gilroy will look back at this game and wonder how they let such a lead slide, but there were a lot of good things his team did that will stand to them as this new format of the hurling championships moves on.
Amidst all the scenes of relived and jubilant Kilkenny supporters I came across two downbeat, but very friendly Dublin supporters, Dublin Gerry and Peter Mulligan. Ya, we were almost there, but you can never write off the cats, Peter told me. Where you from? Gerry asked me. Cork, I said. From his inside pocket he produced a laminated memorial card of Michael Collins. Here, he said, keep that. I am sure the two lads will have many better days this year as they follow the dubs in football, and most probably some better ones with the hurlers too?
Leaving the stadium, I was greeted by James Fitzgerald, a Kerryman, who has handing out posters of the Roll of Honour for All-Ireland victories. Where are you from? he asked. Cork! I replied. He then proceeded to quiz me about Christy Ring. Now, I grew up falling asleep to stories of the great Christy Ring. My father would stand at the foot of my bed and bring to life stories of how Christy won matches for Cork single handedly. How many All-Irelands did he have? How many railway cups? How many counties? How many Munsters? James shot at me. I got them all right except for the counties. 14, he told me. That is 14 counties to go with his 8 All-Irelands, 18 Railway Cups and 9 Munsters. James then walked back to his bags and got me a photo of the 1960 Munster team, and a laminated poster of the Roll of Honour.
I'm on Facebook, he said. My video has been seen thousands of times. He handed me a scrap of paper with his name handwritten on it. James Fitzgerald, Tarbert GAA. I can recite all the All-Ireland winners from memory, he said. And he can! It's amazing. Check it out here.
James continued to hand out the posters and I made my way back to the car. Tired and with a long journey back home to Cork before me, but exhilarated and excited about the first steps I had taken over the weekend on the road to the heart of hurling.
Bring on next weekend. Clare come to Cork. Should be a right cracker. See you there. 
Follow this project on Instagram.